Steel Mills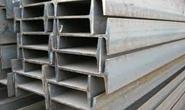 CMC Reports 8th Consecutive Quarter of Positive Earnings
Written by Sandy Williams
October 24, 2013
---
Commercial Metals Company reported earnings of $4.1 million on net sales of $1.7 billion for its FY 2013 fourth quarter (ending August 31, 2013). Net earnings included an asset impairment charge of $25.9 million related to its Australian operation. In comparison, CMC reported net earnings of $30.2 million in fourth quarter 2012. 
CMC net earnings for the full fiscal year were $77.3 million on net sales of $6.9 billion, compared to net earnings of $207.5 million on sales of $7.7 billion in FY 2012. 
The Americas Mills segment shipped 653,000 tons of long products for net sales of $465 million resulting in adjusted operating profit for the fourth quarter of $58.4 million compared to $63 million in fourth quarter 2012. Segment volumes dropped by 7 percent and metal margins declined by 2 percent.  Higher shipments, however, improved operating profit by 26 percent over the previous quarter. 
Americas Fabrication shipped 276,000 tons for net sales of $384 million.  Operating profit jumped to $8.2 million in fourth quarter 2013 from $1.5 million in 2012 mostly due to lower input prices and higher selling prices.  Order book also improved over 2012 resulting in a better backlog to enter fiscal year 2014.
Americas Recycling shipped 588,000 tons for net sales of $346 million.  The Recycling segment suffered a $6.7 million adjusted operating loss compared to a profit of $8.3 million in 2012.  Nonferrous volumes and pricing dropped in fourth quarter offsetting higher volumes, selling prices and margins for ferrous scrap.  The segment also took a $2 million operating loss on a long-term supply contract with a customer.

Latest in Steel Mills