Steel Products Prices North America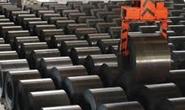 September Imports: Chinese Tonnage Growing, Koreans Still Shipping OCTG
Written by John Packard
November 3, 2013
---
The U.S. Department of Commerce is trying to catch up on the steel import licensing data after being affected by the government shutdown orchestrated by our representatives in Washington, D.C. The US DOC released Preliminary Census Data for September imports late last week. Imports continue to be at a high level although slightly lower than what was seen during the month of August. The 2,760,821 net tons of steel imports were 117,546 tons less than the prior month with the largest percentage of the reduction coming from oil country tubular goods (OCTG) which dropped by 111,377 tons.
When looking at flat rolled all of the areas followed by Steel Market Update (HR, CR, GI and AZ) were higher than both their twelve month and three month moving averages (12MMA & 3MMA) with the exception of Galvalume.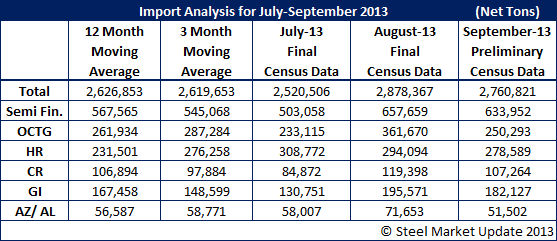 Brazil was the largest supplier of slabs shipping 350,189 net tons most of which we assume was destined for ThyssenKrupp Steel USA. Russia was the second largest exporter of slabs with 114,175 net tons.
We are beginning to see how adjustments in currency values can impact country's exporting to the United States.  Japan is the second largest exporter of hot rolled coil with 61,168 net tons – just behind Canada's 69,596 net tons. The Netherlands, Korea and New Zealand rounded out the top five with Mexico falling to 7th place behind Italy.
Looking at OCTG – the expectation was for a reduction in imports due to the dumping suits filed by the domestic producers. The steel industry expected all of the affected countries to reduce their shipments to protect themselves against potential penalties should the government ruling go against them. In the case of Korea they appear unfazed by the dumping allegations and continue to ship OCTG into the U.S. During September the Koreans exported almost 50 percent of the total tonnage with their 109,204 net tons. Also of interest is the license data collected through the 13th of October which is showing the Koreans on pace to meet or exceed their September levels.
The largest exporting countries to the United States during September were: Canada (449,514 net tons), Brazil (368,434 net tons – of which 350,180 tons were slabs destined for domestic steel mills) and Korea (316,730 net tons – a third being OCTG).
China's export tonnage to the United States is growing as September reached 194,568 net tons. This represents an increase of 84,504 tons from the month of August. September was the biggest steel exporting month to the U.S. for the Chinese this year.

Latest in Steel Products Prices North America