Economy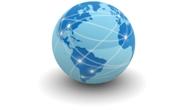 Global Manufacturing PMI at 52.2 in September
Written by Sandy Williams
October 1, 2014
---
Global manufacturing growth slowed in September. The JP Morgan Global Manufacturing PMI eased to a 4-month of 52.2 maintaining the general rate of expansion seen throughout 2014.
Meaningful growth was mostly limited to the U.S., however, along with improvements in Czech Republic, Ireland, Taiwan and Canada. Growth was stagnant in most of the rest of the world. The PMI was below 50.0 in Germany, France, Austria and Greece. In Asia, Japan slowed and growth was stagnant or muted in China, India, and Indonesia. South Korea contracted in September.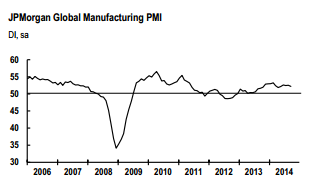 Commenting on the survey, David Hensley, Director of Global Economics Coordination at JPMorgan, said: "The global PMI indicates the global manufacturing sector maintained solid growth momentum in September. However, in recent months, production gains have lagged well behind the pace implied by the PMI. We continue to look for convergence into year's end, with the PMI giving up some ground, based on the decline in new orders, alongside a meaningful acceleration in output." 
Eurozone
The Markit Eurozone Manufacturing PMI registered 50.3 falling slightly from 50.7 in August and indicating growth stagnation. The third quarter PMI was 50.9 the lowest since the same quarter in 2013.
Ireland led growth, followed by a slowing Spain, and 2-month highs for the Netherlands and Italy. The German PMI fell back into contraction at 49.9, registering a15 month low.
"September's Eurozone PMI makes for gloomy reading," said Chris Williamson, Chief Economist at Markit. Williamson said the Eurozone has lost growth momentum and the near-term outlook "looks worrying." Deteriorating order books could signal reduced output for fourth quarter 2014.
"What's especially perturbing is that Germany's PMI fell into contraction for the first time since June of last year, suggesting the region's northern industrial heartland has succumbed to the various headwinds of weak demand within the euro area, falling business and consumer confidence, waning exports due to the Ukraine crisis and Russian sanctions," said Williamson.
China
Operating conditions for Chinese manufacturers improved only marginally in September. The HSBC PMI registered 50.2, unchanged from August's three-month low. Output expanded slightly, driven by stronger export orders which reached its highest index reading since March 2010. "We think risks to growth are still on the downside and warrant more accommodative monetary as well as fiscal policies," said Hongbin Qu, Chief Economist, China & Co-Head of Asian Economic Research at HSBC.
Russia
Output and new orders rose in Russia in September, but overall momentum in manufacturing slowed as the PMI inched downwards to 50.4 from 51.0 in August. New export business fell sharply during the month. Commenting on the Russia Manufacturing PMI survey, Alexander Morozov, Chief Economist (Russia and CIS) at HSBC, said: ""The overall situation in manufacturing looks rather stable. Cost efficiency measures create a cushion against global markets headwinds and high funding costs. Import substitution and state orders must be supporting the manufacturing sector, as compared to other sectors of the Russian economy, we think. That said, investment goods industries single out from other industries: they reported the broad-based shrinkage in their business activity as captured by all key PMI survey indicators. This means that the observed growth in manufacturing is based on a weak footing."
Japan
Manufacturing in Japan rose for the second month driven by moderate growth in new orders and new export business. The Markit/JMMA PMI posted at 51.7, down from 52.2 but still above the long run series average of 50.6. Average selling prices rose for the third time since the tax hike in April with higher raw material and energy costs behind the change.
South Korea
The country featured heavily in US steel trade news, fell into contraction in September with a posting of 48.8, down from 50.3 in August. Order books fell for the fourth time in five months as new export orders fell at the quickest pace since August 2013. Output fell for the sixth consecutive month. Input and output prices both declined in September and was attributed to higher competition driving down charges and lower raw material costs.
Mexico
A bright spot in manufacturing was Mexico in September. The HSBC Manufacturing PMI rose to 52.6 from 52.1 in August supported by a rapid acceleration in new orders. Production levels increased for the eleventh consecutive month accompanied by modest gains in employment. New export orders, however fell for the first time in seven months.
Canada
The RBC Canadian Manufacturing PMI posted at 53.5 in September, down from 54.8 in August. Higher levels of output, new orders and employment were offset in part by stagnating new export orders. Although US demand picked up, business was subdued in other markets, particularly in the Eurozone.
"While we did see a slight dip in the index after a nine-month high in August, Canada's manufacturing sector continued to show strength," said Craig Wright, senior vice-president and chief economist, RBC. "As we progress into the final months of 2014, we expect a further strengthening in the U.S economy will augment Canadian exports and set the stage for solid manufacturing business conditions overall."

Latest in Economy