SMU Data and Models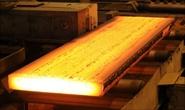 SMU Survey Results: Steel Mill Lead Times
Written by John Packard
November 9, 2014
---
One of the items Steel Market Update is watching closely is steel mill lead times. This is especially true after price increases have been announced. Typically, we see lead times move out (extend) after a price announcement has been made. This is due to the rush to get orders quoted prior to the increase announcement on the books of the steel mills.
The domestic mills began their latest announcements which were a modest $20 per ton ($660 per ton base hot rolled and $780 per ton base cold rolled & coated) the first few days of November. Our survey began on November 3 and was concluded on November 6.
Based on our survey results from last week, we were seeing hot rolled and Galvalume lead times retreating slightly from the middle of October. Hot rolled lead times averaged 3.95 weeks, down from 4.2 weeks. Galvalume lead times averaged 6.15 weeks which is down from 6.58 weeks measured during our middle of October survey.
Cold rolled and galvanized lead times remained essentially unchanged at 6.04 weeks and 6.11 weeks respectively.
SMU Note: We are not surprised that lead times have not yet reacted to the announcements as we were conducting our survey early in the process. Most of our respondents participated in the survey on Monday of this past week. Second, last year at this time we saw flat rolled prices moving higher. As you can see from the table below the lead times at the beginning of November were averaging almost a half week longer than where they are as of last week.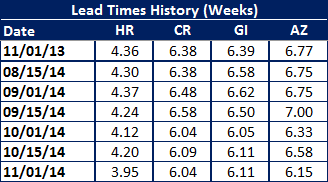 Below is an interactive graphic of our Steel Mill Lead Time History, but it can only be seen when you are logged into the website and reading the newsletter online. If you need any assistance logging in or navigating the website, contact us at info@SteelMarketUpdate.com or 800-432-3475.
{amchart id="112″ SMU Lead Times by Product- Survey}

Latest in SMU Data and Models