Steel Mills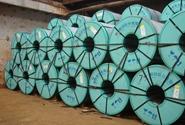 Mexico Extends Investigation on CRC from China
Written by Sandy Williams
December 11, 2014
---
The Mexico Economy Secretariat announced an extension of the investigation of cold rolled coil from China.
"There are enough elements to preliminary support that in the investigated period the imports of the subjected product were done under price discrimination and generated a harm threat to the national production," said the secretariat on Monday.
The products in question are cold-rolled steel products, not less than 600 mm wide, uncoated, 0.5-3 mm thick, under HS codes 7209.16.01 and 7209.17.01 imported to Mexico from October 2012 to September 2013. The complaint was brought to the Secretariat by Ternium and was supported by Ahmsa.
At this present time no countervailing duties have been imposed and a final determination time was not given by the Secretariat.
Imports of cold rolled coils into Mexico from China jumped 93 percent year-over-year from 2014 January to October. The secretariat estimates imports will continue to impact the Mexican steel industry in 2015, reducing next year's production by 4 percent domestic shipment by 7 percent and capacity utilization by 2 percent in the first three quarters of 2014 (source: Platts).
The U.S. steel industry has been wondering "will they or won't they" regarding the filing of a dumping suit on imports of China cold-rolled to the U.S. A negative decision for China in Mexico may divert more cold rolled to the U.S., which could make that suit more likely.

Latest in Steel Mills