SMU Data and Models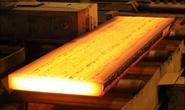 Steel Mill Lead Times Almost One Week Shorter Than Last Year
Written by John Packard
January 8, 2015
---
Domestic steel mill lead times continue to slide (shrink) on all flat rolled products with the exception of Galvalume.
Based on the results of this weeks flat rolled steel market analysis, hot rolled lead times averaged 3.19 weeks, down one half a week compared to the beginning of December and one week shorter than what we saw the first week of January 2014.
Cold rolled also saw their average lead time shrink from 5.68 weeks at the beginning of December to 5.15 weeks as of this week. Like hot rolled above, cold rolled lead times are now one week less than what was measured one year ago (6.25 weeks).
Galvanized lead times average 5.50 weeks, according to our survey respondents, down from 5.97 weeks at the beginning of December. One year ago galvanized lead times averaged 6.25 weeks or three quarters of a week further out than today.
Galvalume lead times held steady at 6.18 weeks. At the beginning of December the AZ lead times were measured at 6.20 weeks. However, much like the other flat rolled products, when compared to last year lead times are almost three quarters of a week shorter this year than last (6.75 weeks).
Steel Market Update expectation is for continued pricing pressure until the supply/demand basics reverse themselves causing lead times to extend from here.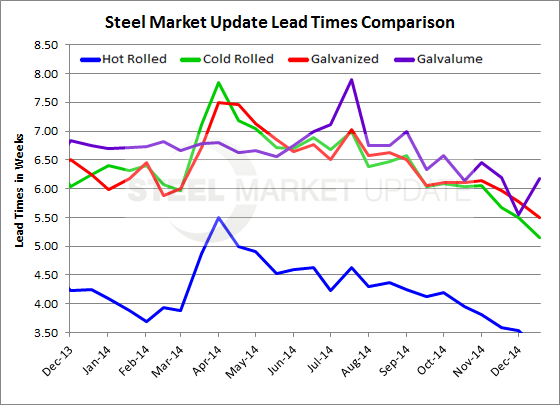 Latest in SMU Data and Models