Service Centers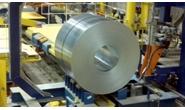 Service Center Steel Buyers: You Don't Catch a Falling Knife
Written by John Packard
February 10, 2015
---
Flat rolled steel buyers are resigned to a steel price spot market which takes benchmark hot rolled prices below the $500 per ton ($25.00/cwt) level. One of the large hot rolled service centers this morning told Steel Market Update that they were having a difficult time keeping up with the pace of the falling numbers. "It's hard to keep track it's moving so fast," is what the executive with this HR and plate distributor told us this morning. "At this point no one is going to be shocked by the numbers. It is going to take a trade case to reverse direction."
A service center in the Southeast told us that with the drop in scrap prices, which are down $80 to $110 per gross ton for February delivery to the steel mills, the mini mills are well positioned to adjust pricing and compete with the foreign numbers. "I think we will see further price erosion in the weeks to come," is what the owner of this distribution company told us this afternoon.
He went on to say, "I think the mills are on the run.  Huge quantities of imports, bloated inventories and plummeting raw material costs has created short term havoc in steel pricing.  I don't think anyone knows where the bottom will be.  Pricing is dropping quickly and I don't know if the mills have any power to stop it."
Supply and demand are the key issues haunting the industry at this moment. Demand is decent but supply is out of whack due to the run-up in foreign steel imports which have bloated service center inventories coupled with the domestic mills finally running on all cylinders and not having equipment problems as was the case at this time last year.
Although the energy markets have seen some impact in the flow of line pipe and OCTG orders, one distributor who services the market told us the impact on their demand is not as severe as one would think. "Demand is excellent. Energy is of course down but not as much as you would think," is what the steel buyer with this service center told us.
However, we are seeing major hits being taken by those pipe and tube manufacturing companies who service the industry. Once again, the combination of heavy imports which have bloated the available inventories at the ports and service centers and all of the domestic mills needing hot rolled orders has created an untenable situation for the steel mills.
"The biggest difference between here and the last great fall in steel prices [2008-2009] is back then when prices dropped there was no place to go with it [sell the inventory]. Now, with the exception of the energy markets, demand is down by 5 percent or less. In some places demand is actually up," is how one service center executive pegged the market. The issue in this executive's opinion is margins are being squeezed and companies like theirs were getting low priced offers – both domestic and foreign – and and were not buying.
This distributor told me their company was going back to their contract customers and renegotiating contact pricing in order to extend the expiration dates and take advantage of the lower price offers out of the domestic mills. We have not heard this as being normal for other service centers so we will continue to investigate to see if this becomes more commonplace in the coming weeks as prices continue to tumble.
Besides the energy markets, we need to watch automotive which has been one of the key drivers in the flat rolled steel markets over the past few years. It has been the strength of automotive production which has helped keep the mills, particularly the integrated mills, busy. We heard from three automotive related service centers that demand continues to be strong but there are growing concerns regarding the days of inventory on the floors of the auto companies. Inventories are now at, or above, 100 days and without a surge in buying we could see production slow on certain models. This would not be a good thing for this market.
All in all we are hearing from the service centers that business conditions are generally good. One Midwest service center told us they had their best January in years. Then they told us, "Somewhat alarming is that USX [US Steel] is cold calling! I got called on by them for the first time in like 5 years…."
They then went on to say prices are "getting real dicey as some mills try to hold $26.50. Most seem to be at $26.00…"
The service centers are resigned to selling off their inventory at whatever number it takes. As one executive out of the South told us, "Spot market pricing is easily down five bucks.  You either compete or you lose the order."
So, service centers are waiting for the bottom and trying to not catch the knife on the way down. Once we get to into the $400's we will need to watch to see if there is pent up demand that might flow into the market quickly and push lead times out and prices up.
One mill executive told me that they are getting "…a little more bullish due to better order entry." [coated products] We will wait and see if this spreads to other mills and other products.

Latest in Service Centers