Steel Products Prices North America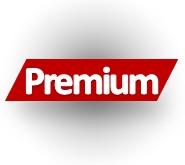 Flat, Long, and Semi-Finished Imports through February 2015
Written by Peter Wright
March 6, 2015
---
Licensed data for February was updated on March 3rd through the Steel Import Monitoring System of the US Commerce Department. Steel Market Update publishes several import reports ranging from this very early look using licensed data to the very detailed analysis of final volumes by district of entry and source nation which is published in our premium product.
The early look, the latest of which you are reading now has been based on three month moving averages (3MMA) using February licensed data, January preliminary and December final data. We recognize that the license data is subject to revisions but believe that by combining it with earlier months in this way gives a reasonably accurate assessment of volume trends by product as early as possible. The main issue with the license data is that the month in which the tonnage arrives is often not the same month in which the license was recorded. In 2014 we completed a full 12 months of investigations in which we examined the relationship between licensed tonnage and month of arrival. The result was that for the full year the reported licensed tonnage of all carbon and low alloy products was 2.3 percent less than actually receipts, close enough we believe to confidently include licensed data in this current update. Total rolled product licensed imports in the month of February were 2,856,186 short tons which was over 500,000 tons higher than February last year but down by 442,000 tons from January.
Figure 1 shows the 3MMA through February licenses for semi-finished, flat and long products. Flat includes all hot and cold rolled sheet and strip plus all coated sheet products including tin-plate plus both discrete and coiled plate. The import surge took a breather for flat rolled in December and the downward trend continued through February. Semi-finished was very little changed in February and long products were up by 30,600 tons.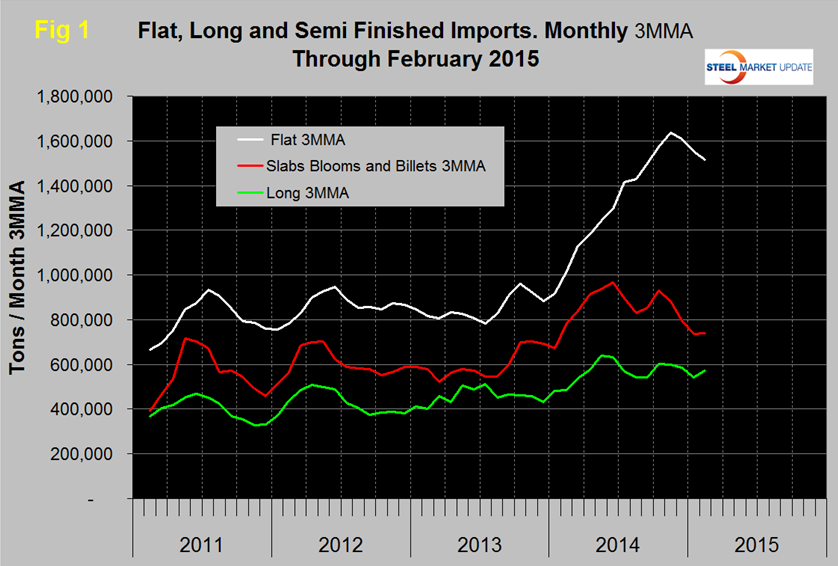 Figure 2 shows the trend of sheet and strip products since January 2011 as three month moving averages. Of the big three tonnage items, HR, CR and HDG, the only product to increase in February was HDG. All other metallic coated (mainly Galvalume), has been declining since mid-2014 however that trend slowed in the first two months of this year. Tin plate had been trending up for all of 2014 but declined in January and February. Electro-galvanized keeps on rolling along with little change in three years. In the single month of February hot rolled sheet and strip licenses were 303,810 tons, down 42.0 percent from January, HDG was 307,615 tons, up by 16 percent and cold rolled came in at 231,117 tons, down by 3 percent.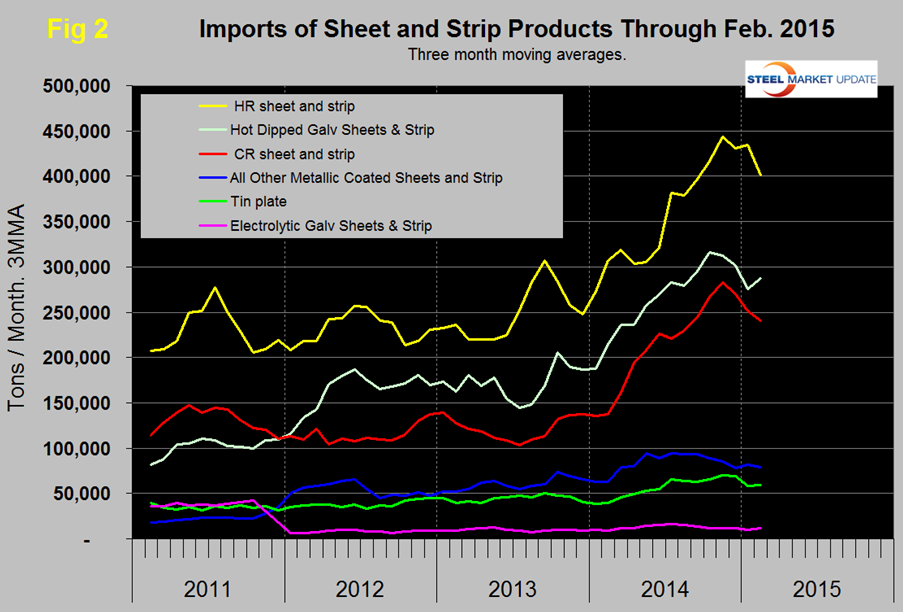 Table 1 provides an analysis by major product group and by sheet products in detail and compares the average monthly tonnage in the latest three months through February with both the same period last year (Y/Y) and with three months through November (3M/3M). Semi-finished slabs and billets were down by 16.3 percent 3M/3M and by 5.4 percent Y/Y. The total tonnage of hot worked products was 2,994,277 tons in February, down by 881,176 tons from February last year. The three moving average was up by 0.1 percent from the average of three months through November and by 41.7 percent from a year ago. On the same basis flat rolled products were down by 7.2 percent and up by 49.0 percent. Long products were down by 4.6 percent and up by 17.5 percent. Table 1 shows the tonnage and percent change for sheet products in detail for which the total February tonnage was 305,329 tons higher than February last year. Sheet tonnage was down 10.8 percent in three months through February compared to three months through November and up by 38.7 percent year over year. All individual sheet products were down in the three month comparison and up year over year.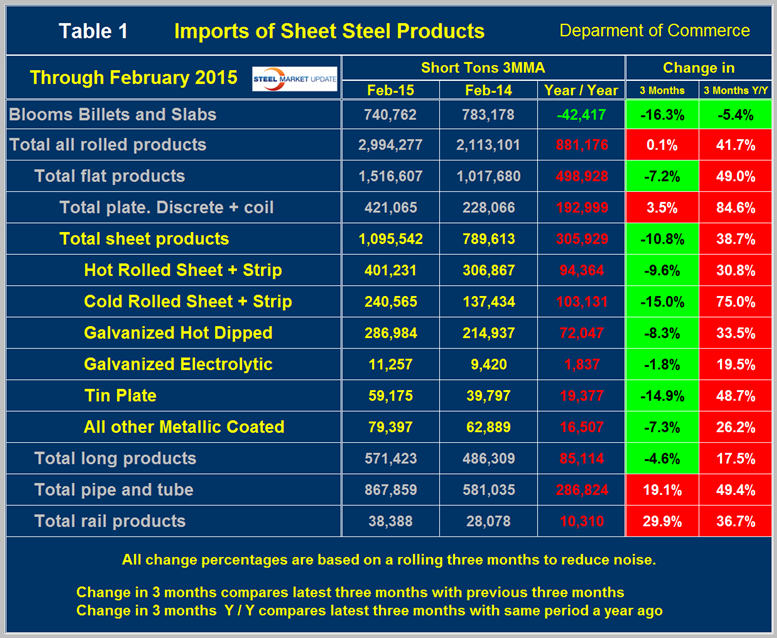 Table 2 shows the same analysis for long products. For total long products the tonnage was down by 4.6 percent, 3M/3M but rebar and wire rod continued to increase, other products were down in this short term comparison.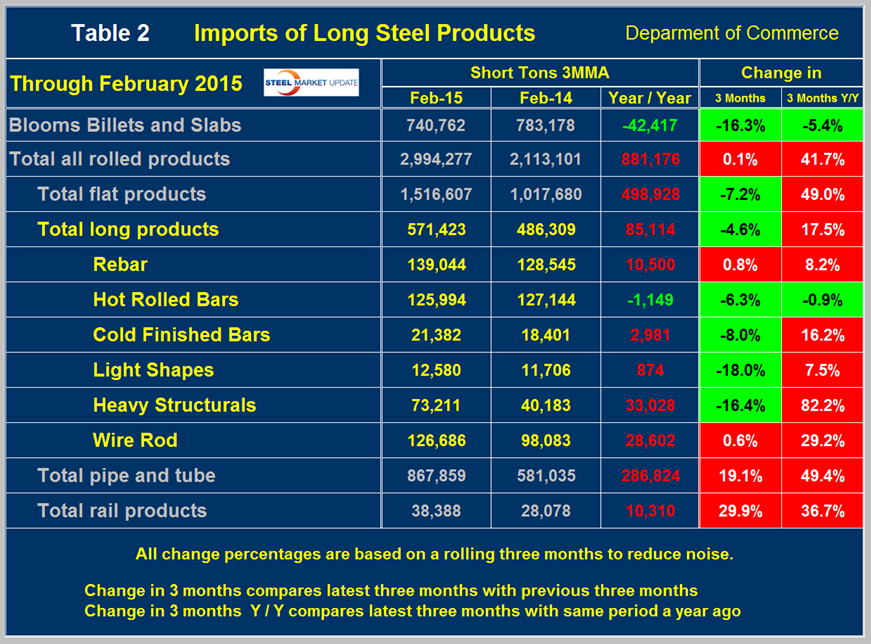 The indication from the last three months of data is that the import surge has passed its peak.

Latest in Steel Products Prices North America