Steel Products Prices North America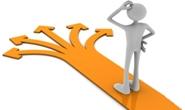 March Steel License Data Trending Toward 3.6 Million Ton Month
Written by John Packard
April 2, 2015
---
Based on the most recent license data released by the U.S. Department of Commerce (SIMA) on Tuesday of this week, steel imports appear to be trending toward the 3.6 million net ton level. This is less than what we saw earlier in the month when license data was trending toward a 3.8 million net ton month. If the final numbers come in at 3.6 million net tons, March imports will be essentially flat against February imports (with fewer importing days).
We are seeing large drops in semi-finished imports as the domestic steel mills respond to the overages they have on their floors due to weakening order books.
Oil country tubular goods (OCTG) appear poised to make a significant drop as oil prices on the WTI have created an over-inventoried situation due to the reduction of oil and gas drilling rigs. OCTG should come in at just under 300,000 net tons which is below both the 3 month and 12 month moving averages.
Hot rolled imports are also poised to be lower in March as based on license data through the 31st it appears HRC will come in around 300,000 net tons. If correct this would be less than the 3MMA and 12MMA by a significant margin.
Coiled plate, on the other hand, is bucking the trend for fewer tons and appears to be trending toward 253,000 net tons which is higher than the 3MMA of 223,883 net tons and 12MMA of 192,000 net tons.
Cold rolled, which has been one of the items where finger pointing at the Chinese has become prevalent, appears poised to drop to 166,000 net tons in March versus the 200,000+ tons we have seen for a number of months. Chinese CR license requests appear will be at the lowest levels seen since February 2014. Even so, the Chinese will be the largest exporters of CRC to the U.S. in March.
Galvanized, on the other hand, is moving against the tide and continues to grow with March poised to exceed January, February the 3MMA and 12MMA tonnages. The Chinese were huge exporters of galvanized in February and they will be the largest exporters again in March albeit about 25 percent lower than the prior month. South Korean GI tonnage appears to be growing as are the tons coming out of Italy.
Galvalume is another product where imports continue to grow and are well above the 3MMA and 12MMA. However, February tonnage was low (in comparison to the 3MMA & 12MMA) and some of those tons may have spilled into March. The three biggest exporters of AZ are Taiwan, South Korea and China.
Cut plate is in line with the 12 month moving average.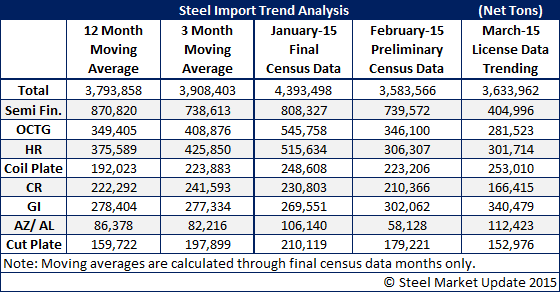 Latest in Steel Products Prices North America