Steel Products Prices North America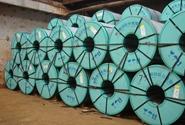 September Foreign Steel Imports Trending Below 3.0 Million Tons
Written by John Packard
September 15, 2015
---
The U.S. Department of Commerce released the latest license data for the month of September through the 15th of September late this afternoon. For the first time in many months we are seeing a large change in the license requests at this point in the month. Earlier this month it appeared that licenses were trending toward a continuation of the 3.0 million plus tonnage levels (all products). As of today that has dropped to 2.8 million tons (trend) and we could see these numbers move lower if the trend continues.
We remind our readers that license data is not the final numbers and the variance between license data, especially in the middle of a month, and the final numbers can be very large. What we are looking for is a change in the trend (direction) which we follow not only by total tonnage but also by key flat rolled, plate and pipe products.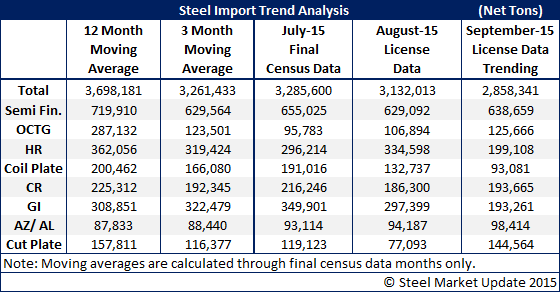 We thought you might be interested in looking at the data the way we do as we watch the changes in the trend. So, for those who are looking at total tonnage you can clearly see that the trend line is favoring the domestic steel mills (moving lower). Semi-finished, which are products such as slabs purchased by the domestic steel mills, have been moving slightly higher to sideways. OCTG took a big drop and have been moving sideways for some time.
Interesting ones to look at – the products affected by trade suits: CORE (corrosion resistant steels) – Galvanized is on a nice downward trend, Galvalume not so much. Cold rolled trend is slightly lower but not reacting like galvanized (which was the first case filed). Hot rolled is on a downward trend.
The table below shows May through September and where license data was being reported as of the middle of the month (data reported the 12th day of the month through the 18th day) as a daily tonnage average.


Latest in Steel Products Prices North America