Steel Mills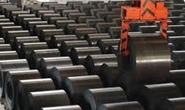 U.S. Steel Service Centers Reduce Flat Rolled Inventories
Written by John Packard
March 17, 2016
---
U.S. steel service centers shipped a total of 3,179,800 tons of steel products during the month of February 2016. Even with an extra day due to Leap Year total tonnage was down 4.6 percent over year ago levels. The 151,400 tons per day steel shipment rate was down from January's 152,700 rate and well below the 166,600 tons per day shipped during February 2015.
Total steel inventories (all products) dropped to 7,842,800 tons and inventories are 20.6 percent lower than the 9,875,200 tons held on distributor floors at the end of February 2015.  The number of months supply dropped to 2.5 months from January's 2.6 months. One year ago service centers were holding 3.0 months supply.
Carbon Flat Rolled
Shipments of carbon flat rolled steels totaled 2,154,700 tons which was almost exactly the same as the 2,156,200 tons shipped during February 2015. The daily shipment rate in February at 102,600 tons per day was slightly lower than the 103,600 tons we saw in January and was lower than the 107,800 tons per day reported at the end of February 2015.
Inventory levels dropped on carbon sheet by 87,100 tons to 5,154,000 tons as of the end of the month. Inventories are now 16.2 percent lower than one year ago and the number of month's supply dropped from 2.5 to 2.4 months.
SMU Carbon Flat Rolled Apparent Excess/Deficit Model

For our Premium level members Steel Market Update has a proprietary analysis we produce on service center inventories and shipments. We provide an analysis as to whether the distributors' inventories are in Apparent Excess or Deficit. For many months the service centers have been running high inventories and have been in Excess of what our model calls for to be balanced. We have been forecasting that the Excess would be dropping and we would be close to, if not totally in a balanced position going into March. We do this by projecting total flat rolled shipments which our forecast for February was 2,151,000 tons (actual was 2,155,000 tons) and that inventories would end the month at 5,138,000 tons (actual was 5,154,000 tons) with an Apparent Excess projected of 220,000 tons (actual is 232,000 tons). We will produce our next forecast for our Premium members on Friday morning in a special Premium supplemental issue of our newsletter.

Carbon Plate
Carbon plate shipments totaled 284,300 tons during the month. Shipments were better than the previous month's 267,100 tons but well below last year's 360,800 tons. The daily shipping rate for plate products was 13,500 tons per day. This is a slight improvement over January's 13,400 tons per day but well below the 18,000 tons per day seen last February.
Plate inventories dropped to 723,900 tons (-15,600 tons) and inventories are now 43.3 percent lower than what we saw one year earlier. The number of month's supply is also dramatically lower now standing at 2.5 months versus 2.8 months in January and 3.5 months one year ago.
Carbon Pipe & Tube
Pipe and tube shipments totaled 202,500 tons which is an improvement over the 190,600 tons shipped during the month of January 2016. However, as with the other carbon steel products, pipe and tube shipments were 12,600 tons lower than what was reported for the month of February 2015. The daily shipment rate was 9,600 tons per day or 100 tons per day higher than January. Last February distributors shipped an average of 10,800 tons per day.
Inventories of pipe & tube dropped to 568,100 tons and the number of months of supply on hand at domestic distributors dropped to 2.8 months supply from January's 3.0 months. One year ago, pipe and tube service centers were carrying 3.2 months supply.

Latest in Steel Mills