SMU Data and Models
Steel Mill Lead Times 1 to 2 Weeks Longer Than 1 Year Ago
Written by John Packard
March 20, 2016
---
Steel Mill lead times are important keys to watch. As lead times extend buyers have to place more orders and spend more time balancing their inventories in order to satisfy their customers. Longer lead times also support domestic steel mill pricing and create opportunities for steel mills to raise steel prices (which is exactly what has been happening over the past few months in the United States and Canadian markets).
Steel Market Update produces articles about lead times in two distinct ways. First, by the use of our flat rolled steel market trends analysis (survey) and second, through the examination of lead time sheets published by the mills as well as comments from buyers regarding lead times being verbally quoted. Today we are going to use the average of the responses from last week's questionnaire as the basis of our article. Later this week we will provide an article on the published lead times for our readers to compare.
This past week SMU respondents reported lead times on hot rolled, cold rolled, galvanized and Galvalume steels as being one to two weeks longer than what they reported to us one year ago.
Hot rolled lead times are averaging close to 4 weeks according to those taking our survey. HRC lead times have been averaging close to 4 weeks since the middle of January of this year. One year ago HRC lead times were averaging just under 3 weeks.
Cold rolled lead times are averaging just over 6.5 weeks (6.6) which is where they have been reported to be since the beginning of February and are one week longer than what we saw during the first week of January 2016. One year ago CRC lead times were averaging 4.64 weeks, two weeks shorter than what we are reporting now.
Galvanized lead times were averaging 7.29 weeks which is about three-quarters of a week longer than what we were seeing at the beginning of the New Year. One year ago GI lead times were reported to be averaging 5.0 weeks or, 2.29 weeks shorter than where we are today.
Galvalume lead times dipped slightly to 6.60 weeks from the 7.25 weeks reported at the beginning of the month of March. However, the 6.60 week market is consistent with what we have been seeing since the middle of January 2015. One year ago AZ lead times were one week shorter at 5.67 weeks.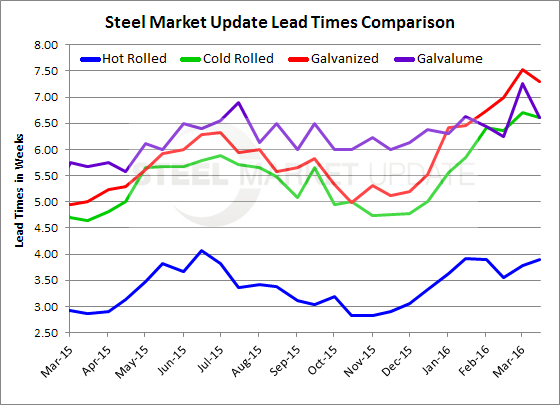 Latest in SMU Data and Models