Steel Products Prices North America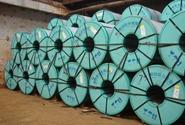 September Foreign Steel Imports Trending Toward 3+ Million Ton Month
Written by John Packard
September 21, 2016
---
License requests for steel coming from foreign sources are continuing at a pace where steel imports for the month of September will exceed 3 million tons. On Tuesday the U.S. Department of Commerce released the latest license data. The data is indicating a rising trend in total foreign steel imports (all products), hot rolled, cold rolled, galvanized, Galvalume as well as semi-finished steels, OCTG and coiled plate (see below).


Again, we need to remember that the numbers being presented for the month of September are based on license data through the 20th of the month. The trend is for the month to exceed 3 million tons (perhaps as high as 3.3 million tons) but the actual final number could vary by 200,000 tons (+/-).
However, at this moment the trend is for higher than what we have seen over the past three months as well as 12 month averages. Some of this is probably due to seasonal factors. For example we are in the peak of the Galvalume season so it stands to reason that AZ (Galvalume) license requests would be higher in September (and probably again in October) before dropping back.
When looking at the data closer we are finding the semi-finished numbers are being inflated by the Brazilian license requests which as of the 20th totaled 337,000 net tons. The Russian license requests so far this month at 86,000 tons are actually lower than what we have seen over the past couple of months and ultimately the semi-finished tonnage may well come in lower than the 838,000 tons showing in our trends analysis below.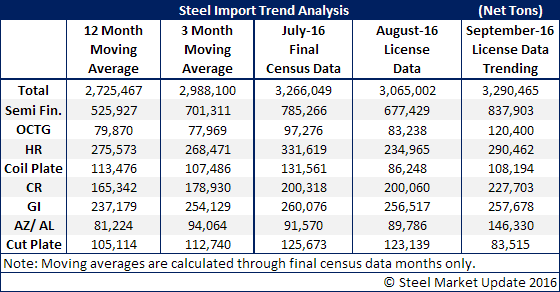 Latest in Steel Products Prices North America