SMU Data and Models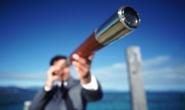 Steel Mill Lead Times: Same as Last Year
Written by John Packard
October 6, 2016
---
Lead times continue to be at, or slightly below year ago levels.
Steel Market Update conducted our flat rolled steel market trends analysis over the course of this week. As part of our questionnaire, submitted to almost 550 companies, we ask questions regarding lead times for new orders out of the domestic steel mills by product. A note to those who are new to Steel Market Update, our lead time analysis is not based on information being provided by the steel mills. We are only getting data from service center and manufacturing companies who are reporting what they are seeing and being told. We then average the responses to come up with the lead times we are reporting here.
Hot rolled lead times are averaging 3 weeks (3.06 weeks) which is not statistically different than what we reported both two weeks ago (3.11) or one month ago (3.19). One year ago, as prices were weakening, the average lead time on hot rolled was 3.19 weeks. At the middle of Jul,y HRC lead times were reported by SMU as averaging 4.0 weeks.
Cold rolled lead times are averaging 5 weeks (5.04 weeks) which is essentially the same as what was being reported one year ago (4.95 weeks). The new average is slightly shorter than what we reported two weeks ago (5.38 weeks) and is much lower than what we saw in mid-August/early September of approximately 6 weeks (5.87 & 5.97 weeks).
Galvanized lead times have reacted much the same as cold rolled above. The new average is 5.5 weeks (5.45 weeks) which is lower than what we reported two weeks ago when lead times on GI were closer to 6 weeks (5.84). In mid-July galvanized lead times were just below 7.5 weeks (7.38). One year ago GI lead times were very similar at 5.32 weeks.
Galvalume lead times continue to be just under 6.5 weeks with our latest average coming in at 6.44 weeks. This is essentially unchanged from what we have been reporting over the last month. The longest lead time we have reported this summer was 7.25 weeks at the beginning of August.
Short lead times are a sign of weak or weakening mill order books which tends to lead to more willingness on behalf of the domestic mills to negotiate spot prices. We will report on that in a separate article in tonight's issue of SMU.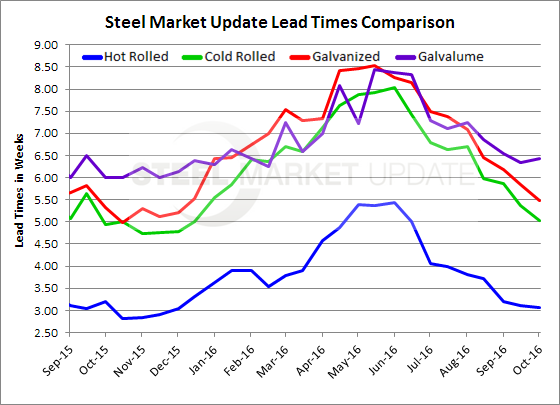 A side note: The data for both lead times and negotiations comes from only service center and manufacturer respondents. We do not include commentary from the steel mills, trading companies, or toll processors in this particular group of questions.
To see an interactive history of our Steel Mill Negotiations data, visit our website here.

Latest in SMU Data and Models