Steel Mills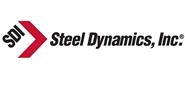 SDI Believes Weaker Demand is Seasonal, Not Structural
Written by Sandy Williams
October 20, 2016
---
Steel Dynamics reported higher flat rolled prices resulted in an 11 percent increase in earnings in the third quarter. Net earnings were $284 million on net sales of $2.1 billion. Adjusted net income, including a $5 million litigation settlement charge, was $157 million for the quarter.
SDI steel production was at 85 percent capacity in third quarter compared to the industry average of 69-70 percent. SDI's Butler operation operated at 97 percent.
SDI President and CEO Mark D. Millett commented that inventories were below historical averages with buyers hesitant to place orders anticipating further declines in scrap. As a result, steel shipments declined to 2.1 million tons from second quarter. 
Demand for heavy equipment, agricultural and energy markets remains weak, while automotive continues to be strong and construction continues to improve.
During the earnings call Millet said that although sheet buyers have been "sitting on the sidelines" over the last two or three month anticipating further price erosion, demand is relatively unchanged. "Obviously there is a lot of noise out there as to the market place, is there some markets that are off, but I would tell you we are strong believers there is not a structural change in demand. It is principally seasonal," said Millet. "We are going through a similar cycle that we saw last year in fourth quarter and that the volatility is driven more by procurement decisions by inventory positioning than any structural change in demand."
The energy market is showing glimmers of activity on the rig side, said Millet, although SDI is not expecting that volumes for OCTG will be dramatically higher in the first quarter 2017.
When asked about near term pricing Millet expounded on the subject:
"I think we are certainly at bottom of market place, I think there is an inflection point around that corner, whether next week or a month or two, your guess is as good as mine. I don't know if one week makes a market but the order activity and the inquiry activity just in the last week and a half is considerable compared to the last 2 or 3 months for sure. If you look at the probability of price direction and an inflection point, there are several factors in my mind that suggest pricing is going to move up."
Several indicators show the inflection point is near:
Import activity has reversed itself with pricing for foreign steel very unattractive today. Imports have dropped about 20 percent year-over-year in third quarter and customers are starting to see the unreliability of import deliveries from smaller countries. Trade cases will remain in effect and continue to limit imports.
Scrap prices have likely reached the floor, said Millet, eliminating the resistance to place steel orders. Going forward, he said it is "a flat to the middle pricing environment so there is no incentive for folks to hold off today from a raw material perspective. "
Supply inventories are at very low levels, at a shipment basis at 2.4 or 2.5 months that will put buyers at a tight position when the tide turns, said Millet.
"Coke has gone orbital," he added, more than doubling in the last few months and putting pressure on the integrated mills.
"And one other kind of side note, the speculators out there that tend to take large positions, and they are the ones who tend to draw the market prices down in a trough-like period that we are in today, most of those folks have taken those positions, so I think the pressure is off. So you have a multifaceted premise that we are nearing an inflection point."
Operating income from SDI's metals recycling operations declined $5 million from second quarter to $10 million.
"Ferrous scrap demand declined based on lower domestic steel mill utilization, resulting in lower ferrous shipments, while ferrous metal margin remained steady," said Millett. "Earnings from our fabrication operations also declined in the quarter, due to increased steel input costs more than offsetting higher selling values. However, our fabrication platform continues to experience steady demand from the non-residential construction sector."
Fabrication operations reported operating income of $18 million, down from $24 million.
The Columbus Flat Roll Division continues to improve due to successful market and product diversification. Columbus achieved near record nine month production levels for 2016, said Millett. SDI added the capability to produce value-added Galvalume® flat roll products during the third quarter 2016, and a $100 million paint line addition is on schedule to begin production in the first quarter 2017, adding 250,000 tons of value-added painting capability.
Millett commented on a recent trip to Mexico where he found the "growth down there is unimaginable and most of it is steel consuming." The Columbus mill is an excellent position logistically to penetrate the Mexican market. SDI anticipates gaining business from US automotive manufacturers who move operations to Mexico and want SDI to continue to service them.
In the outlook remarks, Millet noted that customer inventory levels remain low and are likely to stay that way through the end of the year due to normal lower seasonal demand. Scrap prices that have hit bottom are expected to flatten out but will not see a significant upward move until utilization rates improve and export markets pick up. The winter weather is also likely to slow the flow of scrap.
"Due to these factors, we anticipate lower sequential volumes in our operating platforms, which is seasonally typical for the calendar fourth quarter and sequentially weaker realized steel pricing," said Millet. "Although domestic automotive production may be coming off record levels, we believe 2017 automotive steel consumption will be steady with Mexico growing production, and that there will be additional growth in the construction sector, especially for larger, public sector infrastructure projects. We could also see some improved activity within the energy sector next year."

Latest in Steel Mills