Steel Products Prices North America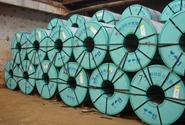 Final September Imports at 2.8 Million Tons
Written by John Packard
November 8, 2016
---
The U.S. Department of Commerce (DOC) released Final Census Data on imports of foreign steel for the month of September 2016. Imports totaled 2,775,565 net tons which is 9.5 percent below the August import numbers. The U.S. continues to see strong imports of semi-finished steels (slabs/billets) which are used by the domestic steel mills. Hot rolled was down from both the 12 month and 3 month moving averages as was coiled plate and cut plate. OCTG and cold rolled were below the 3MMA but above the 12MMA. Both galvanized and Galvalume were above both the 12MMA and 3MMA.
As we look at October license data the month is setting up to be slightly higher than September with growth being seen in OCTG (oil country tubular goods), cold rolled and a big spike in Galvanized. The spike in galvanized was not due to Vietnam but rather Turkey (27,000 net tons), Brazil (33,000 net tons) and Taiwan (31,000 net tons).
The November trend is based on only 8 days of license data, we recommend that you ignore it until we revise it next week.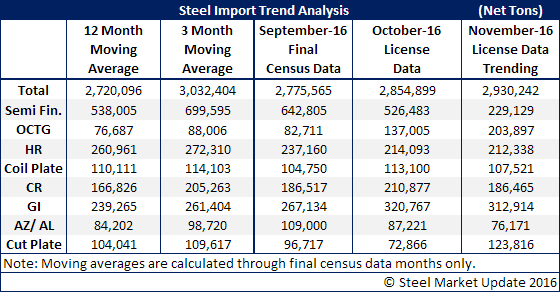 Latest in Steel Products Prices North America