SMU Data and Models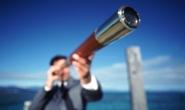 Steel Mill Average Lead Times Extending
Written by John Packard
November 22, 2016
---
Flat rolled steel lead times continued to move out (extend) according to those taking our flat rolled steel market trends survey which we began on Friday and concluded earlier today. Lead times are now more than one week longer than year ago levels as steel buyers have entered the market in response to the three price increase announcements that have been made by the flat rolled steel mills since late October.
Hot rolled lead times are now averaging more than 4 weeks (4.18 weeks) which is a significant move compared to the 2.84 week average we reported on the 15th of October. One year ago HRC lead times were just under 3.0 weeks (2.91 weeks).
Cold rolled lead times are now averaging 6.35 weeks, up .35 weeks from the beginning of the month. In mid-October lead times were 5.0 weeks and one year ago they were less than 5 weeks (4.75 weeks).
Galvanized lead times have extended close to 7.0 weeks (6.85 weeks) and are about one half of a week longer than what we reported as our average at the beginning of November. One year ago GI lead times were barely above 5 weeks (5.11 weeks).
Galvalume lead times are now averaging more than 7 weeks (7.36 weeks) which is close to 1.5 weeks longer than the 6.0 weeks reported one year ago.
Lead times are a key indicator of the strength of the domestic order books. The longer the lead times the better the odds are that price increase announcements will stick.
The lead times reported by SMU are from our survey results and are not in any way associated with the lead times individual mills are reporting to their customers. Our lead times are an average of all the responses we receive from manufacturing companies and service center/wholesalers.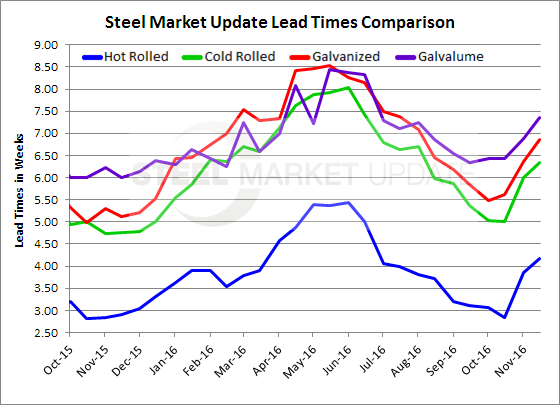 A side note: The data for both lead times and negotiations comes from only service center and manufacturer respondents. We do not include commentary from the steel mills, trading companies, or toll processors in this particular group of questions.
To see an interactive history of our Steel Mill Negotiations data, visit our website here.

Latest in SMU Data and Models