Steel Products Prices North America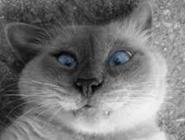 Steel Prices Rising and 2017 Looks Like More of the Same
Written by John Packard
December 8, 2016
---
To date the domestic steel mills have announced four flat rolled price increases totaling a minimum of $140 per ton ($7.00/cwt) going back to October 21, 2016.
As of today the U.S. steel mills are looking for base price levels on new orders to be placed for the 1st Quarter 2017 to be a minimum of $600 per ton ($30.00/cwt) on hot rolled and $820 per ton ($41.00/cwt) on cold rolled and coated (galvanized/Galvalume). These prices are before any quality, coating or any other extras which would need to be added to the base price in order to get the final FOB mill transaction pricing on any specific product.
On Tuesday, December 6, 2016 Steel Market Update (SMU) market analysis found flat rolled price transactions as averaging $580 per ton ($29.00/cwt) on hot rolled. We also published cold rolled base prices as averaging $790 per ton ($39.50/cwt), galvanized averaging $790 per ton ($39.50/cwt) and Galvalume averaging $790 per ton ($39.50/cwt) for new orders placed this week for future delivery in the First Quarter 2017.
We are now six weeks into the current "up" cycle for steel prices and, in the opinion of Steel Market Update, pricing momentum continues to be with the domestic steel mills. Our expectation is for steel prices to continue to increase over the next 30 to 60 days.
Benchmark hot rolled coil bottomed during the middle of October at $470 per ton ($23.50/cwt) and, at $580 per ton, is now $110 per ton higher than our mid-October average and $140 per ton higher than the low of our range which was $440 per ton. HRC prices are expected to move toward the $600 per ton level by the end of the calendar year.
Recently SMU publisher John Packard spoke at the HARDI (Heating, Air-conditioning, Refrigeration, Distributors International) conference in Colorado Springs, CO. During the steel committee meeting the group discussed the pricing charts for galvanized steel which had similar price movements to the hot rolled graphic below. SMU found there was some confusion about what the index numbers mean that buyers see and hear in the market on a daily basis and what they mean to those actually buying steel in the spot markets.
When Steel Market Update looks at pricing we gather data which provides us a high and low from which we determine our average. It is the average price most people hear in the marketplace but you need to be aware there are differences from customer to customer and supplier to supplier.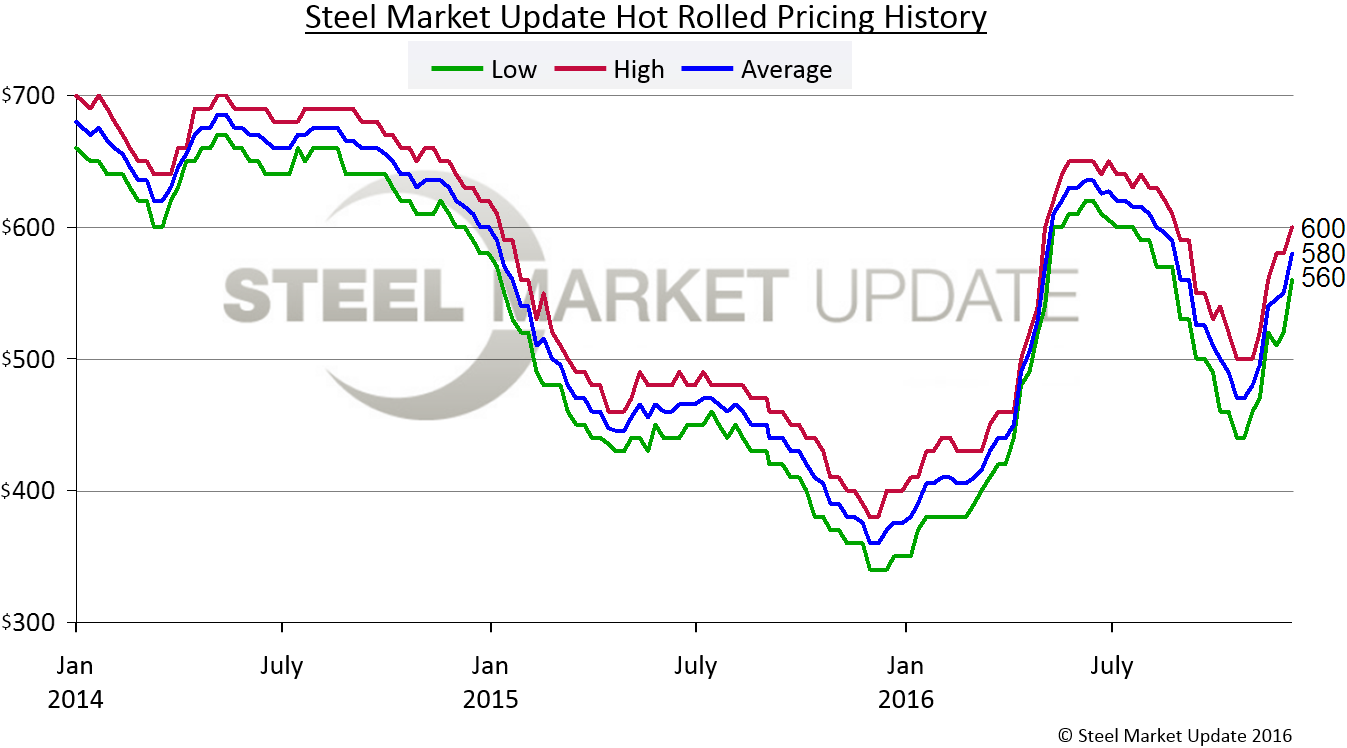 Second, when looking at these numbers remember that they represent "spot" transactions being conducted out of the domestic steel mills. Spot sales are those being taken now for future delivery based on the mill's lead times (lead time = amount of time it takes the mill to make the steel). The mill lead time on hot rolled at this time is three to five weeks, therefore, the numbers represented on the graphic provided are actually for delivery in January 2017.
When looking at other flat rolled products where more processing is required (cold rolling, annealing, pickling, coating with zinc, etc.) the lead times are running anywhere from four to nine weeks which means you could have product being delivered in February at the prices being quoted the week of December 5th.
This is important to remember if your company buys product from a service center as they may/may not be passing their replacement cost along to you. One of the reasons publications such as Steel Market Update exist is to provide information to those buying steel from service centers so you can plan for price adjustments (up or down) based on how our price index is moving and the momentum of the market (we provide a Price Momentum Indicator to our clients).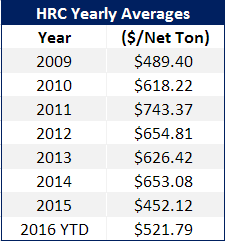 Historical Averages for Hot Rolled
SMU also believes steel buyers need to be aware of the historical averages and what was behind those numbers. In the table provided we are showing the annual average price for hot rolled coil during the calendar years 2009-2015 as well as 2016 year-to-date (YTD). I picked this timeline because 2009 and 2010 where both considered to be part of the Great Recession.
Based on the historical averages steel buyers should not be surprised to see prices reach into the mid $600's in early 2017. If we get a spike in demand we could see the number push up against the $700 to $750 per ton level next year. This is, of course, subject to any impact a "Black Swan" event could have on the market – although most Black Swan events, like the unexpected interruption of steel production at a mill, tend to push numbers higher rather than lower.
There is one thing you can count on during calendar year 2017 – it will be a tumultuous New Year.
Steel Market Update will host our 7th Steel Summit Conference in Atlanta, Georgia on August 28-30, 2017. Please mark your calendars as this is THE steel event of the year for North America.

Latest in Steel Products Prices North America