Steel Mills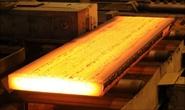 Mingo Junction to Start Rolling Slabs in January
Written by Sandy Williams
December 13, 2016
---
Mingo Junction Steelworks has been sold to investor group Acero Junction by the Frontier Group of Companies. Frontier bought the former RG Steel facility in Mingo Junction four years ago out of bankruptcy.
"Our goal was always to improve the site and find a viable buyer for the steel making assets at Mingo. Today, we can proudly say we accomplished our goal. The idle plant will see new life as steel making operations come back to this area of Ohio." commented Frontier CEO David Franjoine.
Mingo Junction steel operations include an electric arc furnace along with an 80" hot strip mill. Support personnel have been preparing the plant for a restart over the past several months.
"This is an exciting time as jobs and commerce comes back to the part of Ohio hit hard by the slowdown in domestic steel production. ACERO Junction is making a significant investment to bring the Mingo Junction steel plant back online." added Mr. Franjone.
The Pittsburgh Post-Gazette reports that Sherman Metal Technologies was instrumental in orchestrating the sale of Mingo Junction for Frontier Group.
Om Sharma, president of Sherman Metal Technologies, told the Post-Gazette that the company will initially buy slabs for processing into rolled sheet steel. The first slabs should arrive in January, said Sharma, and the mill will begin operation with about 170 employees.
Acero Junction has posted online that it is hiring sales personnel for the mill.
Mingo Junction has changed hands several times since its EAF was installed in 2004 under Wheeling-Pittsburgh Steel. The ownership moved to Esmark in 2007, OAO Severstal in 2008, and to RG Steel in 2011. The steel facility has been idle since 2009. Frontier Group purchased the Mingo Junction assets from bankrupt RG Steel in 2012 for $20 million.

Latest in Steel Mills