Steel Products Prices North America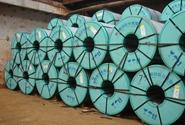 December Imports Trending Toward 2.9 Million Ton Month
Written by John Packard
December 22, 2016
---
Earlier this week the U.S. Department of Commerce released new license data on foreign steel imports into the United States for the months of November and December. At this time both months appear poised to come in just under 3.0 million net tons.
We are seeing some changes in the trends regarding various products. For example, as the energy markets start to come back we are seeing a resurgence of imports of OCTG (oil country tubular goods). The twelve month moving average (12MMA) for OCTG is 83,076 net tons per month. November and December look like they are poised to come in at 150,000+ net tons each.
On the other side of the equation we are seeing a drop-off in imports of foreign hot rolled coil. The 12MMA for HRC is 250,467 net tons. In November the import trend for HRC is 182,000 net tons. That drops off to 155,000 net tons in December prior to any adjustments for the Christmas and New Year Holidays.
Cold rolled and Galvanized imports continue to surprise to the upside. SMU believes cold rolled imports exceeding the 12 month moving average of 171,000 net tons is a surprise in light of the antidumping and countervailing duty suits. November licenses are 100,000 tons greater than the 12MMA and December is trending toward 208,000 net tons which is also well above the 12MMA.
Galvanized imports have been building and, at the moment, are trending over 300,000 net tons for the month of December (November is trending at 297,000 net tons).
SMU believes cold rolled and coated products (such as galvanized and Galvalume) continue to push big numbers due to the wider than normal spread between hot rolled and coated prices here in the United States. An extra $80 to $120 per ton provides a lot of room for the foreign mill to collect a reasonable price.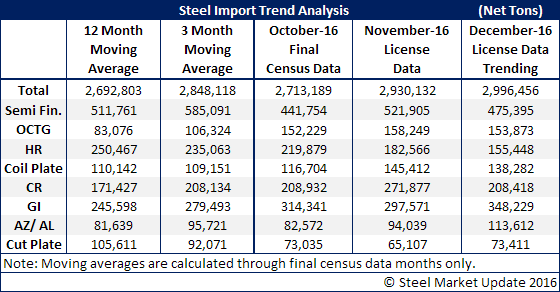 Here is what the trend lines look like when comparing the previous months based on data collected between 17 and 23 days of the month. The one line that probably concerns the domestic steel mills the most has got to be galvanized steel where we are seeing each of the past three months exceeding both the twelve month and three month (where the final determination data has been announced) moving averages.


Latest in Steel Products Prices North America