Service Centers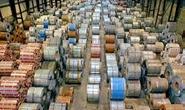 Jerry Henry, Jr. Acquires Remaining 50% Interest in Paragon Steel
Written by John Packard
January 15, 2017
---
BUTLER, IND. – January 12, 2017 – Jerry Henry, Jr. announced today that he has acquired the remaining 50 percent equity interest in Paragon Steel, LLC. Paragon Steel is a distributor and "toll processor" of flat-rolled steel products for a wide range of customers. The company was founded in 1994 as a joint-venture between Henry and Steel Dynamics, Inc.  As a result of this transaction, Henry now owns 100 percent of Paragon Steel.  Paragon Steel has grown significantly over the years and currently employs approximately 60 people at two facilities located in Butler, Indiana near the Steel Dynamics, Inc. sheet mill. The Henry family will oversee operations at Paragon Steel. 
Henry also owns Midwest Pipe & Steel, Inc. and Paragon Tube Corp. The Midwest division has grown dramatically in the flat-rolled segment in recent years. The acquisition of the remaining 50 percent equity ownership will provide capacity and capability for companies owned by Henry to continue to grow in the flat-rolled steel market.
SMU Note: Paragon was initially formed to market Steel Dynamic's excess and secondary steels coming out of the Butler, Indiana sheet mill. Paragon will continue to grow and market secondary and excess material from SDI and other sources. Paragon has two plants: one plant is approximately 200,000 square feet and has three slitting lines, the second plant is just under 100,000 square feet with a Herr-Voss cut-to-length sheet line. Both plants are ISO certified and are rail served.
Paragon sells approximately 75,000 tons of steel on an annual basis and they also toll process approximately 15,000 tons per month for other companies.
Latest in Service Centers