Steel Mills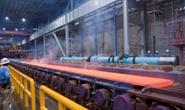 US Steel Restarting Hot Mill at Granite City
Written by Sandy Williams
February 11, 2017
---
The US Steel Granite City hot strip mill is back in action as promised. US Steel has called 225 employees back to work to restart the facility's idled hot mill.
For the present, only the hot mill will be restarted which reheats steel slabs, sourced from other US Steel mills, to process them into coil. Granite City has the capability to produce its own steel, from melting iron ore to the finished product, but will not resume steelmaking as of now. Granite City Works has an annual raw steelmaking capability of 2.8 million tons and two blast furnaces.
A spokesperson for US Steel could not provide information on restarting the steelmaking portion of the facility.
"We cannot speculate with regard to Granite City Works' blast furnaces and/or steelmaking facilities," said US Steel spokesperson Erin DiPietro. "All U. S. Steel facilities, including Granite City Works, operate in line with market conditions and our customers' needs."
The blast furnaces and steelmaking facilities were idled in December 2015 and the hot strip mill in January 2016. The pickle line, cold mill and finishing lines at Granite City Works have continued to operate since that time.
The success of US trade cases against foreign imports has had "the effect of leveling the play field" and drove, in part, the decision by US Steel to resume operations in at least a portion of the mill, said Dave Dowling, a sub-district director for USW District 7, in comments to The Telegraph. US Steel will need to evaluate market conditions before additional steel operations can resume at the facility.
"The main economic factor that resulted in the layoffs of U.S. Steel in Granite City was the crash of exploration for oil that resulted when the international price of oil collapse," said Dowling. He added, "Until that part of the market picks up, recovery is going to be slow."
US Steel president and CEO Mario Longhi said in an interview in December that the steel industry could bring back as many as 10,000 jobs under the new administration. Improvements to tax laws, regulations, and a push to revitalize the nation's infrastructure will provide opportunities for the steel industry to grow significantly, said Longhi.
The restart of Granite City was anticipated by analysts, and by Cliffs Natural Resources CEO Lourenco Goncalves, to accompany the recent decision by US Steel to restart the Keetac taconite iron ore facility in Minnesota. Iron ore pellets from Keetac are expected to eventually supply Granite City operations.

Latest in Steel Mills