Steel Products Prices North America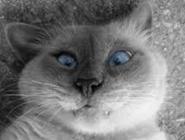 February Imports Trending Higher than Expected
Written by John Packard
February 23, 2017
---
February 2017 steel import licenses are suggesting that foreign steel imports will be markedly higher than February 2016. Last year the U.S. imported 2.2 million tons of foreign steel. Right now, based on import licenses collected through February 21, 2017, the trend is for imports to reach 2.6 to 2.7 million net tons. This would be inline with the past few months but, as we stated earlier, well above 2016 levels.
There are four items that are of concern from our perspective:
OCTG = Oil Country Tubular Goods are beginning to grow rather dramatically. The 12-month-moving-average (12MMA) for OCTG is 94,747 net tons. The 3-month average has risen to 141,623 net tons and we are now on pace to exceed 200,000 net tons. The only good news out of these numbers is they signal a turnaround in the energy segment of the economy.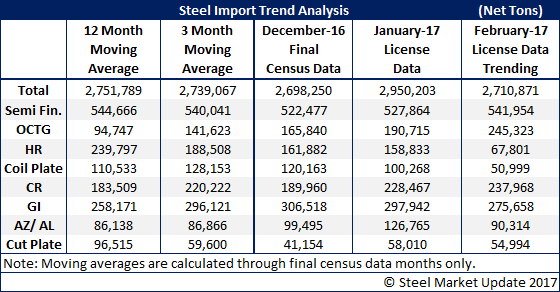 Cold rolled – welcome the Russians back to the U.S. market. With zero ("0") cold rolled tons for the entire 2016 calendar year the Russians have 27,500 net tons of licenses for the month of February (as of the 21st). Vietnam continues to be a pesky supplier of cold rolled having exported 59,000 net tons during the month of January 2017 (one year ago, tonnage was 39,400 net tons) and current licenses for February total another 23,300 net tons.
Galvanized imports are also much higher than we expected by this time of the year. Especially considering the results of the antidumping (AD) and countervailing duty (CVD) rulings last year. Last February the U.S. received 234,900 net tons of foreign galvanized imports. This year, based on license data through the 21st we are on pace to see 275,000 net tons of GI imports. Four countries that were hit with AD/CVD or a circumvention complaint account for 65,600 net tons of licenses requests through the 21st. Those countries are: India, Taiwan, Korea and Vietnam… By the way, keep your eye on Thailand as their tons have gone from zero ("0") prior to September 2016 to 14,500 net tons of licenses so far this month (February).
Galvalume has been out of control for some time. SMU can remember the days when 45,000-50,000 net tons was a big month. In January, the U.S. received almost three times that amount. So far in February we are on pace to do 90,000 net tons of AZ imports, twice what we used to get.
SMU Opinion: Foreign steel imports would be dramatically lower if not for the extreme spread between hot rolled and cold rolled/coated base prices. We have seen hot rolled imports almost disappear while cold rolled and galvanized continue at high levels despite the AD/CVD duties. It is easy to absorb a $20-$80 per ton duty when the spread is +$100 per ton between domestic HRC and CRC/GI/AZ.

Latest in Steel Products Prices North America