Steel Products Prices North America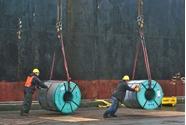 June Foreign Steel Import Trend at High 3 Million Mark
Written by John Packard
June 22, 2017
---
The U.S. Department of Commerce (DOC) released foreign steel license data on Tuesday of this week. The trend, based on the first 20 days of this month, is for June imports to be at record highs for the year.
Total steel imports are trending toward 3.7-3.9 million tons which would be the highest level since January/February 2015. The largest line item continues to be semi-finished steels (slabs & billets) that are only purchased by the domestic mill suppliers.
Finished steels are trending toward 3.0 million ton month with large tonnages expected in OCTG, hot rolled coil, coiled plate, cold rolled, galvanized, Galvalume and cut plate. Every single one of these items is on pace to exceed both their 12-month moving average and 3-month moving average as foreign steel floods the U.S. in anticipation of a crack-down by President Trump.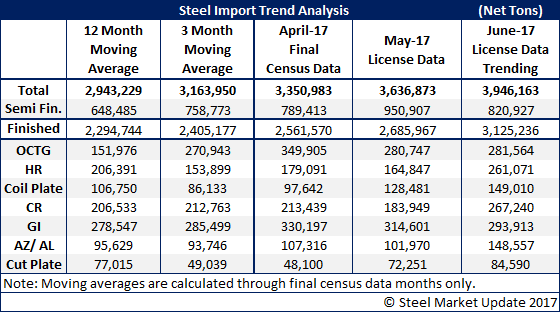 When reviewing the galvanized import licenses through the 20th of June, we were struck by the sheer number of countries shipping at least 5,000 tons to the U.S.  We are seeing countries like Malaysia, Egypt, Russia,  Australia, UAE, Brazil, South Africa, Netherlands and Vietnam alongside Canada, Mexico, Taiwan, Korea, Japan and India.
Latest in Steel Products Prices North America