Economy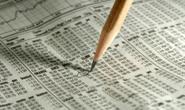 NY Manufacturing Activity Softens in July
Written by Sandy Williams
July 17, 2017
---
The Empire State Manufacturing Index fell 10 points to 9.8 in July, after hitting a two-year high in June. New orders and shipments continued to grow but at a slower pace in New York State, dropping 4.8 points and 11.8 points, respectively.
Delivery times were reported as longer in the July survey and inventory levels were fairly steady. The indexes for prices paid and received were relatively unchanged. The index for unfilled orders fell 9.3 points to -4.7. The employment index dipped for the third month but remained positive at 3.9, indicating a slower expanding workforce.
Looking ahead to business conditions for the next six months, survey respondents were somewhat less optimistic than in June. The future business conditions index slipped 7 points to 34.9, while the new orders index lost 9 points to register 33.4. Manufacturers expect employment levels to increase modestly during the next six months, but the average workweek will be shorter.
Barron's quotes Peter Boockvar of The Lindsey Group,"'Business activity grew modestly in New York State, according to the NY Fed. What's also clear is that the jumps in both business and consumer confidence indices that occurred right after the election continue to cool as the reality of the actual performance of the economy brings gravity to those numbers. As this is the first July industrial number to get released, it is not showing any acceleration in the first month of Q3 after what turned out to be a soft Q1 GDP and most likely a lame rebound in Q2."
Below is a graph showing the history of the Empire State Manufacturing Index. You will need to view the graph on our website to use its interactive features, you can do so by clicking here. If you need assistance logging into or navigating the website, please contact our office at 800-432-3475 or info@SteelMarketUpdate.com.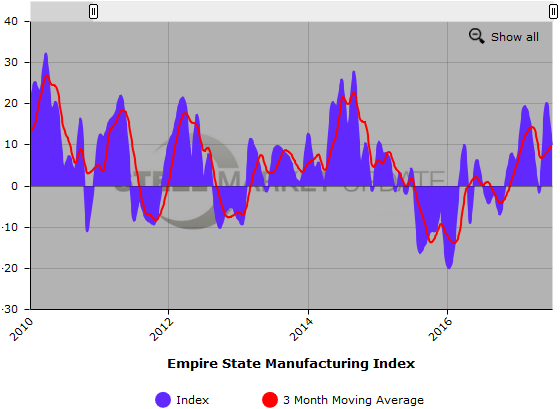 Latest in Economy