Steel Products Prices North America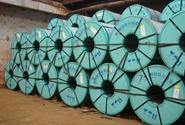 Imports Up in 2017 Despite Late-Year Dip
Written by Brett Linton
January 29, 2018
---
Steel imports into the United States declined by 10 percent in December, compared with the prior month, to 2.45 million net tons, according to preliminary Census data. This followed an 11.4 percent slide from October to November. But despite the late-year declines, annual steel imports increased by more than 15 percent in 2017.
The American Institute for International Steel, which represents foreign steel producers, sees some irony in the numbers. "Steel imports increased sharply under a president who campaigned on pledges to restrict them to protect the domestic steel industry. Those promises appear to have encouraged a rush to import steel before restrictions could be put in place," said Richard Chriss, AIIS president. Pointing to President Trump's pending decision on Section 232 trade action, he added, "It would be unfortunate if the administration cites the growth in imports in 2017 as evidence that restrictions are needed, since that seems to have been, at least in part, a Trump-induced increase. Not only does protectionism distort markets, even talk of protectionism distorts them."
Imports for all of 2017 totaled 38.12 million net tons, a 15.4 percent increase over 2016. Canada shipped 6.32 million net tons of steel to the United States during the year, a 12 percent annual increase, while the European Union sent 5.53 million net tons, an increase of 17.4 percent. Imports from Brazil totaled 5.15 million net tons, up 18.1 percent from 2016; imports from South Korea totaled 3.76 million net tons, down 1.1 percent; and imports from Mexico hit 3.49 million net tons, up 16.2 percent.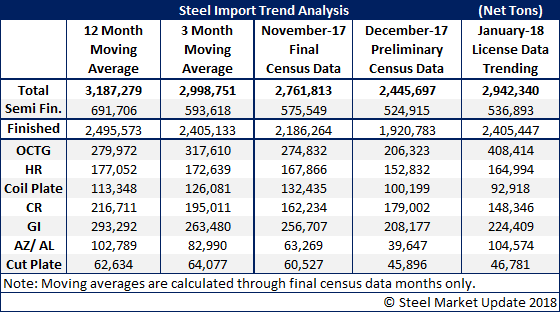 Latest in Steel Products Prices North America