Steel Mills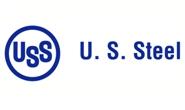 U.S. Steel Ends Year With Strong Quarter, Commitment to Invest
Written by Sandy Williams
February 1, 2018
---
U.S. Steel finished 2017 on a strong note with net sales of $3.13 billion and net earnings of $159 million in the fourth quarter. Steel shipments for the quarter totaled 3.8 million tons.
Commenting on U.S. Steel's results, President and CEO David Burritt said, "We finished the year with three solid quarters as investments in our assets helped to provide more stable operating performance, and results for all three of our reportable segments were in line with our expectations. We made good progress on our asset revitalization program in 2017, achieved the quality and reliability improvements we committed to for 2017, and are confident that we will achieve our 2018 improvement objectives."
Flat rolled shipments in the fourth quarter increased year-over-year to 2.44 million tons. Flat rolled capacity utilization was at 50 percent, up from 57 percent a year ago. The average flat rolled price was $717 per ton. Contract orders accounted for 79 percent of flat rolled orders in 2017 and spot orders 21 percent.
Net income for full-year 2017 totaled $387 million with net sales of $12.2 billion. Earnings for 2018 are expected to be approximately $685 million if the market conditions remain stable.
"We believe market conditions, which include spot prices, raw material costs, customer demand, import volumes, supply chain inventories, rig counts and energy prices, will change, and as changes occur during the balance of 2018, we expect these changes to be reflected in our net earnings and EBITDA," said Burritt.
Enactment of tax reform resulted in an $81 million benefit to U.S. Steel in the fourth quarter associated with the elimination of the alternative minimum tax. The company expects to receive $70 million in tax refunds for the next four years.
"Frankly, the tax reform doesn't impact us so much directly as it does indirectly," said Burritt during the earnings call. "This tax reform is good for U.S Steel because it's good for the United States and good for the globe. When one day big companies are getting taxed at 35 percent and now it's 21 percent, there's a lot more opportunity to invest."
Approximately $275 million to $324 million of U.S. Steel's $2 billion asset revitalization program will be spent in 2018. The improvements cover a wide range of assets in the flat rolled segment:
Iron making: blast furnaces at Gary Works and Great Lakes Works.
Steel making: steel shop and caster at Gary Works and the steel shop at Mon Valley Works
Hot rolling: hot strip mills at Gary Works, Great Lakes Works, and Mon Valley Works.
Finishing: cold mill at Mon Valley Works.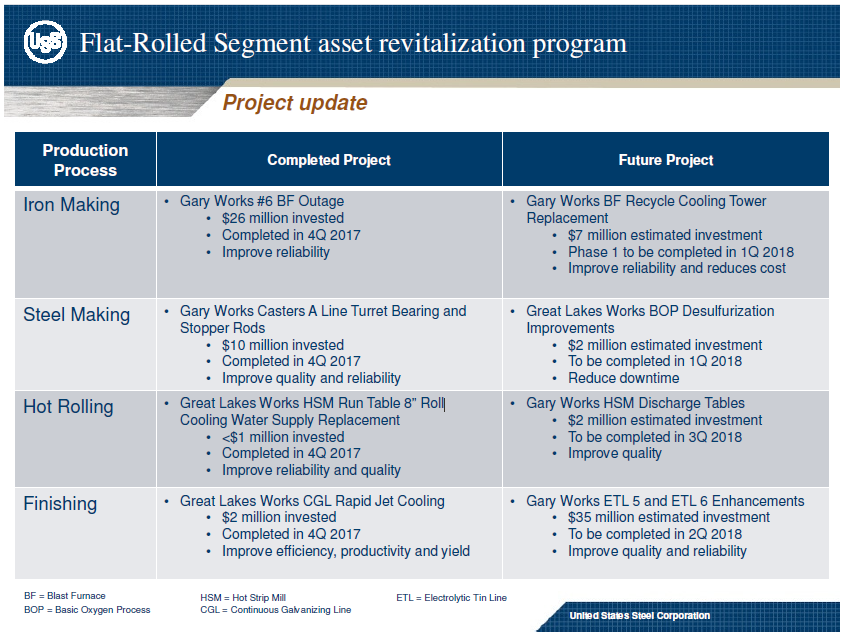 By 2020, slab production capability at Gary Works, Great Lakes Works and Mon Valley Works is expected to increase by approximately 1 million tons as compared with 2016, providing an annual EBITDA improvement of $275 million to $325 million.
U.S. Steel continues to evaluate market conditions for restarting its EAF project at Fairfield Works. "We expect to grow that business and we look forward to at the appropriate time turning on the EAF," said Burritt. "But we still have to see that the EBITDA continues to make progress, and we want to make sure that we have a flexible cost structure. There are few things left before we make that call to get back in the game on EAF."
Tubular remains a core business for U.S. Steel and will soon have a new leader following the retirement of David Rintoul.
"We feel that tubulars are a really strong business, getting stronger, and it certainly can be part of our portfolio," said Burritt. "But you have heard me say this before, everything is for sale all the time. We are here for our stockholders. And if there's an opportunity for us to sell a piece of the business that would make sense for our stockholders, we'll certainly consider that.
"We could see the OCTG market demand continue its steady recovery, which of course is good for the tubular segment as well as our North American Flat-Rolled business via the hot-rolled coil sales to customers," said Burritt. "Of course, the way this works is when the hot-rolled coil increases cost to the tubular business, they have to find offsets for that."

Latest in Steel Mills