Steel Products Prices North America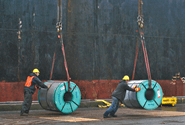 Finished Steel Imports Trend Down in August
Written by John Packard
August 23, 2018
---
Earlier this week, the U.S. Department of Commerce released the latest license data on foreign steel for the months of July and August. As SMU reported last week, the August trend has been for imports to be at, or above, 3 million net tons. This week the trend suggests August will be closer to 2.9 million net tons.
Semi-finished imports (slabs/billets), which are used only by steel mills, are running quite high in August. The trend is for semi's to reach 900,000 net tons.
After taking the semi's out of the equation, August finished steel imports were trending toward a 2 million net ton month. This is significantly lower than both the 12-month and 3-month moving averages.
What is most important from SMU's point of view is to review the specific flat rolled and plate items (see table below). Hot rolled imports are trending lower than July and close to June levels. Cold rolled is trending lower than both June and July. Galvanized and Galvalume are also trending below June and July levels.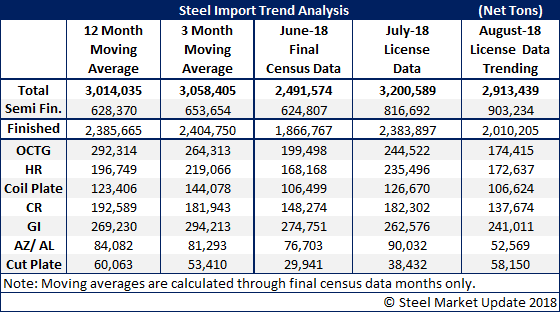 Latest in Steel Products Prices North America