Steel Mills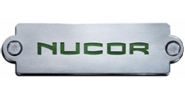 Nucor Planning Targeted Increases in Capacity
Written by Sandy Williams
October 18, 2018
---
A strong economy and equally strong steel demand propelled Nucor Corp. earnings growth in the third quarter. Nucor reported earnings of $676.7 million in the third quarter, which included a non-cash impairment charge of $110.0 million related to its natural gas well assets. In comparison, second quarter net earnings were $683.2 and third quarter 2017 earnings were $254.9 million.
Net sales increased 4 percent to $6.74 billion from the second to third quarter. Average sales price per ton increased 7 percent compared to the second quarter and 23 percent from a year ago.
Shipments to outside customers in the third quarter were down 2 percent to 7,048,000 tons, but were 6 percent higher than in third-quarter 2017. Total steel mill shipments in the third quarter of 2018 decreased 2 percent from the prior quarter and increased 7 percent from the third quarter of 2017. Downstream steel products shipments to outside customers in the third quarter of 2018 decreased 1 percent from the second quarter, but increased 6 percent compared with the third quarter of 2017.
The recent flat rolled price increase seems to be sticking, said Nucor Chairman and CEO John Ferriola, adding that the dip in orders during the third quarter was normal as buyers reviewed inventory levels. The order entry rate has increased in Q4 on flat products and remained solid for plate.
Plate demand has been especially strong in the energy sector. With imports down significantly, Nucor expects it to remain so into 2019.
The average scrap and scrap substitute cost per gross ton used during the third quarter was $374, a slight increase from the second quarter, but an 18 percent jump compared to $317 in the third quarter of 2017. The average scrap and scrap substitute cost per ton used in the first nine months of 2018 was $361, an increase of 19 percent from $304 in the first nine months of 2017.
Antidumping and countervailing duties in combination with Section 232 tariffs reduced finished steel imports by 11 percent in the first nine months of 2018, taking 24 percent of the market, down from a 28 percent share in the same period last year, said Ferriola during the earnings call. Mill utilization rates have improved at Nucor to 92 percent in the third quarter and 95 percent in the second quarter, compared with 84 percent in Q3 2017.   
Nucor is working toward improving the reliability of its Louisiana DRI facility. Production in the first nine months of 2018 was approximately 1.3 million tons, about 50 percent more than 2017 results for the same period, but the facility has been plagued by outages. The company is investing $200 million in equipment and process improvements, including a process gas heater and new raw material storage yard. Most of the work will be completed by fourth-quarter 2019. Near the end of the fourth quarter or beginning of the first, however, there will be a 60-day downturn at Louisiana to complete what is left. Nucor is targeting 8,000 hours of nonstop performance from the DRI facility, which would rival its Trinidad facility. The facility is expected to be at full production by the beginning of 2020.
The company has launched nine growth initiatives totaling approximately $2.2 billion. It includes a $750 million investment in long products including rebar rolling modernization in Ohio, an SBQ expansion in Illinois, and two rebar micro mills in Missouri and Florida. 
In addition, $1.4 billion of projects for the sheet mill group include a special cold rolling mill and galvanizing line in Arkansas, a galvanizing line in Mexico with JFE Steel, and a new galvanizing line and expanded hot band production capacity in Kentucky. In the first half of 2019, the Kentucky Gallatin galvanizing line and cold rolling mill in Hickman, Ark., will be completed.  The expansion at Gallatin will increase the mill's capacity from 1.6 million ton to 3 million tons annually.
When questioned by analysts regarding the amount of capacity being added across the steel industry, Ferriola emphasized the targeted strategy of Nucor's investments. "It is very important to understand," said Ferriola, "that we do not add capacity simply to ship more tons. Our investments are targeted to capitalize on opportunities to move up the value chain and expand our product offerings and to leverage our cost advantages in logistics and technology."
Ferriola delved further into the question later in the call noting that analysts have voiced concerns about adding 700,000 tons of rebar to the market and 400,000 tons of merchant bar. "You might say we're adding 1.1 million tons of long products into the market. But the reality is that we're realigning our position in long products and reassigning some divisions into new products. At the end of the day, when you look at how we've restructured our long products in rebar and merchant bar, what we're actually adding is about 500,000 tons and shifting about 70 percent of the added milled capacity into new or higher value-added products, specifically long and SBQ."
He added, "We do market studies all the time. And when we look particularly at sheet, we think that there is a consistent growth of about 2 percent in hot band, cold rolled and galvanized over the next 4 to 5 years. So, when you look at the overcapacity or the new capacity that you referred to as overcapacity, there's room for it to grow. You add into that the work that's being done and we will continue to do in lowering the imports. Right now, if you look at last year, imports accounted for 27 percent of the market. We've got that down now to 24 percent. Historically, import should be somewhere in the neighborhood of 15 percent to 20 percent. When you lower that import from 27 or 28 percent down to somewhere in the neighborhood of 15 percent, you're basically eliminating 12 million to 13 million tons. That gives you that amount of room to grow with a product that's produced domestically. So, between the normal year-over-year growth, the reduction in imports, there's room to grow our domestic supply. In addition to that, when you look at our projects, they're very targeted to specific, strategic objectives."
Ferriola remarked that the Section 232 tariffs are achieving their primary objective: to provide leverage to bring other countries to the negotiating table to create a more level playing field. "We think, long term, if we establish trade relationships that are built upon a level playing field, you have a much longer-term positive effect than any short-term quotas or tariffs," said Ferriola.
In its outlook remarks, Nucor said earnings in the fourth quarter of 2018 are expected to decrease across all three operating segments compared to the third quarter due primarily to fourth-quarter seasonality. "However, we expect the fourth quarter of 2018 to be another strong quarter as we believe earnings will be noticeably higher than those generated in the fourth quarter of 2017. We continue to believe there is sustainable strength in steel end-use markets," Ferriola said.

Latest in Steel Mills