Trade Cases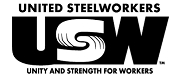 Canada USW Rejects U.S. Tariffs and Potential Quotas
Written by Sandy Williams
October 20, 2018
---
United Steelworkers in Canada are rejecting any plan by the U.S. to impose quotas on Canadian steel and aluminum imports.
"Canada's government must emphatically stand up for the Canadian steel and aluminum industries and thousands of families whose livelihoods are at stake," said USW National Director Ken Neumann.
"There is no justification for Canada to accept U.S. quotas on Canadian steel and aluminum, just as there is no justification for the spurious national security tariffs the U.S. imposed on our steel and aluminum. Both quotas and tariffs must be rejected outright by the Canadian government," said Neumann.
Quotas, like tariffs, will unfairly punish Canadian workers and prevent the industry from utilizing unused capacity, Neumann said. "The Canadian and American steel and aluminum industries are highly integrated and a quota on Canadian exports makes no more sense than the current tariffs and is just as unfair. The only way to protect and create Canadian jobs in these industries is to remove tariffs and quotas on steel and aluminum," he added.
Canada's Liberal government must show that it is truly defending its workers and communities by not ratifying the renegotiated North American trade deal until U.S. tariffs and quotas are off the table, Neumann continued. "This government has already betrayed Canadians by conceding to Donald Trump's numerous demands for concessions in the new USMCA. Trump acknowledged he was using the baseless national security tariffs on Canadian steel and aluminum as leverage to extract such concessions from Canada in the trade negotiations. Canada's government submitted to these concessions but did not demand that the U.S. reciprocate by lifting the unjustified tariffs. As a result, two of Canada's key industrial sectors are hurting and thousands of jobs are at risk. The Canadian government must stop making concessions that harm Canadian workers and communities. It must oppose tariffs and quotas on Canadian steel and aluminum as a precondition of ratifying any trade deal."
A recently released report from the USW outlines the union's response to the Section 232 tariffs and the subsequent continued imposition of the tariffs following the new NAFTA agreement, USMCA. The report warns that the language of the agreement does nothing to alleviate the Section 232 issue for Canada, but instead further endorses the use of such measures in the name of national security by the U.S.
States the USW report: "The United Steelworkers union has been deeply critical of the USMCA (the new NAFTA), in particular its sellout of Canadian steel and aluminum workers, as the Section 232 tariffs remain. The Canadian negotiators had straddled the fence on whether or not the tariffs were related to the USMCA, alternately saying that they had nothing to do with each other OR saying that they would use these negotiations as leverage to end the tariffs.
"In the end, there are two side letters on 232 tariffs, where quotas are set out for auto parts and another that sets out a vague process for the implementation of future tariffs. As the USW has made clear, not only are the steel and aluminum tariffs in place indefinitely, the reference to these national security tariffs legitimizes the use of them against Canada."

Latest in Trade Cases