Steel Mills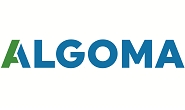 Algoma Improves Profits as It Looks Toward Independence
Written by Sandy Williams
November 6, 2018
---
Reporting a profitable third quarter, Essar Steel Algoma is moving closer to emergence from bankruptcy. The Canadian steel producer announced income from operations for the three-month period ending Sept. 30 of C$107.9 million, up from income of C$74.3 million in the same period of 2017.
Algoma's steel shipments rose 6.3 percent year-over-year to 620,137 tons. Steel revenue soared 46.4 percent to C$720.8 million during the three-month period. Average net sales realization on steel jumped 39.4 percent to C$1,091 per ton.

The cost of steel products sold on a per-ton basis jumped 41.1 percent to C$864 in the three-month period, mostly the result of higher input costs for raw materials.
Algoma has been in CCAA proceedings since November 2016 and the continuation of the company as an ongoing concern is dependent on its profit-making ability. On Sept. 21, 2018, Algoma moved closer to emergence from bankruptcy protection after the Canadian Court granted approval of an asset purchase agreement with the company's term lenders and noteholders.
If Algoma can shed its CCAA protection, the company plans to invest $30 million to $40 million dollars during the next three years for annual maintenance projects, as well as further capex for growth initiatives.
U.S. tariffs on steel have made it harder for Algoma to compete internationally, according to the Algoma financial report. In the three months ending Sept. 30, 55.3 percent of the company's customers were located in the United States and subject to Section 232 tariffs.
"The tariffs imposed by the United States have negatively impacted the company's business and profitability," said the financial report. "The company continues to explore options with respect to mitigating this risk. The company also has been monitoring the trade situation and working closely with all levels of government in order to mitigate the impact of the tariffs."
The Ontario government recently announced it will provide Algoma regulatory relief from certain pension obligations under the Pension Benefits Act, as well as Pension Benefits Guarantee Fund (PBGF) coverage.
"Our steel industry is going through a tough time right now. The new [U.S.] tariffs are making it harder for the Canadian steel industry…. Our government will do its part to protect hardworking steel sector workers right across Ontario," said Ontario Premier Doug Ford in October.
Algoma's pension plans support about 2,100 current employees and 6,300 retirees. Algoma is the largest private-sector employer in Sault Ste. Marie and the second largest in Northern Ontario with approximately 2,700 direct employees.
($1.00 Canadian dollar = $0.76 U.S. dollar)

Latest in Steel Mills