Scrap Prices North America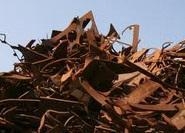 Ferrous Scrap Prices Up Again in November
Written by Tim Triplett
November 6, 2018
---
Ferrous scrap prices have risen for the second month in a row as November buys settled early at up $10 for prime grades and up $20 for obsoletes, report Steel Market Update sources.
"Dealers and mills both wanted to wrap things up given that November is a shorter shipping month and they need to get the ball rolling early to complete their shipments," said CRU Steel Analyst Ryan McKinley.
The November increase follows on a comparable bump in October. Such price movements are typical this time of year, McKinley said. "Winter is around the corner and will slow flows. At the same time, finished steel prices and demand are both quite strong relative to prior years."
Some dealers may be holding back a bit in anticipation of further price hikes in December and January, he added, which makes it even more difficult for mills to cover their buy needs.
The $10-20 price increase was fairly uniform across the country, reported a dealer in the East. "If there were deviations, they were for higher prices by $5 or so to the upside."  
The export market has jump-started since Turkey came in at $341/346 for HMS/shred, said another dealer in the Northeast. Those price are up $18-20 per ton in the last 45 days. "It's hard to predict how the export price will go from here. But if they need scrap from the U.S., they will pay a higher price or buy billets if they are more economical." 
"Export prices are firm and are currently holding at a level that will keep eastern seaboard scrap from moving west in any significant quantities," said another scrap executive. "Domestic demand is very robust with little downtime over the holidays. Suppliers feel scrap will not be replaced at lower values through January. All signs are pointing to higher scrap prices into first-quarter 2019."
Despite reports of foreign buys, the dealer in the East continues to believe a lack of sustained strength in overseas markets will cap price upsides in the U.S. Export prices to Turkey have ticked higher in the last week with the latest U.S. East Coast sale at $341 CIF Turkey, approximately $6-7 per ton higher than the last sale. But the volume of material going overseas is light. Lighter domestic inflows to yards will support and likely push the market a little higher in December. Turkish rebar sale opportunities remain subpar and their ability to raise export rebar prices is limited, especially as the TRL:USD has strengthened over the last week as the August sanctions were removed, he said.
"Overall, I expect continued support at current and probably slightly higher price levels than we reached in November, but don't look for the scrap market to take off as it sometimes does into December and January," he predicted. 
"The USA market will react to the seasonal nature of past markets, meaning slightly up in December with meager tons sold. January will be up substantially, weather notwithstanding, with a drop in February, weather permitting," said the dealer in the Northeast.
"The market has demand because mills are getting ready for winter months and don't want to be short going into holidays," concurred a dealer in the Midwest. "With the big spread between cuts and prime grades, the mills look to decrease the gap and will be more willing to purchase secondary. November and December will be strong months as both are short shipping months because of the holidays, coupled with plant shutdowns in November and December, which means less supply to the market."
Scrap analyst Mike Marley of World Steel Exchange Marketing reported that early ferrous scrap buys took the price of shredded scrap to $355-360 per ton delivered to the mills in the Detroit area and as high as $365 per ton in northern Indiana. Prices paid for P&S were at $355 per ton. With the $10 per ton increase, busheling and bundles prices in the region now range from $400-420 per ton. "Even with that modest gain, busheling and bundles are still commanding an average premium of $60 per ton over shredded scrap," he said.
Sources report the pig iron market as firm at $385/mt CFR.

Latest in Scrap Prices North America