Steel Products Prices North America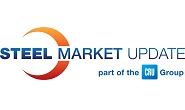 SMU/CRU Webinar: Steel Prices Trending Lower for 2019
Written by Tim Triplett
November 29, 2018
---
Both Steel Market Update and the CRU Group forecast lower steel prices next year. With a new North America free trade agreement soon to be signed, the U.S. is likely to lift or modify the Section 232 tariffs on Canada and Mexico, opening the borders to more imports and adding to the downward pressure on prices, said analysts in a joint SMU/CRU webinar yesterday.
Josh Spoores, principal analyst with CRU North America, said steel prices in the United States are down significantly from their mid-year peak, but remain well above global prices. One reason is the 10 percent decline in sheet imports so far this year resulting from the U.S. tariffs.
Steel demand in 2019 will track with U.S. industrial production, Spoores said. "2018 was the high water market for IP growth, which will slide from around 3.5 percent this year to 2 percent next year, barring any unexpected events." Seasonal demand in the first quarter will give prices a small boost, but sheet prices will largely be set by imports during the course of the year. "Sheet prices in the U.S. will lose some of their premium over the global market, yet will remain historically high," Spoores predicted. "What we see for the second half of the year, the U.S. price will be the global price, plus 25 percent, plus the logistics costs."
Steel prices in China have fallen dramatically in recent weeks. China's cutbacks in production will reduce global supplies. Prices have declined in Europe, as well. Thus, imports are likely to be more competitive, causing prices to reach a bottom soon in the U.S., Spoores said.
He pointed to three major risks to CRU's forecast. The first is whether the U.S. lifts the tariffs on Canadian and Mexican steel or replaces them with some sort of quota. "CRU expects Canada and Mexico will be able to sell steel tariff-free in the United States no later than March as a result of the new trade agreement," Spoores said. The second is whether a trade war with China will result in slower-than-anticipated industrial growth in Q1 2019. "There is a lot at stake this week with the negotiations between the U.S. and China," he noted. And the third risk is oil prices, which have plummeted recently, making steel demand in the energy sector difficult to predict.
CRU forecasts benchmark hot rolled coil will average $764 per ton in 2019, down from $833 this year.
Speaking to the webinar listeners, Steel Market Update President John Packard said he does not expect much effect from any change in the Section 232 tariffs. "The Canadian and Mexican mills aren't likely to offer steel at significantly lower prices than the domestics. The impact will be more psychological."
SMU's Price Momentum Indicator is pointing to lower flat rolled steel prices over the next 30 days. Flat rolled prices have been on a steady slide since July. "We've been in a negative spot market since early third quarter," Packard said. SMU's latest canvass of the market has hot rolled at $785, cold rolled at $895, galvanized at $880, and Galvalume at $895 per net ton.
Plate is a much different story, with demand still outpacing supply and buyers on allocation. The current plate average is $1,010 per ton. SMU will keep the price momentum on plate at neutral until the market provides some clear indicators of a change in direction, Packard said.

Latest in Steel Products Prices North America