Steel Mills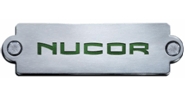 Nucor Plans New Plate Mill for Midwest
Written by Sandy Williams
January 8, 2019
---
Nucor Corp. announced on Monday that it is scouting the Midwest for a suitable location to build a $1.35 billion EAF mill that is capable of producing 1.2 million tons of steel plate products annually.
Nucor expects site selection to be completed in 2019 and construction to begin as soon as permits are secured. The bulk of the investment (80 percent) will be spent during the construction phase in 2020 and 2021. Nucor anticipates the mill will be fully operational in 2022.
"This investment is consistent with our drive to continue delivering sustainable, profitable growth and superior returns for shareholders," said John Ferriola, Chairman, CEO & President of Nucor. "Together with the significant share repurchases completed in 2018, the board's decision to fund this high-return opportunity demonstrates our commitment to balanced capital allocation. We have a strong foundation to build upon as we advance our goal of leading in every market in which we compete."
Ferriola said the project is part of a long-term growth strategy, but recognized the improved market environment due to strong trade enforcement, as well as regulatory and tax measures instituted by the Trump administration.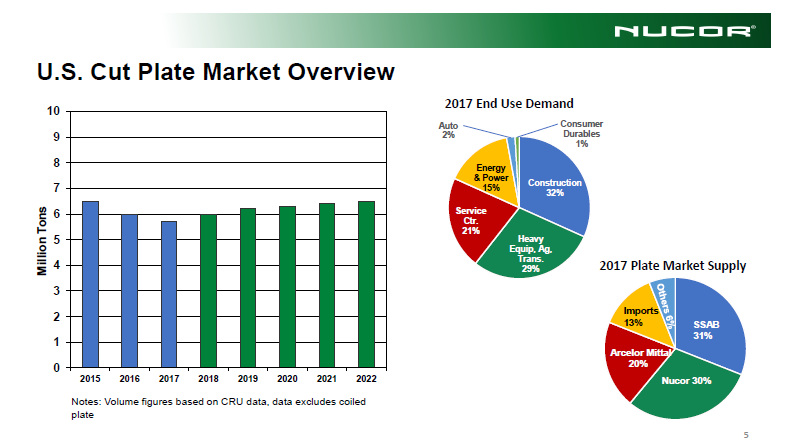 Ferriola noted that the decline in plate imports has strengthened pricing and demand for domestic steel. The decision to build the mill, he said, has nothing to do with the temporary measures imposed by Section 232 tariffs, but by hard fought victories in trade cases brought by the U.S. steel industry.
"In late 2016, a number of trade case decisions resulted in antidumping and countervailing duties being imposed on 12 nations that were found to be breaking the rules of trade," he said. "These remedies, together with duties still in place from cases back in 1997 and 2000, account for a total of 23 trade remedies that are now in place to enforce free and fair trade in the U.S. plate market."
The new plate mill will produce cut-to-length, coiled, heat-treated and discrete plate ranging from 60 to 160 inches wide, and in gauges from 3/16 of an inch to 14 inches in thickness, enabling Nucor to supply plate products that the company does not currently offer. The mill will include an electric arc furnace melt shop, twin LMFs, degasser, caster, and Steckel mill, among other equipment. The facility is expected to provide about 400 new jobs.
"This will address 97 percent of the product consumed in the U.S. and will be located right in the heart of the U.S. plate market, the Midwest," said Ferriola during a conference call with analysts. Nucor is considering sites in Ohio, Indiana, Kentucky and West Virginia.
Nucor currently operates plate mills in North Carolina, Alabama and Texas. The new plate facility will leverage proximity to customers in the Midwest, reducing freight costs and improving on-time delivery It will also capitalize on abundant low-cost scrap available in the region.
Analysts at Key Banc were surprised by the Nucor announcement. "Frankly, we believe this is the most aggressive organic investment the company has announced to this juncture and we are surprised given the slew of investments on Nucor's 'plate' over the course of the next several years that it will have to navigate in a constrained labor market and a late cycle macro environment," wrote Key Banc analyst Phil Gibbs. "Our concern lies in the timing of the announcement given the adequately supplied market and balanced trade picture within the product."
Gibbs added, "The demand silver lining in a glass half full scenario, however, would be in the case of a multi-year infrastructure bill in which 'Made in America' requirements would be mandated. This investment would clearly position the company well to take advantage of that dynamic. Also, we believe heavy-walled line pipe will be in demand for the next decade and domestic line pipe players may be preferred in prospective transmission work as new contracts are re-bid. Nucor would be well positioned with both its Gallatin and plate mill investments to be a meaningful supplier to the energy sector over the long term."

Latest in Steel Mills