Steel Products Prices North America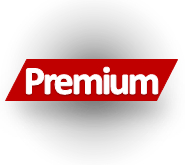 Steelmaking Raw Materials Price Update
Written by David Schollaert
October 1, 2020
---
Looking at the month-on-month changes in steelmaking raw materials costs, the prices of iron ore, pig iron and zinc have continued to experience noticeable gains, a pattern seen since the beginning of Q3 2020. As expected, scrap prices have bounced back after the downturn seen in the summer months, providing support to higher finished steel prices, a pattern expected to continue into the fourth quarter of 2020.
Table 1 summarizes the price changes through Sept. 30 of the five materials considered in this analysis. It reports the month/month, three months/three months and year/year changes on a percentage basis.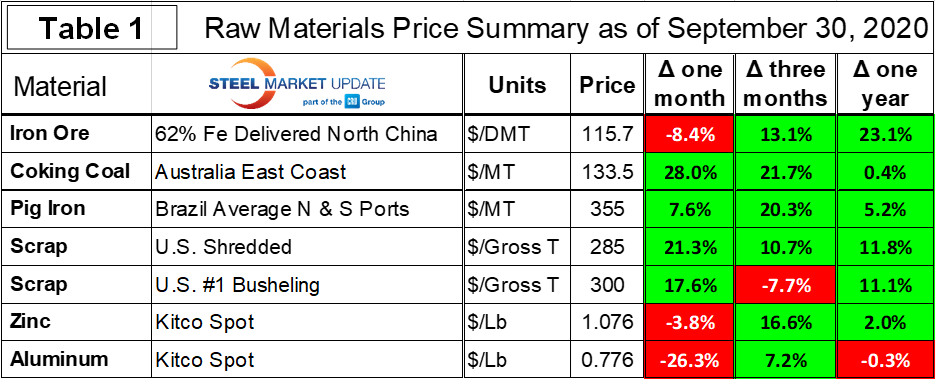 Iron Ore
The Chinese import price of 62% Fe content iron ore fines has experienced a steady dip over the past couple of weeks, currently at $115.7 per dry metric ton as indicated by Figure 1. This minor decline comes after a meteoric rally that saw prices nearly double after slipping to $82 per dry metric ton in the first quarter of 2020. Despite the recent drop, prices for Chinese imports of 62% Fe content iron ore fines remain up by nearly 28.0 percent over levels one year ago.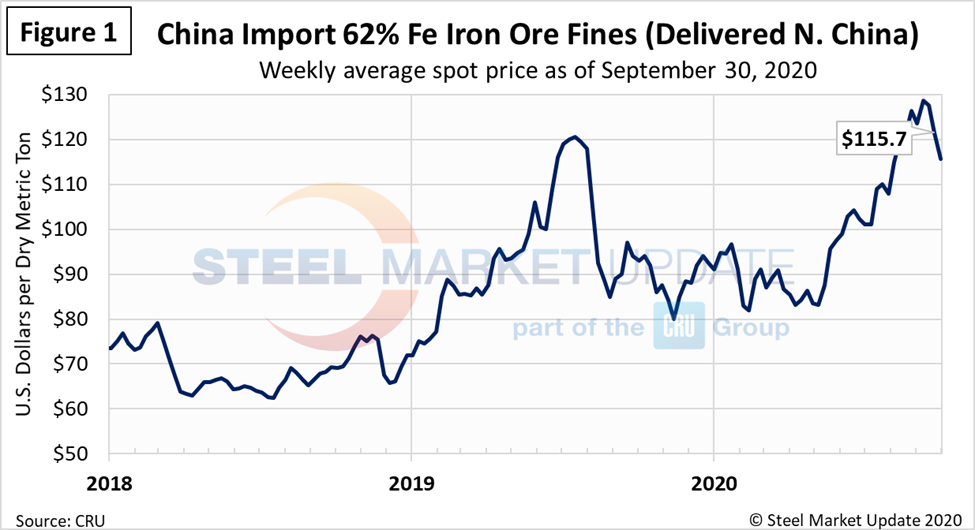 Coking Coal
Following steady declines since mid-July, when the price of premium low volatile coking coal FOB east coast of Australia reached $104.3 per dry metric ton on Aug. 19, prices have since rallied over the past few weeks to $133.5 per dry metric ton as of Sept. 30 (Figure 2). Although prices have rebounded, the seaborne coking coal price has not been able to fully benefit from the strong demand in China due to import restrictions. As a result, prices overall remain in a steady downward trend.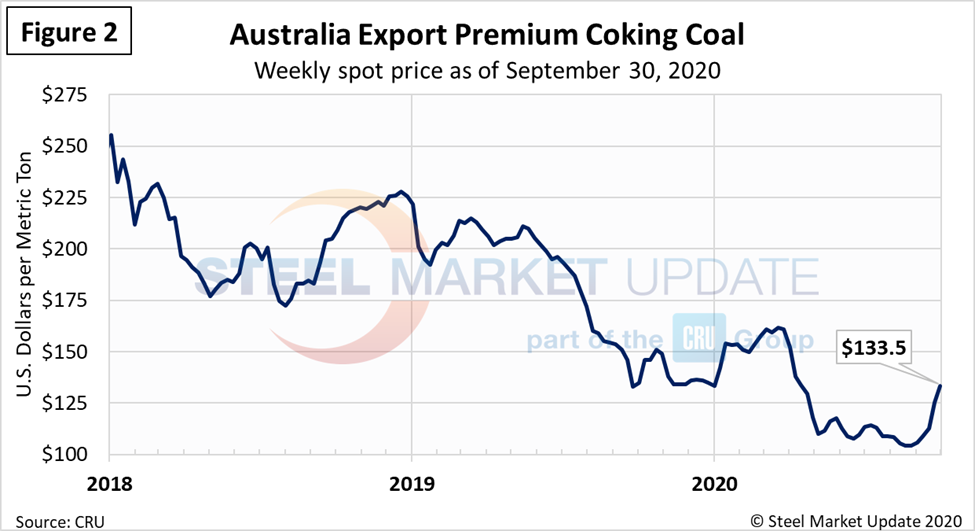 Pig Iron
Most of the pig iron imported to the U.S. currently comes from Russia, Ukraine and Brazil. This report summarizes prices out of Brazil and averages the FOB value from the north and south ports. The latest data through Sept. 23 shows an average pig iron price of $355 per metric ton, up from $330 in August and up from $275 in May, when prices reached their lowest point in 2020. Pig iron prices had declined erratically since mid-2018, but have risen each month since June 2020 (Figure 3).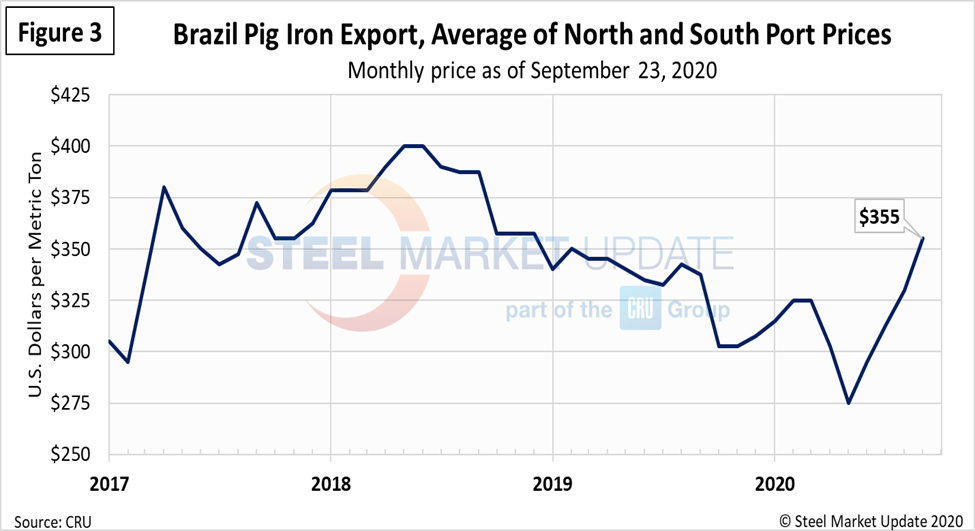 Scrap
Hot rolled steel prices have been rising steadily week/week since hitting a low of $440 per net ton on Aug. 11. Mills have also had to pay higher price tags for their raw materials, as feedstock prices have followed suit. Shifts in the relationship between scrap and iron ore prices offer insights into the competitiveness of integrated mills, whose primary feedstock is iron ore, versus minimills, whose primary feedstock is scrap. Following steady declines for much of the year, the price for prime and obsolete scrap has rebounded and stabilized in Q3 as a result of improved export demand that should carry into the fourth quarter. Figure 4 shows the spread between shredded and busheling, both priced in dollars per gross ton in the Great Lakes region.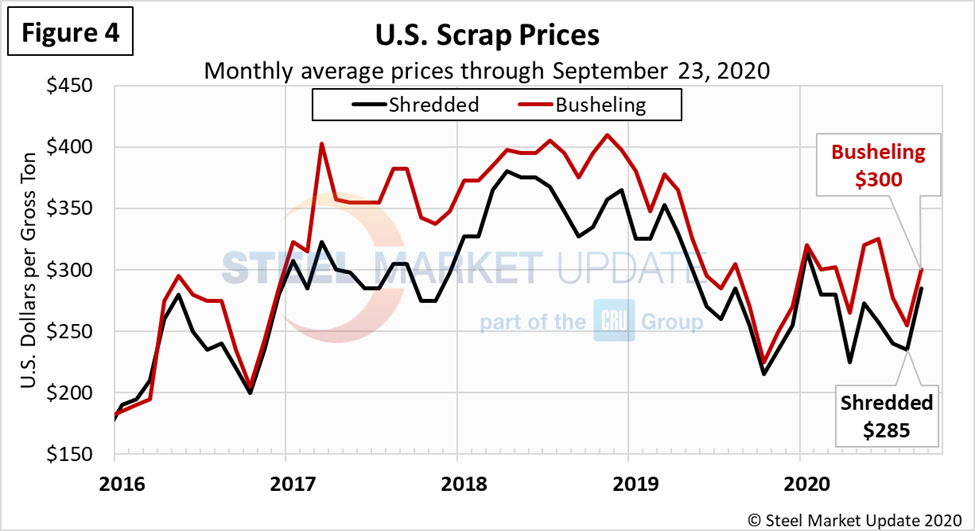 Figure 5 shows the recent spread between the price of iron ore, at $121.5 per dry metric ton, and shredded scrap at $285 per gross ton. Ore has soared higher since May, lending some support to finished steel prices.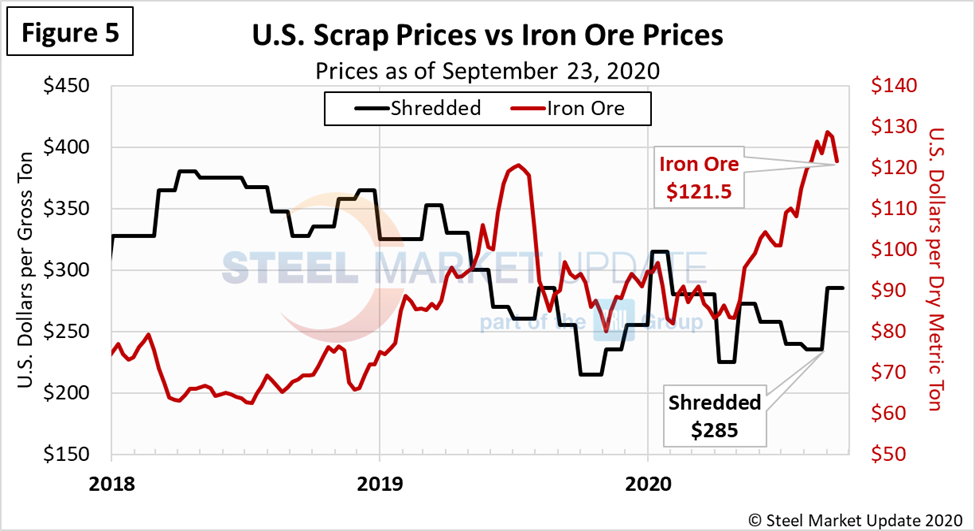 To compare the two, Steel Market Update divides the shredded scrap price by the iron ore price to calculate a ratio (Figure 6). A high ratio favors the integrated/BF producers, a lower ratio favors the minimill/EAF producers. Despite some recent fluctuations in the price of ore and scrap, which brought the ratio up to 2.34, minimills continue to have a competitive cost advantage over integrated mills. This is largely due to the fact that ore prices remain stronger relative to scrap prices, further aiding the minimills' current competitive cost advantage.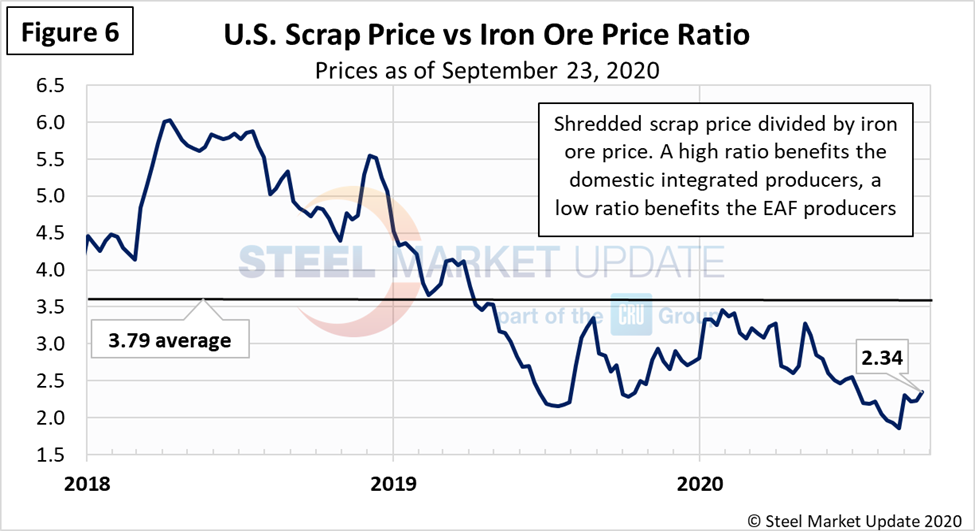 Figure 7 shows how the price of hot rolled steel generally tracks with the price of shredded scrap. The two prices had diverged in late July when shred fell by approximately $5, while hot rolled prices rose $10-35 per ton over that same period. Since then, however, both shred and hot rolled prices have rallied, with shred reaching $285 per gross ton and hot rolled moving up above $600 per net ton. Both are expected to keep an upward move entering the fourth quarter.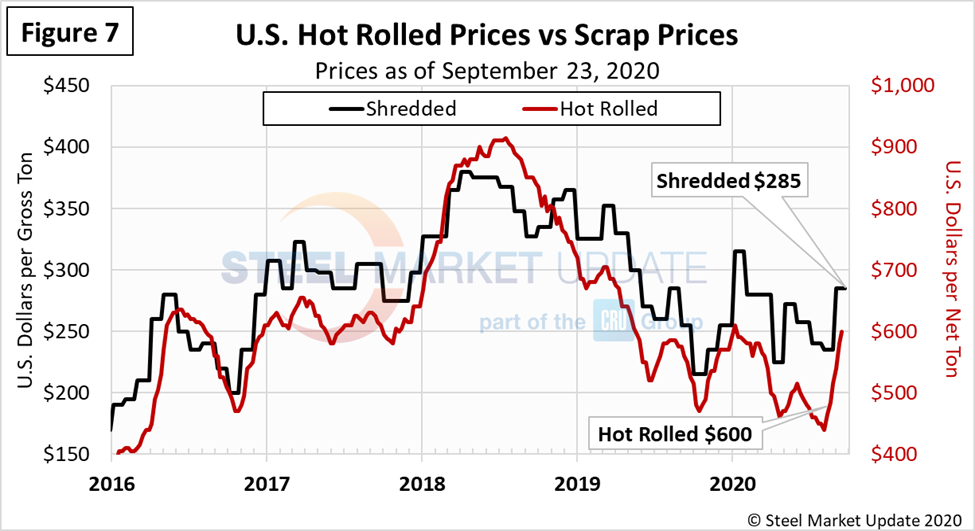 Zinc and Aluminum
Zinc, used to make galvanized and other products, had risen steadily since mid-March, reaching a nine-month high of $1.1545 per pound in early September, an increase of nearly 40 percent from the mid-March low of $0.8236 (Figure 8). Prices have edged down slightly since, with the LME cash price per pound of zinc as of Sept. 25 at $1.0761.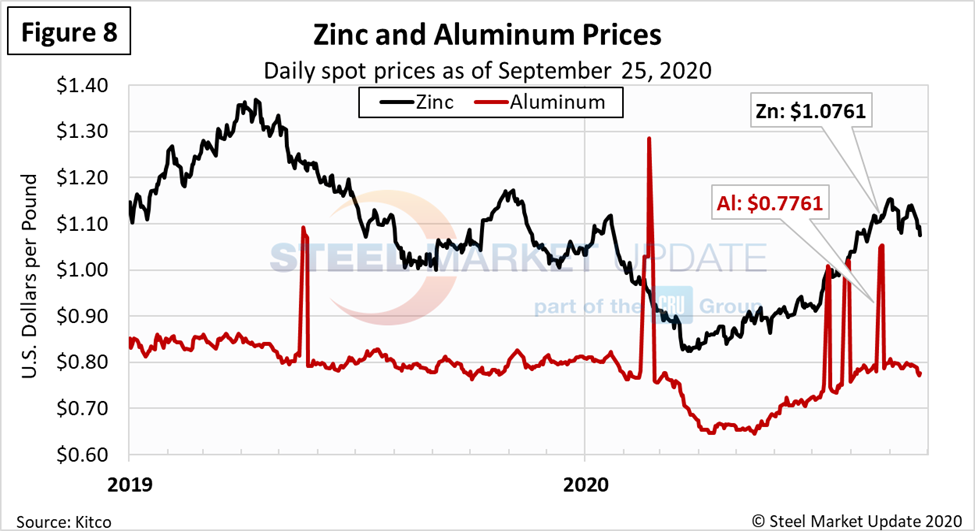 The price of zinc factors into the coating extras charged by the mills for galvanized products. Many mills had revised their coating extras downward, effective in July, to reflect the lower zinc price. Now that zinc prices are on the rise, mills are revising their coating extras higher. Aluminum prices, which factor into the price of Galvalume, had also seen a steady rise in August, but have corrected back down to the levels seen for much of this year. The LME cash price per pound of aluminum was $0.7761. as of Sept. 25.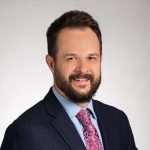 Latest in Steel Products Prices North America