Steel Mills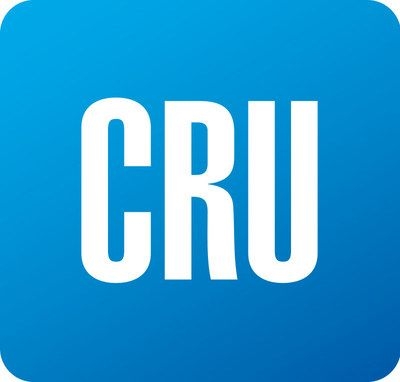 CRU: ArcelorMittal Divests U.S. Assets to Cliffs, Transforms Flat Rolled Landscape
Written by Josh Spoores
October 4, 2020
---
By CRU Principal Analyst Josh Spoores, from CRU's Steel Sheet Products Market Outlook
In less than a year Cleveland-Cliffs has transformed themselves from a Great Lakes-based iron ore miner to the largest fully integrated flat rolled steel producer in the USA. Cliffs has done this by acquiring AK Steel earlier this year and now they purchased the U.S. assets of ArcelorMittal. While Cliffs now has a significant steelmaking footprint in the USA, the overall market will continue to struggle in the near term as substantial new steelmaking capacity comes online.
Fresh off its recent acquisition of AK Steel, Cleveland-Cliffs (Cliffs) has agreed to purchase the U.S. assets of ArcelorMittal. This deal creates a new "King of the Mountain" for flat rolled steel capacity in North America.
The transaction, expected to close in 2020 Q4, transfers ownership of various raw materials assets, such as ArcelorMittal's ownership in two iron ore mines, one coal mine and two coke plants, and includes six steelmaking facilities and eight steel finishing lines. Once this transaction closes, Cliffs will own 15 Mt (16.5 M s.ton) of flat rolled steel shipping capacity, based on actual 2019 shipments. 
The enterprise value of this deal is estimated at $3.3 bn, which is approximately six times the through cycle EBITDA (2017–2020 H1). ArcelorMittal will receive $505 M in cash and a substantial equity position in Cliffs. ArcelorMittal has said that this deal allows them to remain invested in steel equities through their ownership stake in Cliffs while also using the cash to buy back their own shares. Their equity position in Cliffs, estimated at 16 percent, has a six-month lock up, though they do not get a board seat.
Though ArcelorMittal is divesting their U.S. assets, they will remain a key competitor in the North American market. AM/NS Calvert, one of the most technologically advanced finishing lines in the region, will continue to remain under its current ownership structure. This facility currently rolls slabs sourced from ArcelorMittal-owned mills and long-term supply agreements. To continue operations there, ArcelorMittal has a five-year agreement with Cliffs to maintain supply of slab from the Indiana Harbor facility. Additionally, they are building a 1.5 Mt EAF onsite to replace supply that currently comes from Ternium.
In addition, ArcelorMittal will continue to supply the North American market from both their Dofasco operation in Hamilton, Ontario, as well as their Lazaro Cardenas mill in Mexico.
Cleveland-Cliffs is Now the Largest Flat Rolled Steel Producer in the USA; Does Bigger Mean Better?
Cliffs is fresh off their buyout of AK Steel this past March, that came just before the Covid-19 pandemic affected the USA. With this latest acquisition, Cliffs more than doubles the volume of steel sold into the auto market. The exposed autobody sheet market has traditionally been supplied from AK Steel, ArcelorMittal and U.S. Steel. With this acquisition, those three suppliers are now two, yet some supply will also come from Canadian producers ArcelorMittal Dofasco and Stelco, as well as AM/NS Calvert.
Regardless of this competition, we expect auto companies to push back on this deal due to the new concentration of supply. This pushback may even reference Cliffs' 2020 Q2 earnings conference call, where the CEO openly talked about the need to raise prices to auto companies. Ultimately, though, we expect this deal to go through.
This transaction combines AK Steel and ArcelorMittal USA finished steel production while also achieving more integration of iron ore, coal and coke. The full integration of all these assets will allow Cliffs to realize lower steelmaking costs via transferring raw materials at cost, rather than at market-based prices. A lower cost basis for the finished steel product will help Cliffs to compete for flat rolled volume in the future. Yet the market they have bought into will soon become increasingly competitive, and though they may realize lower steelmaking costs and some modest synergies, we forecast that sheet prices will gravitate towards average integrated mill cost levels due to increased competition.
The transaction does improve Cliffs' demand security by giving it control over blast furnace assets, which are the primary source of iron ore demand for the company. A key threat to demand for Cliffs' iron ore products is the increasing presence of cost competitive EAFs and the potential permanent closure of blast furnaces. This acquisition is a further step in improved demand security for the company following its investment in a hot briquetted iron (HBI) production facility.
Over the next 12 months, 5.7 Mt of new EAF-based sheet steel production will come online in the USA. In addition, 6.9 Mt of new hot strip mills in Mexico will also come online and 8.5 Mt of blast furnaces in North America remain temporarily idled due to Covid-19. Furthermore, in 2022, an additional 3.4 Mt of new EAF-based flat rolled supply will start up. These new furnaces and hot strip mills will be cost-competitive and regionally focused.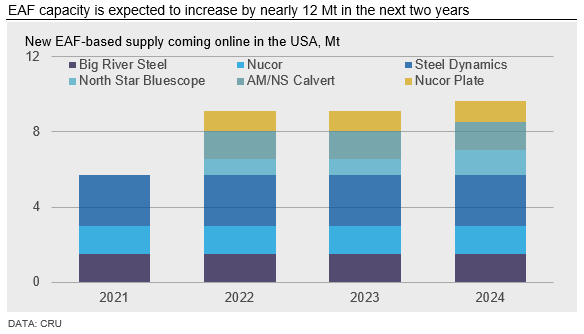 While supply to the North American market is set to increase rapidly, demand for sheet and plate products has taken a substantial hit due to the economic challenges surrounding the Covid-19 pandemic. In fact, sheet consumption in both the USA and North America more generally, is forecast to fall by at least 16 percent y/y this year and not return to 2019 levels until 2023.
So, while Cliffs is now the largest flat rolled steel producer in the U.S., this deal comes at a time of unprecedented growth in technologically advanced cost-competitive supply and low demand. Certainly, Cliffs has the opportunity to compete with low costs and remain focused on the auto sheet market. Additionally, this transaction allows Cliffs to ensure they have demand for their iron ore.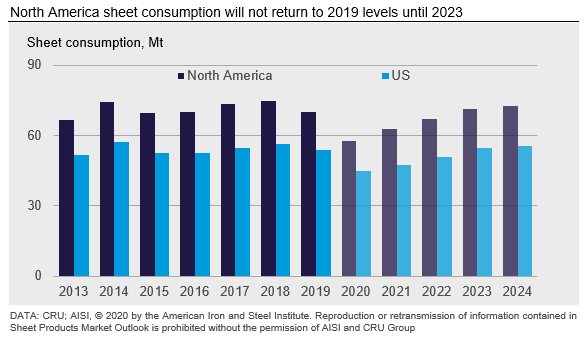 ArcelorMittal Will be Smaller, But More Competitive in North America
For ArcelorMittal, it appears they were able to divest some older assets at an attractive price. Through cycle EBITDA was defined as covering the 2017–2020 H1 period. Based on our cost and margin data, this was a particularly strong period for steelmakers, a period that is not expected to return for some time, particularly for that duration. The following chart shows HR coil prices versus average integrated mill costs and how they compare to the period preceding this and our forecast through 2023.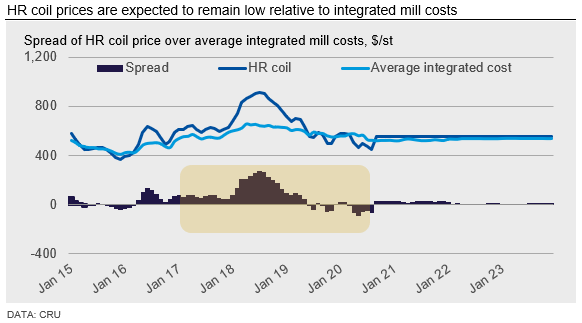 In our view, ArcelorMittal is the winner in this transaction due to the valuation and cash generation provided by this deal. ArcelorMittal, now freed from these older assets and high annual capex, will now solely compete in the North American market with their newer, more technologically advanced facilities. Though their sales volume will be lower after the transaction closes, margins will be more sustainable, especially considering increased competition from new EAF-based capacity.
Request more information about this topic.
Learn more about CRU's services at www.crugroup.com
Latest in Steel Mills