Steel Mills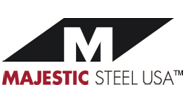 Majestic Steel to Sponsor Benefit for Ronald McDonald House
Written by Sandy Williams
October 9, 2020
---
Majestic Steel will be the presenting sponsor for the Sixth Annual Wine, Women & Shoes Gala to benefit Ronald McDonald House of Cleveland. Majestic Steel is a long-time supporter of RMHC, which provides critical support and medical services for families impacted by catastrophic illnesses or injuries.
The Wine, Women & Shoes gala will be virtual this year, beginning on Oct. 15 with a virtual shopping spree, "Best in Shoe" contest, a raffle, and auction. On Oct. 22, wkyc.com will air a fashion show, raffle prizes and announce winners for "Best in Shoe, along with a segment about Ronald McDonald House.
Majestic Steel's past support for RMHC, includes renovating their outdoor patio area and indoor sunroom, providing dinners for families and volunteering hundreds of associate hours at the house and at fundraising events.
"Our associates are part of the Majestic Family, so we are proud to support the families cared for at the Ronald McDonald House," said Majestic Steel CEO and President Todd Leebow.
Learn more about this fun event and pre-register for free by clicking here.

Latest in Steel Mills