Steel Mills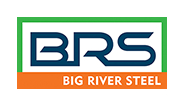 Big River Steel Announces Phase Two Start-up
Written by Sandy Williams
November 18, 2020
---
Big River Steel has successfully started up a second electric arc furnace at its mill in Osceola, Ark., completing the Phase Two expansion that doubles the capability of the advanced steelmaking facility ahead of the original timeline.
"When describing the success of our Phase Two construction efforts, I am extremely proud to be able to use my five favorite words: 'ahead of schedule' and 'under budget.' This achievement is a testament to the hard work and can-do attitude of our employees," said Dave Stickler, Big River Steel's chief executive officer.
The $716 million expansion doubles Big River Steel's production capacity to 3.3 million tons annually. The commissioning of Phase Two, originally scheduled for Jan. 27, is more than two months early and already producing high-quality steels. The expansion adds a second EAF, ladle metallurgical station, thin-slab continuous caster, tunnel furnace and hot mill downcoiler.
Big River Steel plans to reach full capacity in less than five months. Once achieved, BRS will produce close to 5,000 tons of steel per employee per annum, up almost 66 percent from the already world class 3,000 tons of steel per employee currently produced, the company claimed.
Latest in Steel Mills