Service Centers

Schnitzer Steel Reports Strong Scrap Demand and Pricing
Written by Sandy Williams
January 7, 2021
---
Schnitzer Steel completed the transition to a consolidated earnings report, posting a net income of $15 million for the first quarter of FY 2021 ending Nov. 30, 2020. Results were a significant increase from net income of $5 million in Q4 FY 2020 and a loss of $7 million a year ago.
"We were very pleased with our first-quarter results, which reflect our second highest first-quarter operating income in the last 10 years," said Chairman and CEO Tamara Lundgren. Lundgren noted that the transition to a "One Schnitzer" model improved efficiency during the quarter and was reflected in earnings results.
"There are many trends that support strong and sustainable ferrous and nonferrous scrap demand," continued Lundgren. "The recent sharp increases in prices have been driven by low inventory levels after many quarters of de-stocking, followed by significantly higher steel mill and smelter buy plans and production levels, the transition to lower carbon technologies, and the prospect of China's re-emergence as an importer in the global ferrous scrap market. In a world that is seeking de-carbonization, we expect recycled scrap metal to be an increasingly important metals carbon solution and for demand to accelerate."
During Q4, domestic ferrous scrap prices returned to pre-pandemic levels and exported ferrous scrap reached multi-year highs. Schnitzer expects recycled scrap to take on increased importance as the steel industry transitions to lower carbon technologies.
Finished steel sales volumes were down 3.0 percent to 134,000 tons and rolling mill utilization was 97 percent. Average selling price for finished steel products was flat at $621 per ton compared to $618 per ton in the prior quarter.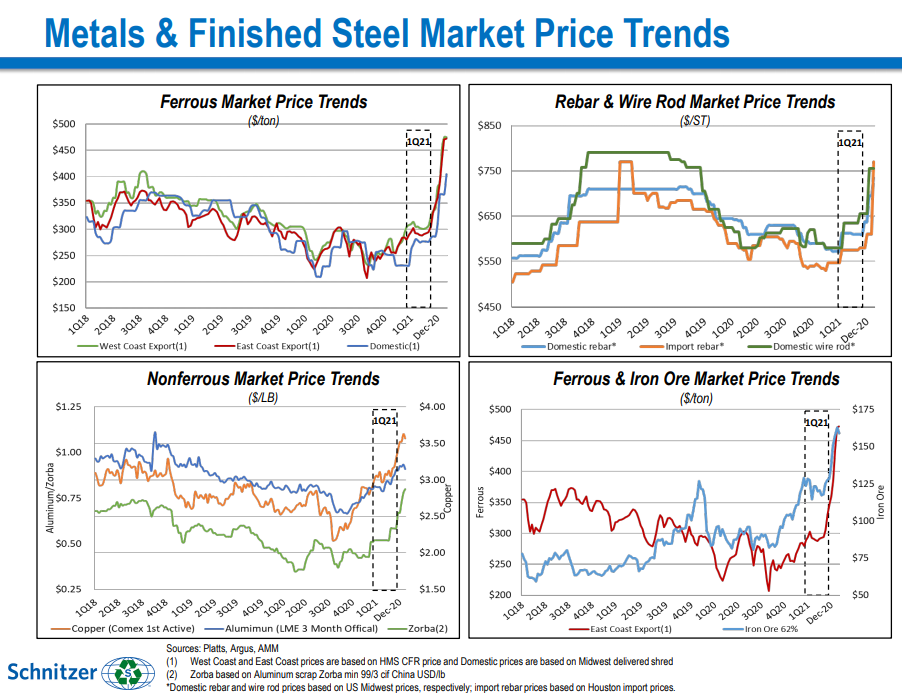 By Sandy Williams, sandy@steelmarketupdate.com

Latest in Service Centers