Economy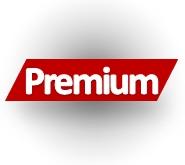 Manufacturing Indicators Continue to Show Improvement
Written by Brett Linton
January 27, 2021
---
U.S. industrial production, manufacturing and durable goods orders through December continued to show improvement from the coronavirus pandemic downturn. The health of the manufacturing economy has a direct bearing on the health of the steel industry.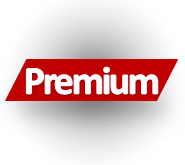 The Industrial Production Index
The IP index is a gauge of output from factories, mines and utilities. Industrial production took a serious hit from the shutdowns of nonessential businesses and other measures mandated by the government in the first and second quarters of 2020 to stem the spread of the coronavirus. Figure 1 shows the three-month moving average (3MMA) of the IP index since January 2007 as the black line and the year-over-year change in orange. From March through June, the 3MMA of the IP index dropped by 14 percent, from 107.7 down to 93.7. The 3MMA has recovered each month since July, up to 104.5 in December.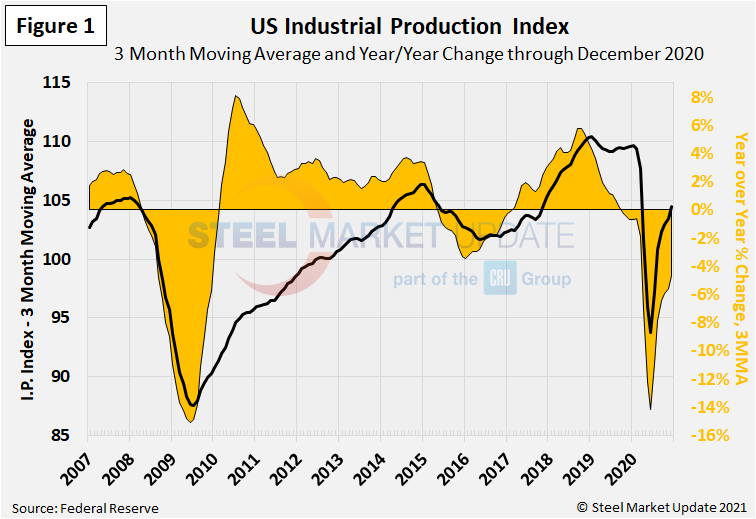 Manufacturing Capacity Utilization
Manufacturing capacity utilization, measured at 72.7 percent as a 3MMA through December, has now risen out of recessionary territory for the first time since March. The rate had regularly hovered around 75 percent for the previous eight years, declining starting in March and reaching a low of 63 percent in June (Figure 2).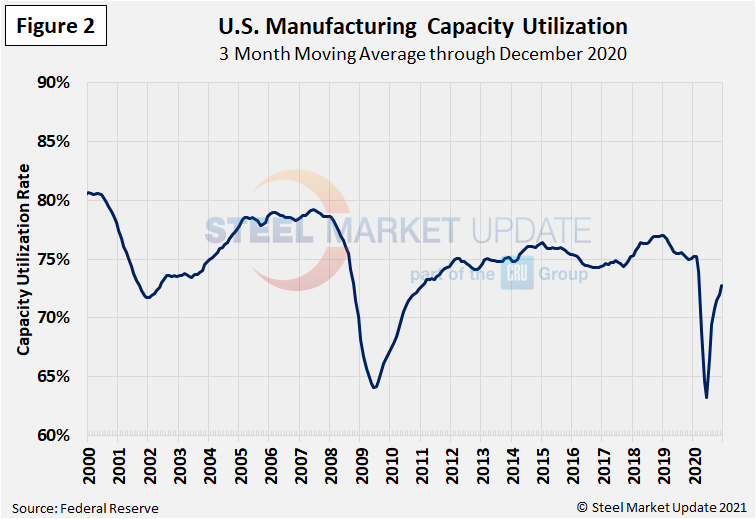 New Orders for Durable Goods
New orders for durable goods, an early indicator of consumer and business demand for U.S. manufactured goods, have nearly recovered from the virus shock last year (Figure 3). The 3MMA dropped by more than 23 percent from February through May, from a peak of $246.4 billion to a low of $188.5 billion. But durable goods orders increased to $244.1 billion as a 3MMA through December 2020, very positive news for the economy.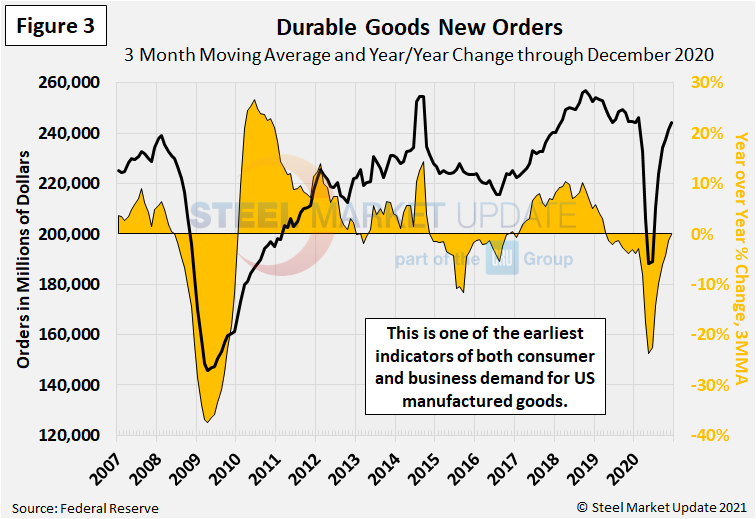 New Orders for Manufactured Products
The growth rate of new orders for manufactured products as reported by the Census Bureau was slightly negative for most of 2019, then declined sharply in March 2020 (Figure 4). On a 3MMA basis, factory orders fell to a near 10-year low in June at $410.7 billion. Factory orders in November 2020 were down just 2 percent year over year to $481.8 billion.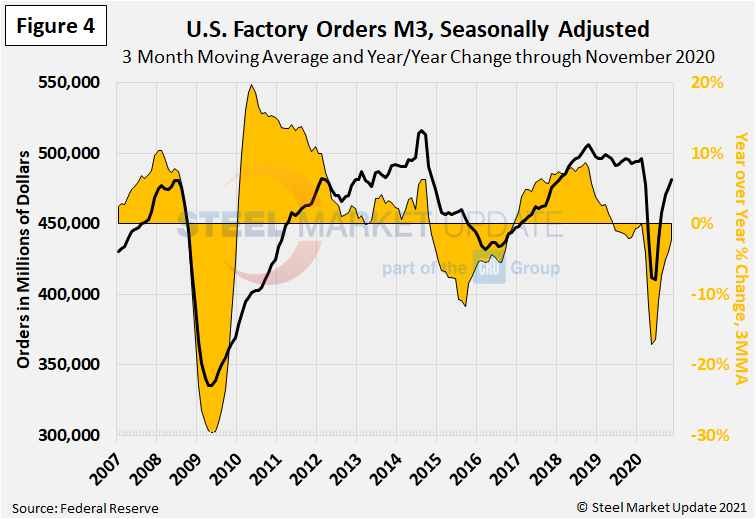 New Orders for Products Manufactured from Iron and Steel
Within the Census Bureau M3 manufacturing survey is a subsection for iron and steel products. Figure 5 shows the history of new orders for iron and steel products since January 2000 as a 3MMA. The 3MMA year-over-year growth rate, which reached negative 20.0 percent last May, rebounded to positive 1.4 percent year-over-year last November at $10.2 billion.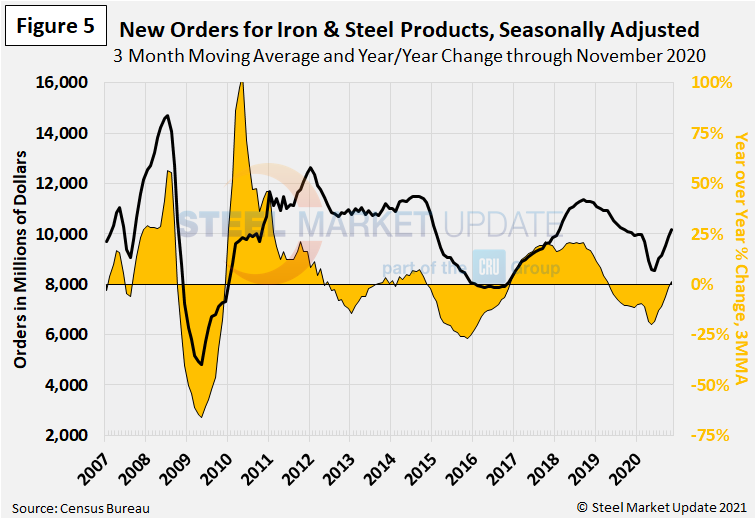 Inventories of Products Manufactured from Iron and Steel
Inventories of iron and steel products continued to decline through the November data, down 8.1 percent to $18.2 billion on a 3MMA basis, compared to the same period the year prior (Figure 6). The fact that new orders for manufactured goods were up while inventories of manufactured goods were down may reflect the tight availability and rising price of steel late last year.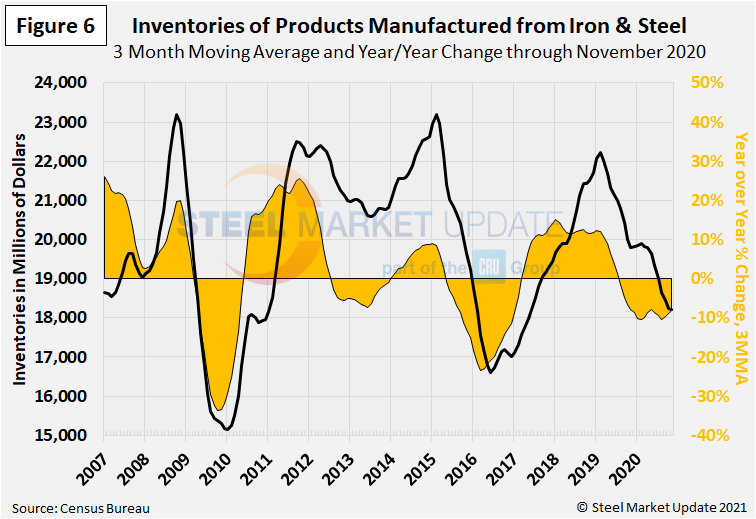 The ISM Manufacturing Index
The Institute for Supply Management's Manufacturing Index is a diffusion index. An index value above 50 indicates that the manufacturing economy is expanding. As Figure 7 shows, the index on a 3MMA basis remained in contraction territory from September 2019 through June 2020, but has recovered each month since then to reach a 25-month high of 59.2 in November.
"The manufacturing economy continued its recovery in December. Survey Committee members reported that their companies and suppliers continue to operate in reconfigured factories, but absenteeism, short-term shutdowns to sanitize facilities and difficulties in returning and hiring workers are causing strains that are limiting manufacturing growth potential," said ISM Business Survey Committee Chairman Timothy Fiore. "Manufacturing performed well for the seventh straight month, with demand, consumption and inputs registering strong growth compared to November. Labor market difficulties at panelists' companies and their suppliers will continue to restrict the manufacturing economy expansion until the coronavirus (COVID-19) crisis ends."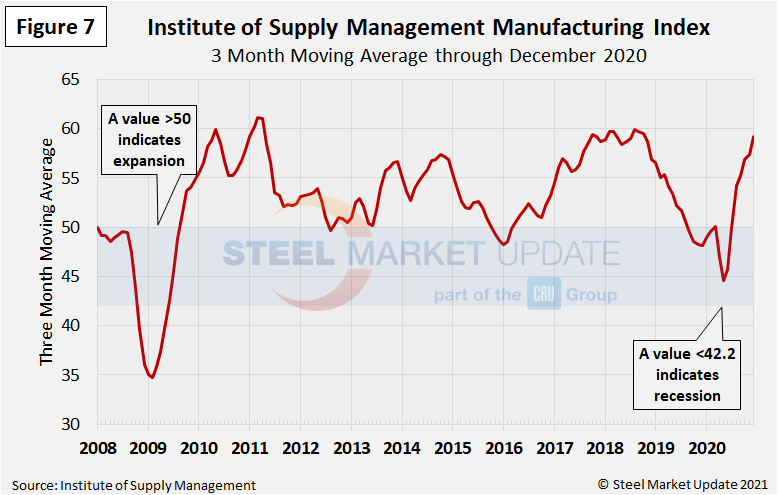 Latest in Economy