Economy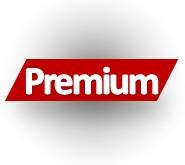 Global Steel Production Jumps in March
Written by David Schollaert
March 26, 2021
---
As the world continues to work itself back from the doldrums of the COVID health pandemic, global crude steel production seems to be hitting its stride as it strives to catch up with rising demand. Except for Brazil, which saw no change in crude steel production month on month, all the top 10 global producers and regions experienced production growth in March compared to the month prior. Eight out of 10 saw double-digit percentage growth.
Global crude steel production totaled 169.2 million metric tons in March, up 15.2% from the same month last year when production was 146.9 million metric tons, and up 12.7% when compared to the month prior, reported the World Steel Association. The notable increase is a positive turn after February's output was the lowest since July 2020. Global crude steel production totaled 486.9 million metric tons through the first three months of 2021, up by 10.0% compared to the same period in 2020. Moreover, the Q1 data is especially positive as it compares favorably to the same period last year, most of which was pre-pandemic, indicating that the global steel market has made a substantial recovery.
The U.S. was the fourth largest crude steel producer in the world in March, accounting for 7.1 million metric tons or 4.2% of the global total. March's U.S. production was up 12.7% when compared to February, and up 1.5% year on year. Despite the month-on-month increase in crude steel production in the U.S., production in the first quarter of 2021 totalled 20.3 million metric tons, 7.0% lower than the same quarter one year ago when output was 21.8 million metric tons. Although the domestic steel market is on the right track, it remains behind pre-pandemic levels.
China continues to produce more than half of the world's steel at 55.5% or an estimated 94.0 million metric tons in March. China' steel production was up by 13.3% from the prior month and up by 19.0% compared with March 2020. China remains the target of scorn from the rest of the world as the culprit behind global steel overcapacity. That may change over time as Chinese officials take steps to reduce harmful air emissions from the steel industry.
Shown below in Figure 1 is the annualized monthly global steel production on a three-month moving average (3MMA) basis and capacity utilization since January 2000 based on data from the WSA, while Figure 2 shows the year-over-year growth rate of global production on the same 3MMA basis since January 2013. Capacity utilization in March on a 3MMA basis was 78.6%, up from 77.2% the month prior. On a tons-per-day basis, production in March was 5.458 million metric tons, up from 5.364 million metric tons the month prior, setting a record pace in daily production. Prior to last month's new high, the previous record was set in June 2019 at 5.318 million metric tons. Growth in three months through March on a year-over-year basis was positive 8.8%, up 2.8% from the month prior.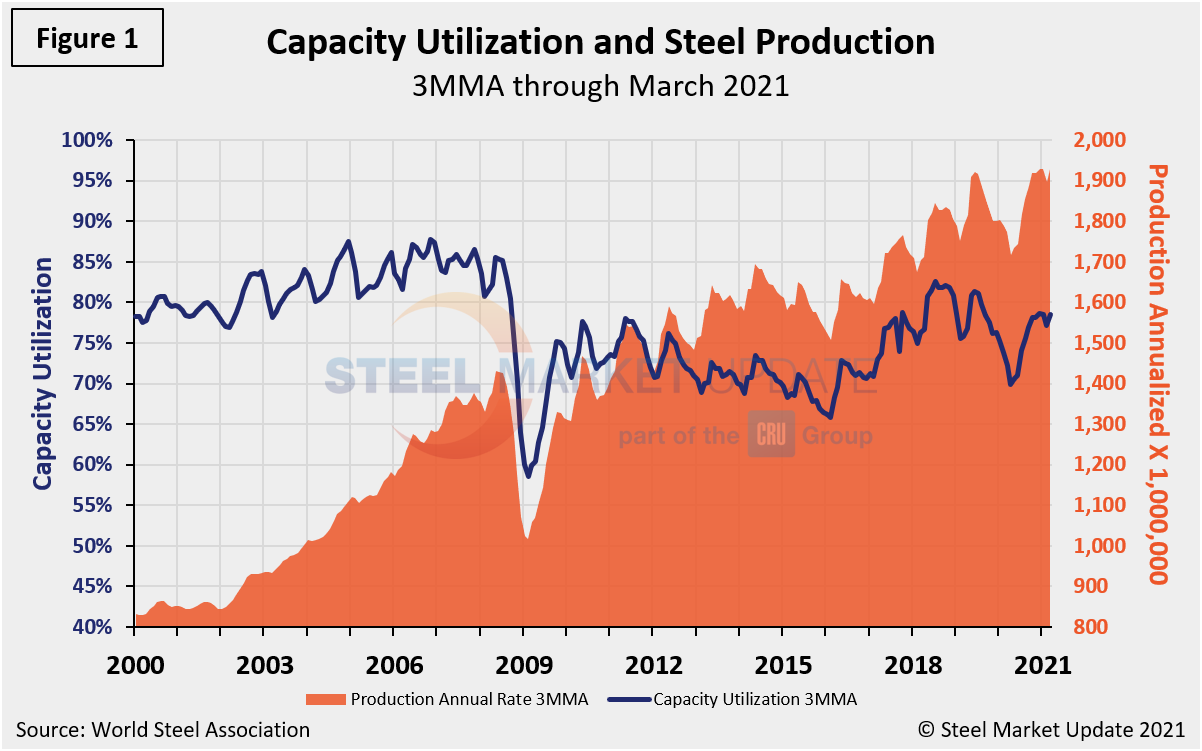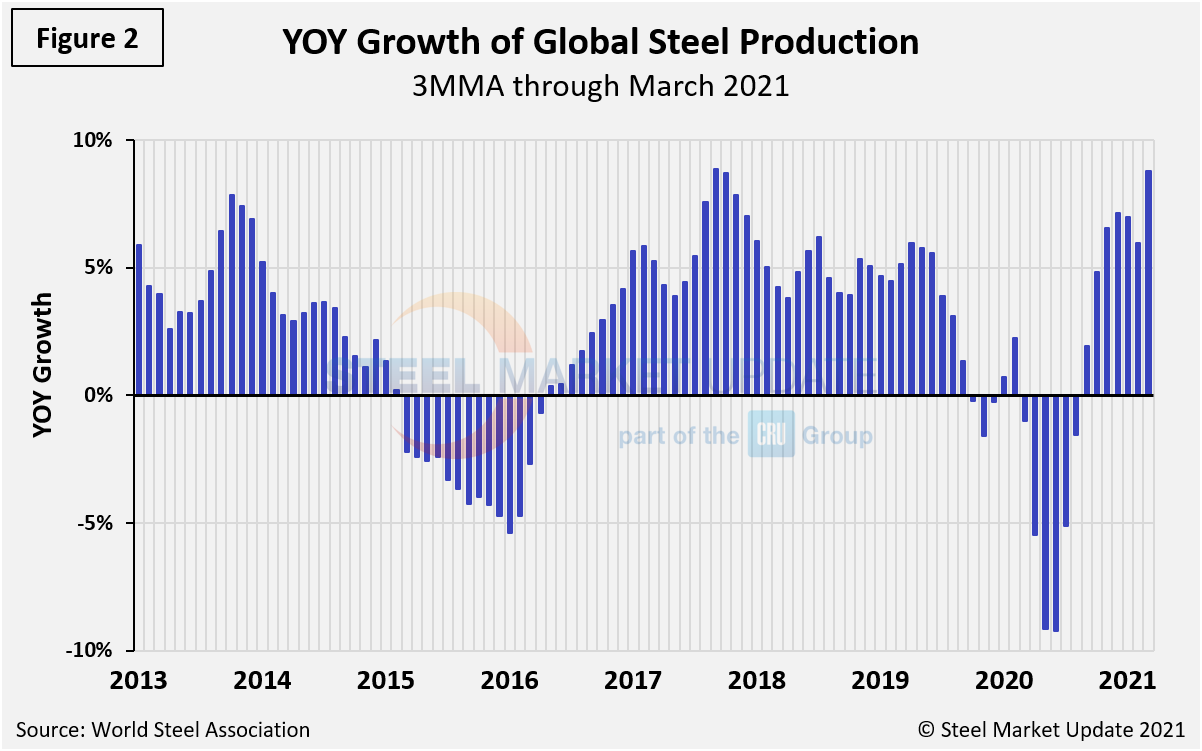 Displayed in the table below is global production broken down into regions, the production of the top 10 nations in the single month of March, and their share of the global total. It also shows the latest three months and 12 months of production through March with year-over-year growth rates for each period. Regions are shown in black font and individual nations in gray. The world overall had positive growth of 9.2% in three months and positive growth of 1.4% in 12 months through March. The market has maintained positive momentum, as the three-month growth rate is higher than the 12-month growth rate. On the same basis in March, China grew by 14.3% and 9.2%, also showing positive momentum. The table shows that North American production was down by 4.7% in the three months through March. Despite the negative mark, it's an improvement from negative 7.1% the month prior.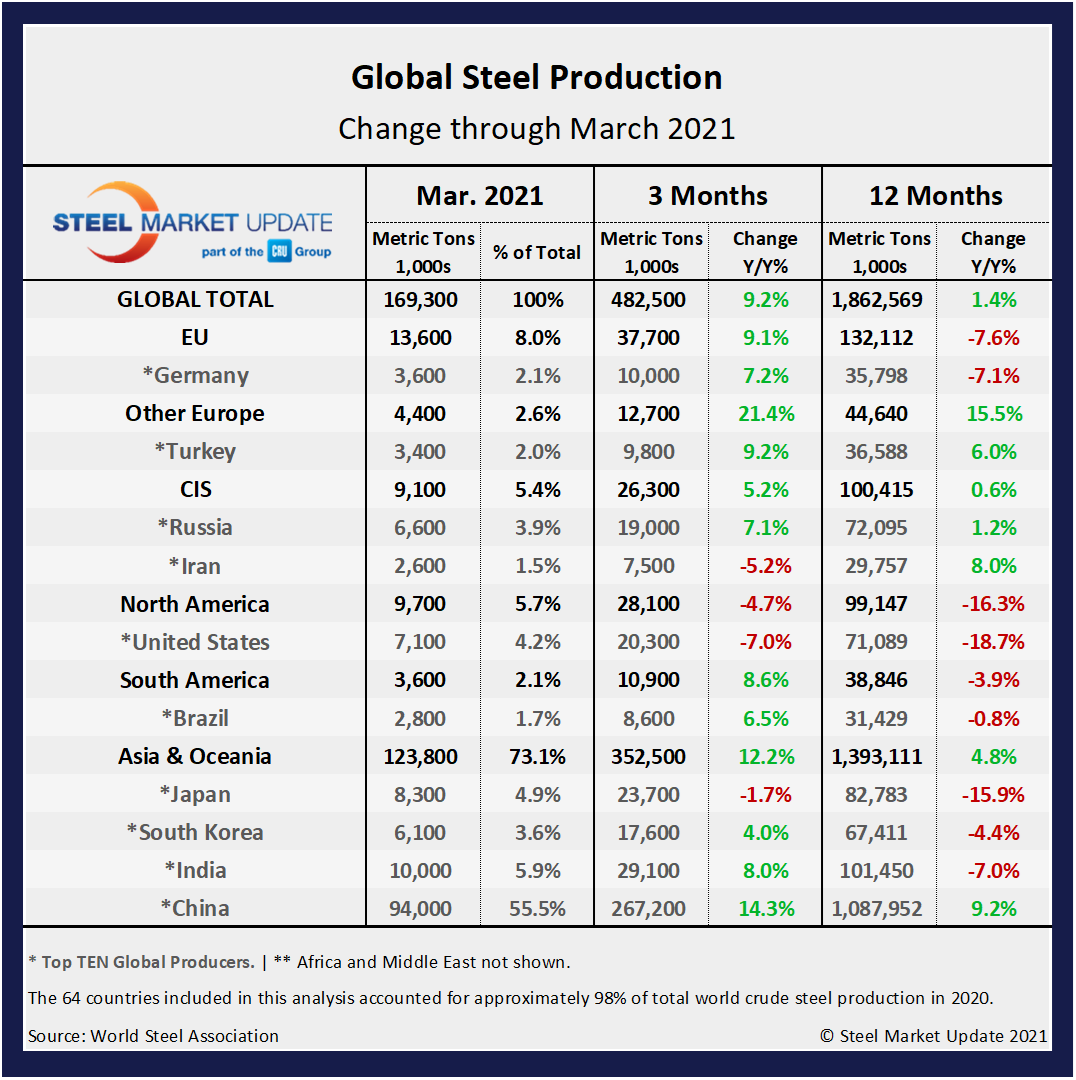 China's Crude Steel Production
China's monthly steel production was 94.0 million metric tons in March, nearly reaching its all-time high of 94.8 million tons set in August 2020. Total output in China has generally declined since that record number, but March's strong rise further confirms the Chinese economy's push towards a post-pandemic rebound. On a 3MMA basis (Figure 3), the annual rate of China's crude steel production maxed out at 1.123 billion metric tons in September 2020, but then dipped month on month through February to 1.057 billion metric tons. March saw the first increase since last September at 1.069 billion metric tons. China's annual capacity is now 1.128 billion metric tons, a reduction from 1.164 billion tons in December 2017. China's capacity utilization in March was 96.4%, up from 95.1% the month prior.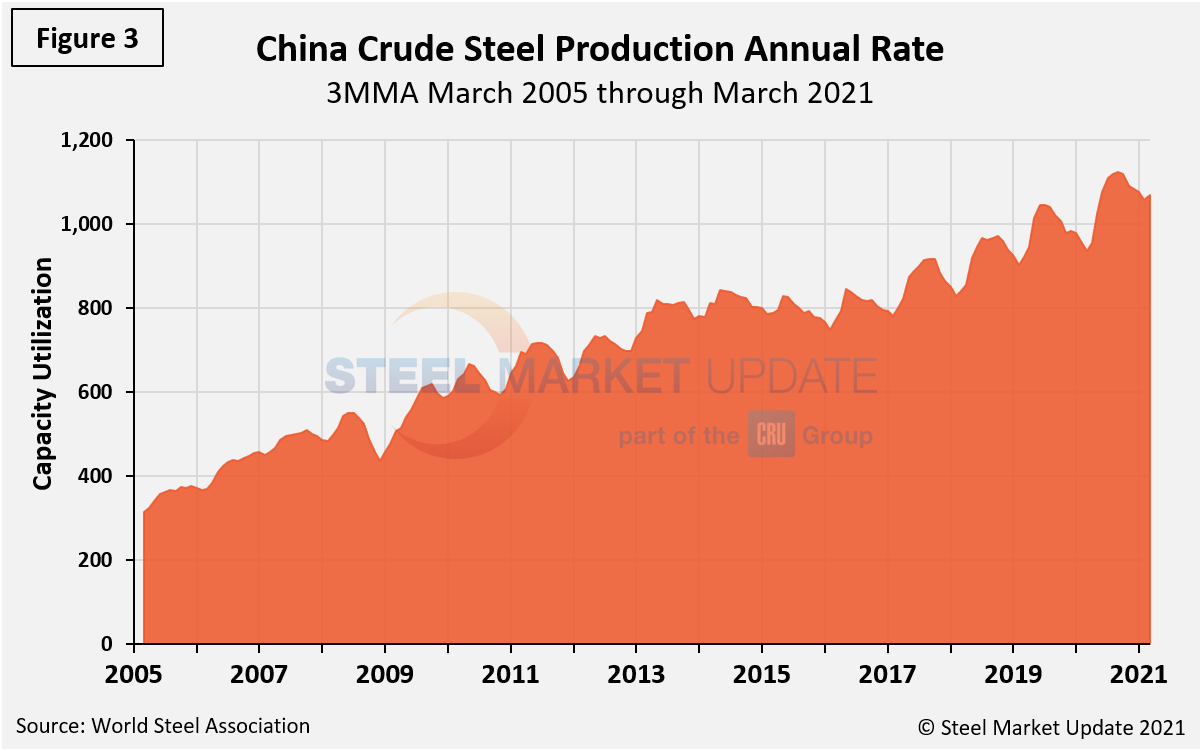 The growth of China's steel production since March 2013 is shown in Figure 4, while Figure 5 shows the growth of global steel excluding China, both on a 3MMA basis. From November through March, the rest of the world's production rose by 9.5%, while China grew by 14.3%, both year over year. The growth for the rest of the world's crude steel production in March was noteworthy, after posting a contraction of 3.4% in February.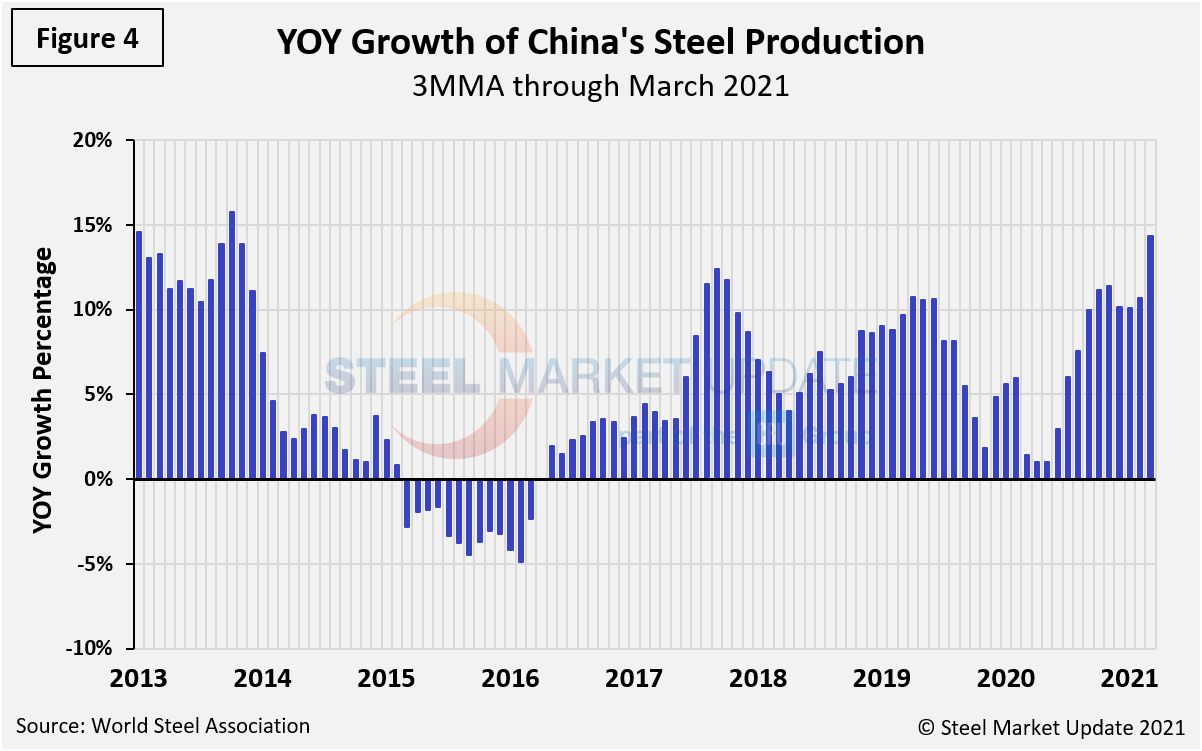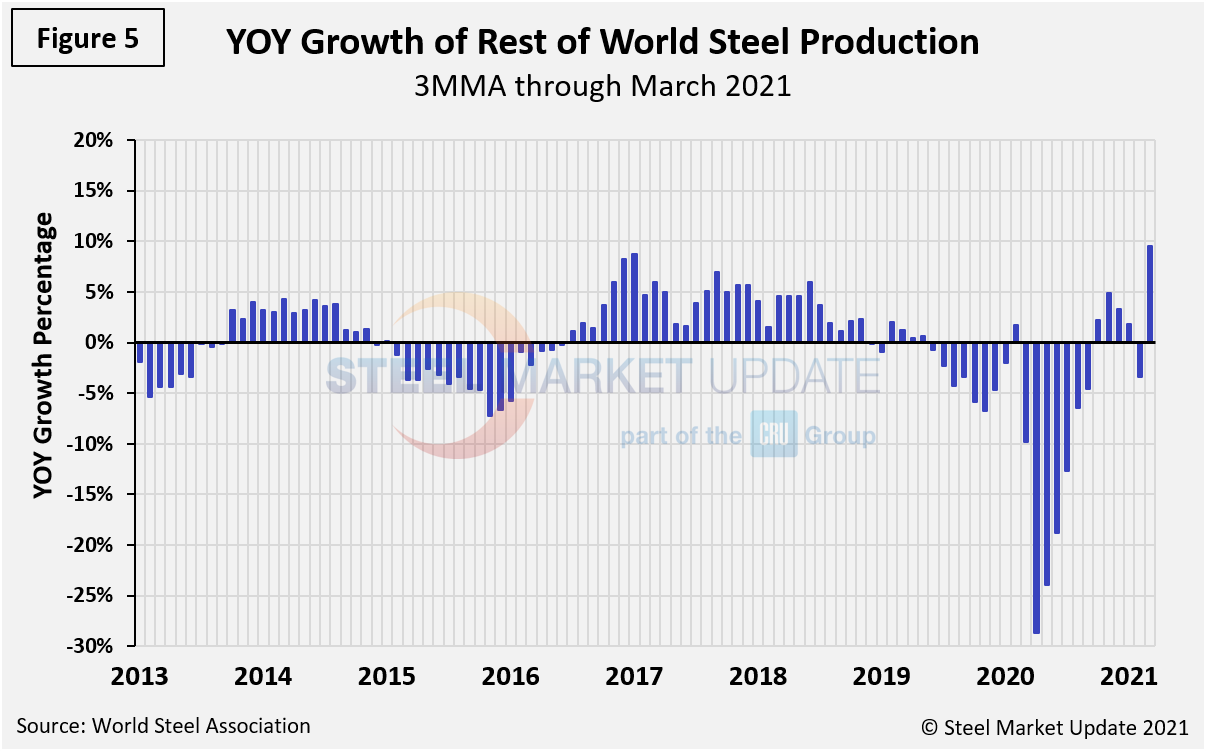 By David Schollaert, David@SteelMarketUpdate.com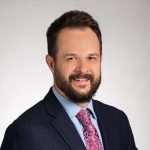 Latest in Economy