Scrap Prices North America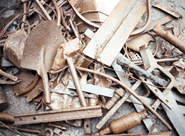 Ferrous Scrap Prices Expected to See Big Jump in June
Written by Tim Triplett
May 25, 2021
---
Ferrous scrap prices in the U.S. are likely to see a big jump in June, estimated at $50-60 per gross ton or more, primarily as a result of strong demand from foreign buyers, sources tell Steel Market Update.
"June will bring significant price increases for ferrous scrap. The biggest factor is the strength of the export market," said a dealer in the Northeast. In May, obsolete grades moved up about $20/GT while prime grades moved sideways.
International prices are at their highest level versus domestic prices since 2017. "They are at least $65/GT over domestic prices and this delta is growing by the day. On a macro level, ferrous scrap is the cheapest raw material for mills when considering alternative grades and conversion costs, so there is nowhere else to go for cheaper inputs," he said.
Domestic demand for scrap continues to grow even with the various mill maintenance shutdowns scheduled for the coming months. On the supply side, most dealers are having problems completing May orders due to slow inbounds (the scrap food chain is waiting for higher June prices) and a lack of rail cars to ship material, he said.
Expectations for June shred prices (which may not come until the week on June 7) are up a minimum of $50-60/GT with remote or springboard prices up $100/GT. All other grades will move relative to shred, but may not see those highs, he added.
Higher ferrous scrap in June reflects the trends in the export market, explained another scrap executive. "I think we will see no less than a $50/GT uptick in June, and there's a good chance it will be more."
The latest export sale out of the UK was made for approximately $515/MT CIF for 80/20 grade and $530/MT CIF for shred. U.S. exporters are offering 80/20 at $530/MT CIF, "which as I understand has yet to be achieved," he said. 
Turkish rebar metal margins are well over $250/MT at these scrap prices, with Turkish rebar trading for around $770-$780/MT FOB Turkey. "Even with the fall in Asian prices over the last week, Turkish rebar is still a discount, not to mention that more Chinese steel may be consumed domestically and unavailable for export," he said.   
U.S. domestic demand for scrap also remains very strong, despite some outages in June (most prominently at North Star BlueScope). And flows to shredders are mediocre in light of the prices for shredder feedstock. "One would think that, at these prices, flows would be much stronger. Prime grades remain tight, with auto plant slowdowns having some impact. HR EAF mills still need it and can't melt much more shredded without compromising the specs of the product."
He added: "This will all come to an end at some point, but for now I don't see much weakness at least for the next few months." 
Another SMU source is less bullish on June scrap prices: "The worldwide markets for ferrous scrap are very volatile this year. Last month U.S. mills got away with increasing obsolete grades by only $20/GT using a lull in export prices as a justification. Right after that the export price took off and prices for HMS went from $415 to $510 CFR Turkey. Asian markets also saw similar increases. During the last week there have been some wobbles in Asian prices, but not for Turkey yet. So the market prices in the U.S. will be up in June, the question is how much? If export prices start to fall, the market could only go up $30/GT rather than the $50-plus the trade is predicting."  
CRU Senior Analyst Ryan McKinley also takes a more cautious view of ferrous scrap prices in June. "I think there is a solid possibility that prime grades do not rise in tandem with obsolete grades. The spread between the two is still quite high, and mills know that paying more for prime grades does not bring more material into the market. Any upswing would likely be driven by competition between mills over limited supply, and with the known mill outages this month, this competition might not be as strong as it otherwise would be. Still, prime grades do have upside price potential, especially if looking purely at just how quickly finished steel pricing continues to outpace scrap. The spread between #1 busheling and HR coil is nearly triple its normal level," he noted.
The Turkish scrap market has been a good leading indicator of where U.S. scrap prices were headed over the past year or so, and this is very much true for June, McKinley said. The chart below shows that the two markets are highly correlated in terms of pricing (though sometimes Turkey is a lagging indicator). Using a linear regression model to calculate the trend, shredded scrap prices in the U.S. should fall around $505 /l.ton (aka gross ton) based on this relationship—~$50 /l.ton from the prior month.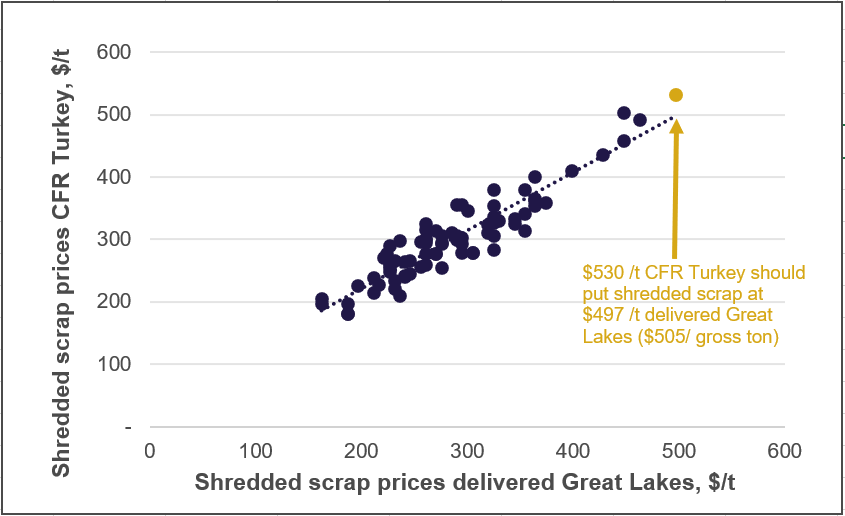 Turkish steel exporters have been successful in penetrating Asian markets because of a dearth in Chinese exports. This was exacerbated by the removal of a VAT rebate for steel exports in China in early May, which sent billet prices soaring and, by extension, scrap prices. "I think western markets that did not follow this large uptrend in Asian scrap pricing will do so this month—and that Asian prices will not rise by as much as they will in the West," McKinley said.
Pig Iron Prices
Reported one SMU source: "Pig iron is still quite firm with U.S. mills holding off ordering from Russia at prices between $670-700/MT CFR Nola. They feel the U.S. is the only home right now for large quantities of low P BPI until China steps back into the pig iron market. They may have a point since domestic scrap prices in China are weakening. But in any case, pig iron prices over $600 are extremely high."
By Tim Triplett, Tim@SteelMarketUpdate.com

Latest in Scrap Prices North America