Final Thoughts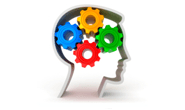 Final Thoughts: Flattening Lead Times, Trend or Head Fake?
Written by Michael Cowden
June 24, 2021
---
Let's talk about lead times. Because the results from our latest survey caught my attention.
This is the first time in since January-February that you can maybe discern a potential peak in pricing – at least judging by that metric.
Lead Times: Trend or Head Fake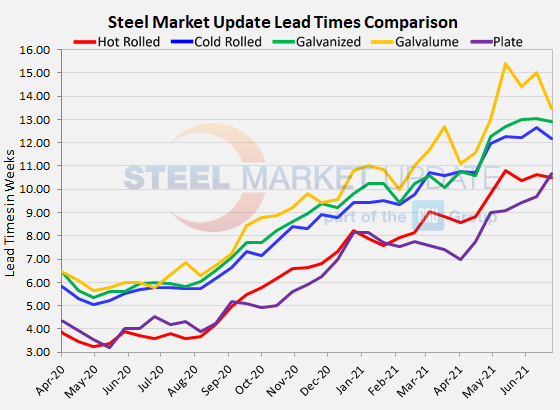 I'm going to display our lead latest lead time results again. Because it's important to be able to see the data. (Tim Triplett takes a deeper dive into the numbers here.)
A quick glance shows that average lead times for all sheet products have edged down a little lately. That might not be hugely meaningful in a smaller, less liquid market like Galvalume. But when I see the same trend repeated in hot-rolled, cold-rolled and galvanized – the three major sheet markets – well, there's a decent chance it's not just noise.
What's also interesting to note is that plate lead times have closed the gap with coil lead times. Plate lead times are typically longer than those for sheet for the same reason that plate prices are usually higher – it's an extra step of processing and more time on the mill.
That was the case initially as the economy rebounded from pandemic-related disruptions more quickly than expected. But since last fall, or roughly when the normal price spread between sheet and plate inverted, lead times for plate dropped below those for coil. And they had remained below coil for most of this year.
Does this mean coil is starting to fall back to something vaguely resembling normal? We've certainly seen lead times lead prices lower in the past. And it's very tempting to suggest we might really be at an inflection point this time. Especially with service center inventories up in May and lumber prices down 45% from their peak. Maybe steel will follow the same path on a bit of a lag?
I Wouldn't Call a Trend Just Yet
Why is it too soon to call a new trend?. Well, it's possible it's just noise. It's also possible it's just the normal summer doldrums. It's hard to remember after this last year, in which almost nothing has been as it usually is. But steel also follows typical seasonal patterns. And some automakers are taking their usual two-week shutdowns for model year changeovers, which could cause prices to dip a little.
And recall what happened last winter. The dip in lead times turned out to be a head fake. Severe weather across the U.S. and northern Mexico snarled supply chains and caused significant outages. The result: Lead times extended, and prices – which had briefly taken a pause (or at least slowed down a little) – rocketed upward again.
The lesson: News matters. So does the weather. And there is no shortage of either now. We've heard chatter of some mills being slow to come back from planned maintenance outage, of others being hit with unplanned ones, and of still others finding themselves short slabs.
These things might not matter all that much in a normal market. But in a tight market – and make no mistake, this is still a tight market – the combined impact of such production issues does matter.
Oh, and did I mention that we might finally have an agreement on an infrastructure package? Remember the AISI said during one of our webinars that every $1 billion spent on infrastructure equates to 50,000 tons of new steel demand. So $1 trillion could be as much as 50 million tons. Sure, that would be spread out over a number of years. But, even so, it's potentially a big number.
And, yes, infrastructure might be mostly a rebar story. But it's no small amount of plate, especially if it includes heavy spending on plate-intensive projects such as offshore windfarms. I don't have any firm figures for those. But is it possible wind farms could chew up millions of tons? And keep in mind it's not just the wind towers. Think offshore oil rigs. It's also the boats needed to take supplies out to them and back. In other words, it's potentially enough to fill Nucor's new plate mill in Kentucky (which is scheduled to come online in late 2022), as John Packard mentioned in a prior Final Thoughts.
Weather matters too. The drought out west could impact electricity supplies there, particularly generation from hydroelectric dams. We haven't heard of any impacts to date. But I might keep just as close an eye on the weather as I do on lead times.
Recall also that early in the year it seemed like prices might be slowing down. There was some thought that hot-rolled coil prices over $1,000 per ton were not sustainable.
That seems quaint now with California Steel Industries opening its September books $200 per ton higher, and mills on both sides of the Rockies now offering hot band for well over $1,800 per ton. Also, plate mills this week increased prices by triple-digit margins.
Are we looking at $2,000 per ton hot-rolled coil and lead times picking back up again after a short pause? I have a hard time getting my ahead around that. That said, me having a hard time getting my head around $1,500 per ton HRC didn't stop prices from rising even higher.
Finally, no Final Thoughts this time of year would be complete without a nod to SMU's Steel Summit Conference.
SMU Steel Summit Conference Registrations Pushing 700
Registrations for the 2021 SMU Steel Summit Conference are now pushing 700 executives. Our expectation has increased from 800+ to 900+ as our weekly booking rate has more than doubled over the past week. You can participate in this year's event either in person or virtually. The dates for the conference are Aug. 23-25. You can register for either the live or virtual event by clicking here. 
The following companies registered over the past few days. Those with an * are sending more than one executive: AGI-Sentinel, AO Smith*, Area Transportation*, Beaver Steel Services, Inc., Behlen Mfg. Co.*, BlueScope Buildings North America, Inc., BMG Latin America Inc., Curtis Steel Company*, Daikin*, Delta Metals*, Diamond Manufacturing Company*, Electrolux, Heating and Cooling Products*, Hillphoenix-Dover Food Retail, Kenwal Steel, L&W Supply, Madix, Inc.*, Majestic Steel*, Manchester Tank & Equipment Company*, NIM Group, Ohio Pickling & Processing*, Omnimax International, P&S Transportation, PGT Services LLC*, Promet Steel Inc.*, Superior Aluminum Alloys*, Taylor Steel, Inc., Tempel Steel Company*, TrueNorth Steel, USS-UPI*, Willbanks Metals Inc.*, and Zeeco Metals, Inc. The following companies added more executives to their list of attendees: Goodman Mfg.*, Nucor*, SSAB*, and Worthington Industries*.
You can join the hundreds of companies already registered by clicking here or going to:https://events.crugroup.com/smusteelsummit/register
For those of you attending the 2021 SMU Steel Summit Conference, the hotels around the convention center are almost all sold out. We are anticipating 800+ attendees as we conduct our first live event in more than a year. For those of you who are unable to travel, we do have a virtual option using the same platform as last year's conference. For more information about the conference and registration, please click here.
The Atlanta Airport Gateway group of hotels are either sold out, or close to being sold out. When I checked this morning for arrival dates of Aug. 22 and departing on Aug. 25, the Marriott website showed the Marriott Gateway hotel as sold out, the Atlanta Airport Renaissance Gateway hotel as sold out, the Atlanta Airport SpringHill Suites Gateway hotel as sold out and the AC Hotel Atlanta Airport Gateway as having rooms from $296 per night.
Other hotels to consider are the Atlanta Airport Marriott ($224 night) and the Westin Atlanta Airport ($156 per night). Both hotels are located on Best Road about two miles from the Georgia International Convention Center.
Please note we do not have a room block available at this time and you should book your hotels ASAP.
By Michael Cowden, Michael@SteelMarketUpdate.com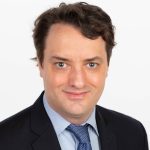 Latest in Final Thoughts