SMU Data and Models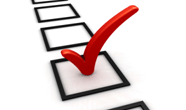 SMU Steel Buyers Sentiment Index Ticks Up
Written by Brett Linton
October 28, 2022
---
After ticking downward in the middle of October, Steel Market Update's (SMU) Steel Buyers Sentiment Indices both saw marginal increases this week. Buyers Sentiment has trended downward overall since May, with buyers concerned about high inventory costs, dismal demand, and a slowing economy.
SMU's Buyers Sentiment Index attempts to measure how steel buyers feel about their company's ability to be successful in today's market, as well as three to six months in the future. Every other week we poll hundreds of steel buyers regarding sentiment, with historical data going back to 2008.
SMU's Current Buyers Sentiment Index increased four points to +55 through the end of the month, down one point compared to our market check one month ago (Figure 1). Current Buyers Sentiment continues to bounce around, having been in the +51 to +66 range since August. Sentiment had briefly slipped to +43 in mid-July, the lowest level seen since August 2020. Our Current Buyers Sentiment Index peaked at +82 in March of this year.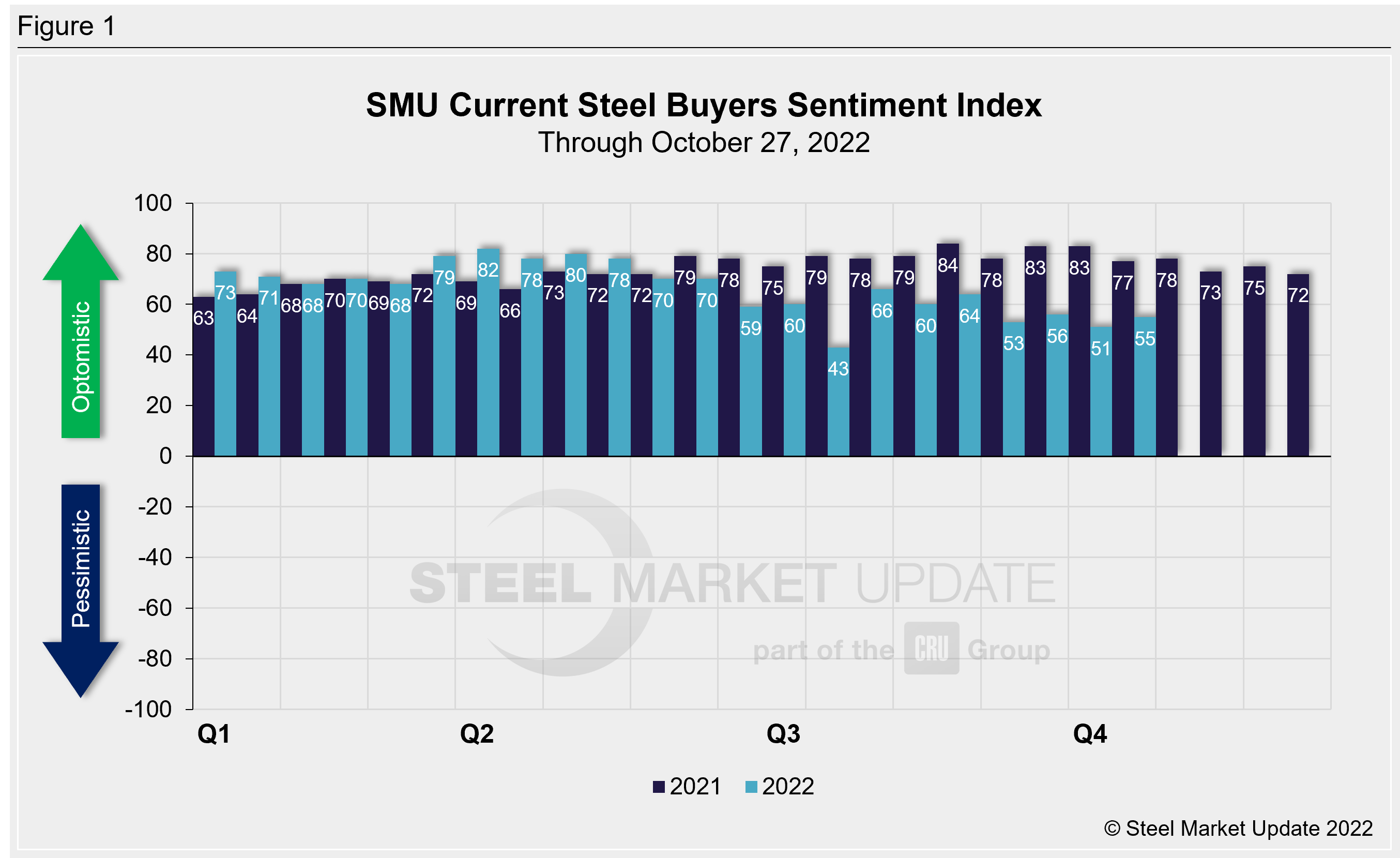 SMU's Future Buyers Sentiment Index also rebounded compared to our previous survey, up eight points to +69. Future Sentiment measures buyers' feelings about business conditions three to six months down the road. Future sentiment is up four points compared to levels one month ago (Figure 2). Like Current Sentiment, Future Sentiment has fluctuated between +53 and +69 in the last quarter. Back in mid-July, Future Sentiment fell to a near two-year low of +43. Earlier this year, we saw the highest Future Sentiment readings in our 13.5-year history: late April and early May both registered +80.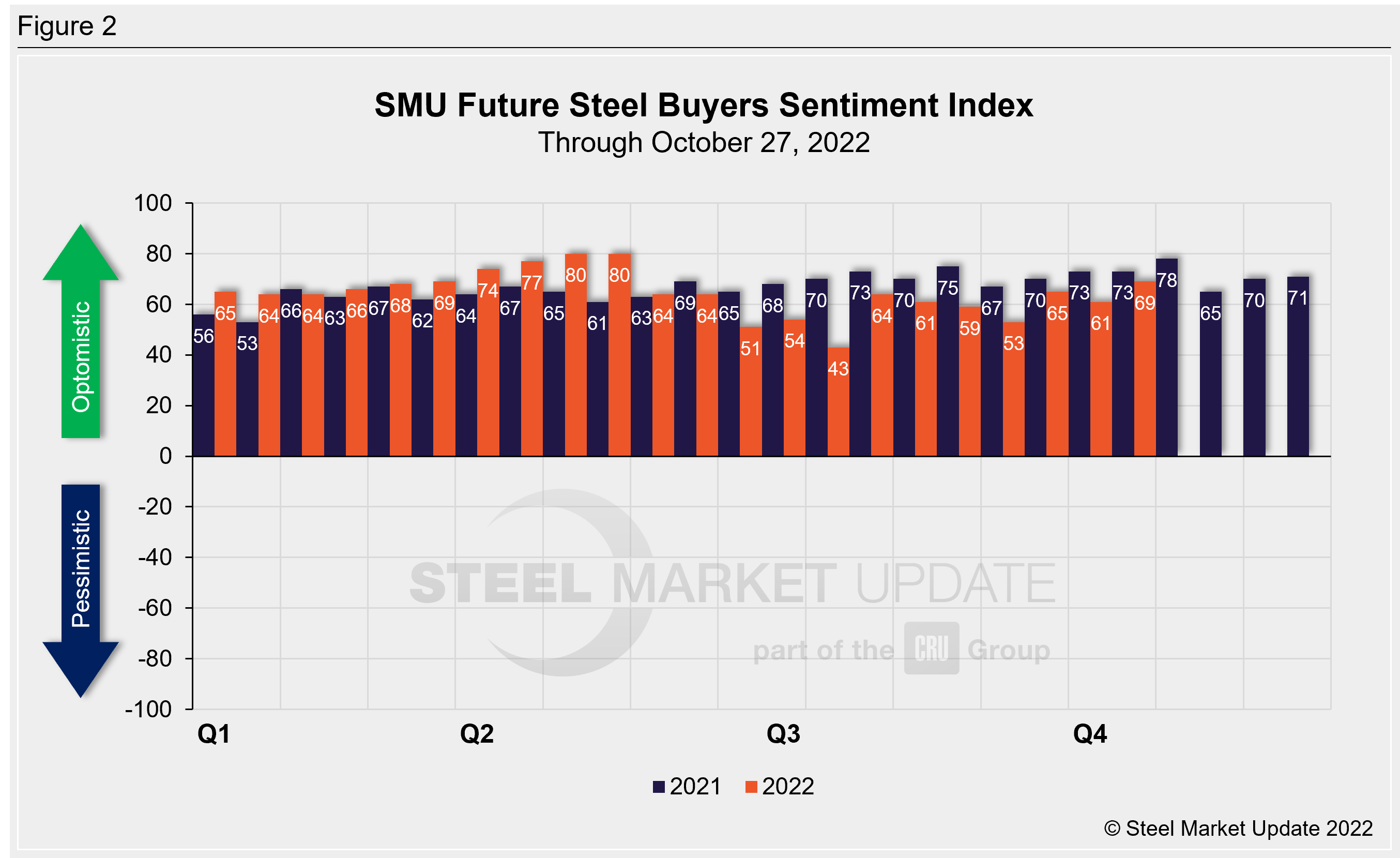 Recall that when steel prices were peaking a little over one year ago, Current Sentiment had soared to an all-time high of +84, while Future Sentiment hit a 2021 peak two months later at +78. The lowest levels over the past decade both occurred in April 2020, at -8 and +10 respectively.
Measured as a three-month moving average, the Current Sentiment 3MMA slipped to +56.50 this week and has been trending downward since May (Figure 3). This is now the lowest since mid-October 2020, when it was +54.17. Five months ago, the Current Sentiment 3MMA peaked at +77.83, the highest level since December 2021.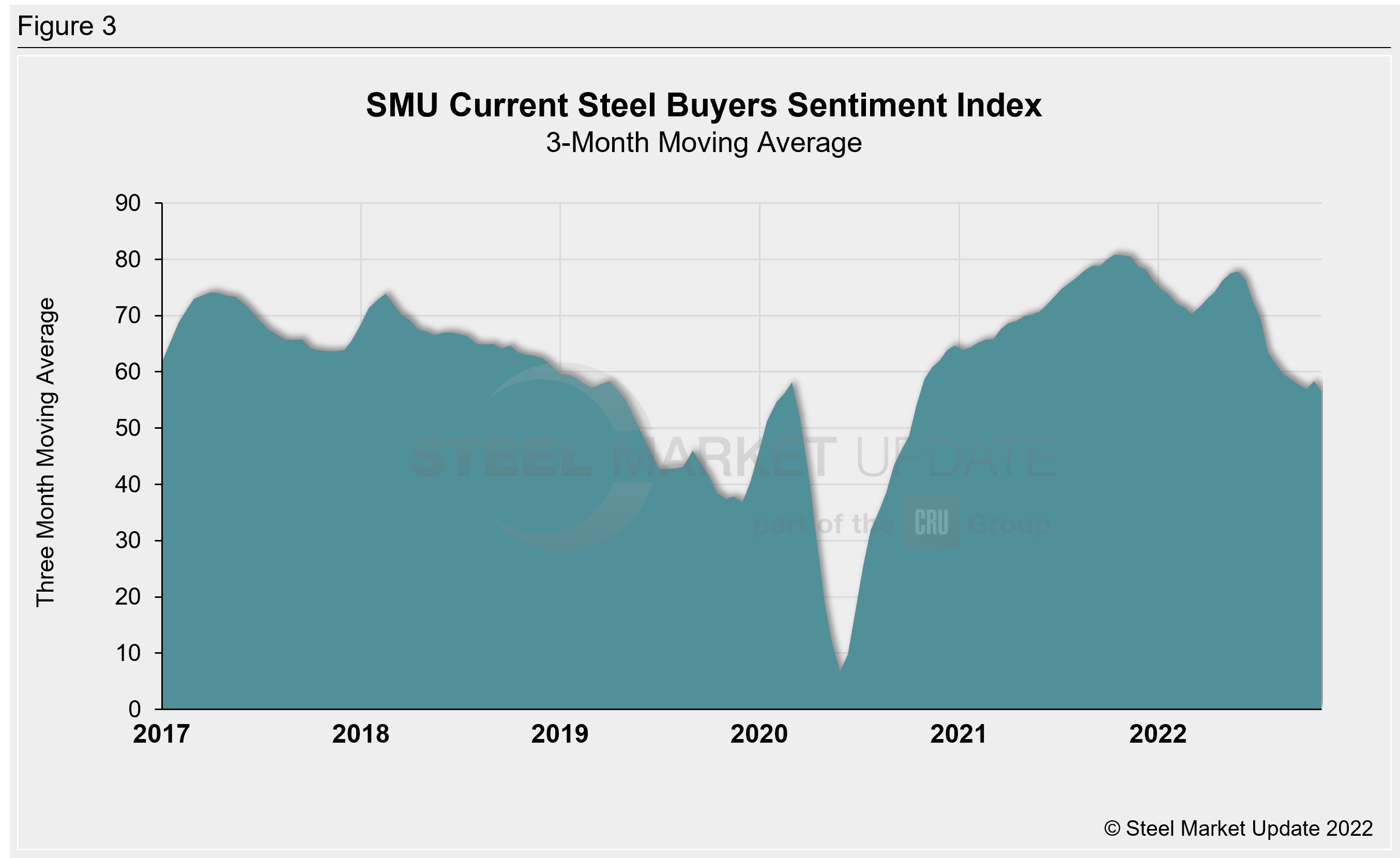 The Future Sentiment 3MMA rose almost one full point this week to +61.33, nearly four points higher than one month prior (Figure 4). Unlike the Current Sentiment 3MMA, the Future 3MMA has shown signs of recovery over the last two surveys. The early September reading of +55.33 was the lowest seen since October 2020. The Future Sentiment 3MMA has risen in each survey since, now at the highest level since July. Recall that the Future Sentiment 3MMA had reached a record high of +74.67 in May, surpassing the previous record of +73.67 set in March 2017.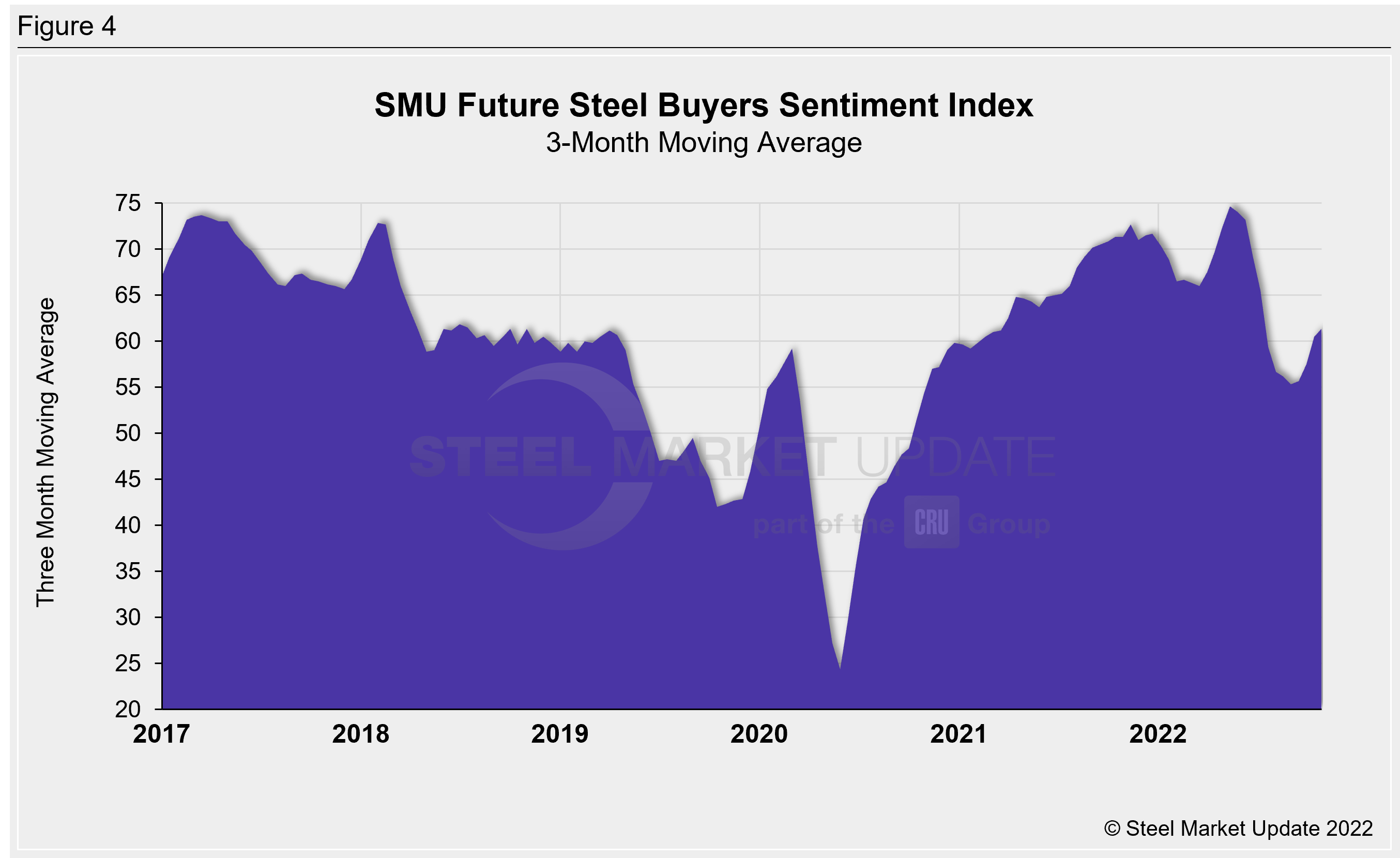 One helpful way to measure the magnitude of Sentiment movements is to look at the survey-to-survey change in the Current Sentiment Index (Figure 5). On a 3MMA basis, the survey-to-survey change through the end of October is down two points compared to the middle of the month. Other than mid-October, we have seen negative growth rates in every survey since early June. In late July we saw a six-point decline, which was the largest change seen since April 2020. Between November 2020 and June 2022, the survey-to-survey change in our 3MMA Sentiment reading was relatively stable, never exceeding two points. In late June of this year, it began to exceed that range and did so through July.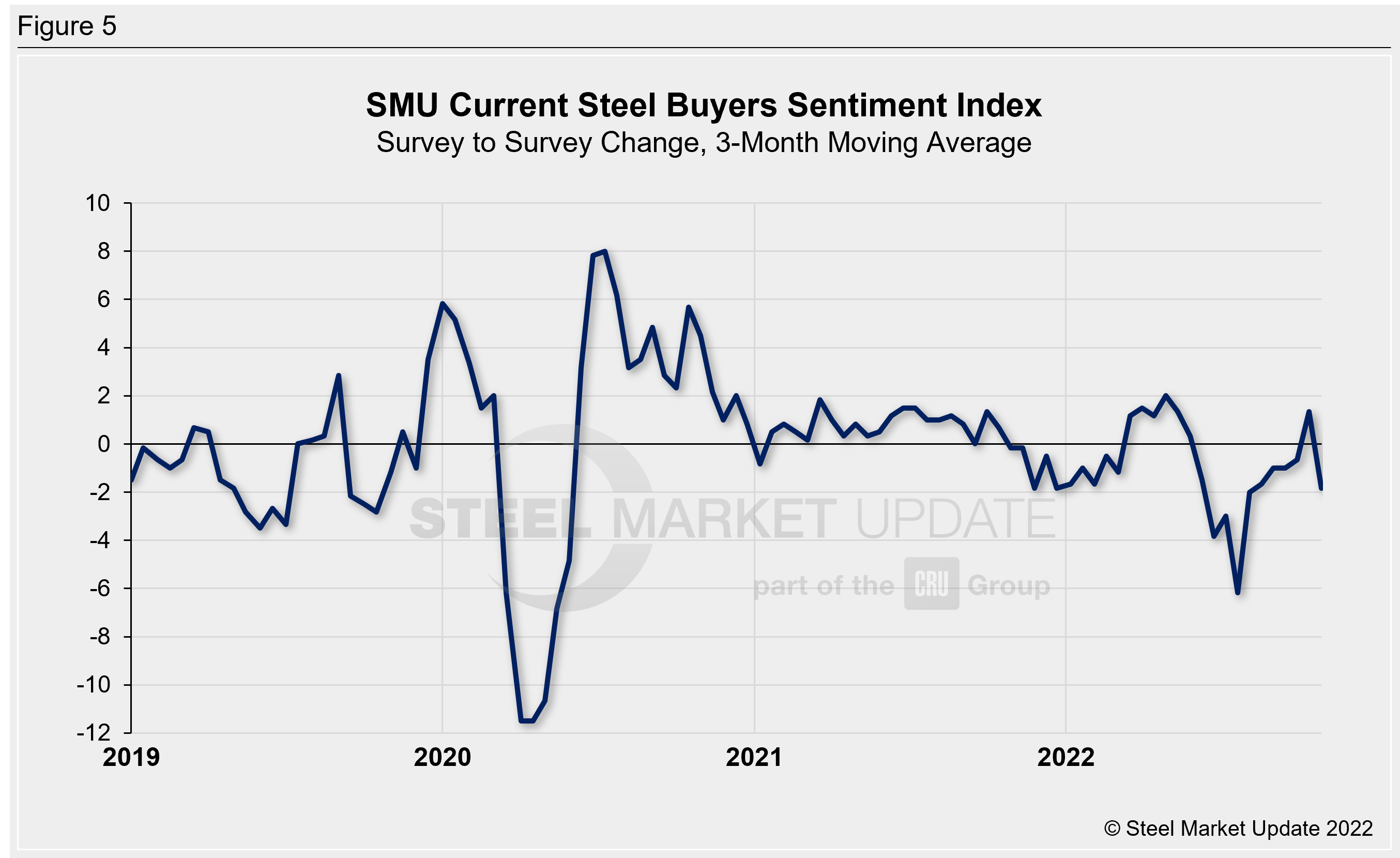 What SMU Survey Respondents Had to Say:
"You always have an opportunity to outperform your circumstances or competitors no matter what the environment is or who the competitors are."
"Demand is still stable, just very competitive."
"Once prices stop dropping $100 per month, it is easier to set price and margin."
"Backlog is filling up, going to be a busy end of the year."
"Margins are upside down due to high cost inventory."
"Concerned with inflationary pressure."
"We have a good order book until year end. Q1 will be lower."
"Success continues to be hampered by supply chain & labor."
"2023 will bring more headwinds."
About the SMU Steel Buyers Sentiment Index
The SMU Steel Buyers Sentiment Index is a measurement of the current attitude of buyers and sellers of flat-rolled steel products in North America regarding how they feel about their company's opportunity for success in today's market. It is a proprietary product developed by Steel Market Update for the North American steel industry. Tracking steel buyers' sentiment is helpful in predicting their future behavior.
Positive readings run from +10 to +100. A positive reading means the meter on the right-hand side of our home page will fall in the green area indicating optimistic sentiment. Negative readings run from -10 to -100. They result in the meter on our homepage trending into the red, indicating pessimistic sentiment. A reading of "0" (+/- 10) indicates a neutral sentiment (or slightly optimistic or pessimistic), which is most likely an indicator of a shift occurring in the marketplace. Sentiment is measured via SMU surveys that are conducted twice per month. We display the meter on our home page.
We send invitations to participate in our survey to more than 700 North American companies. Approximately 45% of respondents are service centers/distributors, 30% are manufacturers, and the remainder are steel mills, trading companies or toll processors involved in the steel business.
Click here to view an interactive graphic of the SMU Steel Buyers Sentiment Index or the SMU Future Steel Buyers Sentiment Index.
By Brett Linton, Brett@SteelMarketUpdate.com

Latest in SMU Data and Models