Steel Products
CRU: Higher Costs, Lower Demand Flatten US Longs Prices
Written by Alexandra Anderson
February 7, 2023
---
The US long products market was largely stable this month, as end-use demand remained subdued, and buyers continued to work through inventories. Scrap prices rose in January, fuelling bullish sentiments, but sluggish activity limited any expansion in margins. As a result, rebar, merchant bar, and structurals were all flat month-on-month (MoM). Wire rod prices decreased $1 per cwt MoM, to $55 pert cwt.
Despite edging lower, one mill did announce an increase in wire rod prices due to higher scrap and operational costs. The recent uptrend in scrap has also narrowed margins, supporting mill efforts to raise prices. However, end-use demand has yet to see significant recovery, particularly in the residential construction sector, leaving suppliers with persistent inventory overhang.
Rebar, merchant bar, and structurals experienced a similar lack of activity. While mills held prices steady, some noted slower demand compared to last year. Backlogs are stable, though, boosting confidence that the market has reached a bottom alongside higher scrap prices and labor costs.
According to the US Census Bureau, total construction spending (not seasonally adjusted) in November 2022 was ~$148 million, down 6% MoM. Nonresidential construction buoyed the market, trending up 12% year-on-year (YoY), while residential projects were largely flat.
The Federal Reserve's efforts to tame inflation have pushed interest rates above 6%, dragging down both new home starts and existing home sales. For nonresidential projects, most spending went to power, highway and street, and commercial projects, in addition to education and manufacturing.
With softer demand and ongoing destocking, imports are still relatively unattractive. Buyers are not willing to risk longer lead times given stable-to-down prices domestically, particularly as international prices continue to firm. For wire rod, January license data shows ~49,000 t of imports, according to the US Department of Commerce, down from more than 130,000 t in January 2022. Conversely, rebar imports have been more closely aligned with historical trends. January license data indicates ~79,000 t of imports, according to the US Department of Commerce, up 11% YoY.
Altogether, this begs the question of whether there is sufficient demand for long products to reverse recent declines. A similar question is being asked of steel sheet, which has been on an upward trend in recent weeks. China's reversal of its Covid-19 restrictions, in addition to potential stimulus policies, sent positive waves through markets despite fundamentally weak demand.
Outlook: Upside Limited on Sluggish Demand
Expectations that scrap will increase are supporting bullish sentiments for the near term, however, longs demand will be little changed over the next month. Economic uncertainty and a possible recession are still a concern looking toward Q2 2023, with data suggesting that manufacturing is already in recession. As such, prices are likely to be flat, rather than trend higher, given continued destocking and limited potential for end-use growth.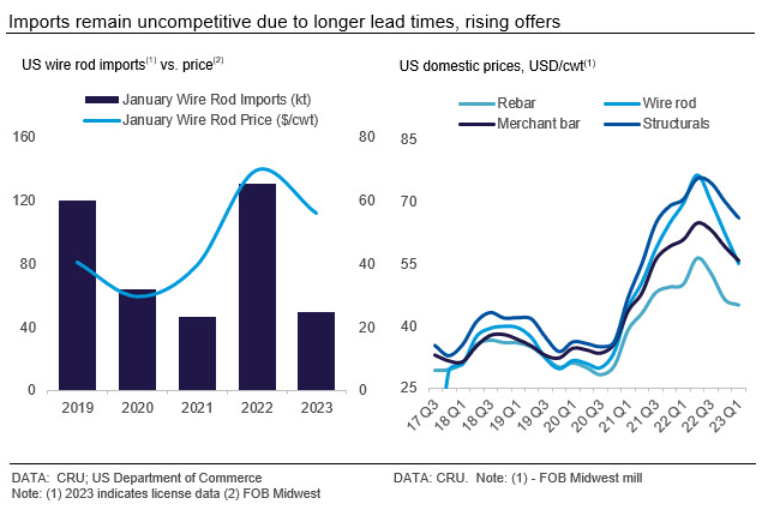 This article was originally published on Feb. 1 by CRU, SMU's parent company.
By CRU Analyst Alexandra Anderson, from CRU's Long Products Monitor
Request more information about this topic.
Learn more about CRU's services at www.crugroup.com
Latest in Steel Products