Steel Products
Siemens Gamesa To Build Greener Wind Tower
April 21, 2023
---
Siemens Gamesa has announced a wind turbine tower made of more sustainable steel called "GreenerTower."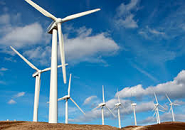 The European renewable energy company said the towers consist of approximately 80% steel plates, and will ensure a CO2 reduction of at least 63% in the tower steel plates compared to conventional steel.
Siemens Gamesa noted that a new qualification process will verify that only a maximum of 0.7 tons of CO2-equivalent emissions are permitted per ton of steel, "while maintaining the same steel properties and quality."
"Wind power is one of the cornerstones of the green energy transition," Maximilian Schnippering, head of sustainability at Siemens Gamesa, said in a statement on Friday, April 21. "With more than 600 GW (gigawatts) of new capacity to be installed worldwide in the next five years, it is important for the wind industry to reduce its carbon footprint."
The German steelmaker Salzgitter AG, with its heavy plate mill Ilsenburger Grobblech GmbH, is the first supplier to be qualified, according to the statement.
Siemens Gamesa said it has already closed its first order to introduce 36 GreenerTowers at the 1,000-megawatt Thor offshore wind power project in Denmark. 
By Ethan Bernard, ethan@steelmarketupdate.com
Latest in Steel Products