OEMs
HR Lead Times Near Five Weeks, Plate's Shorten Again
Written by Laura Miller
August 31, 2023
---
Steel mill lead times were largely unchanged this week, with hot rolled extending slightly and plate falling back marginally.
For hot-rolled sheet, steel buyers this week reported lead times ranging from 3 to 6 weeks, with an average of 4.90 weeks. HR lead times have lengthened slightly in each of SMU's biweekly market checks since July 20 when lead times averaged 4.48 weeks. Lead times for HR have remained below 5.0 weeks since early June.
Lead times for cold-rolled sheet this week were reported between 4 and 8 weeks. The average of 6.38 weeks is unchanged from two weeks earlier. CR lead times have been below 7.0 weeks since the end of May.
For galvanized sheet, lead times were reported between 5 and 8 weeks. This week's average of 6.67 weeks is also unchanged from the previous market check. Lead times for galvanized sheet have been below 7.0 weeks since early May.
Galvalume lead times, reported by steel buyers to be between 5 and 10 weeks, averaged 7.00 weeks this week. That's down from 7.5 weeks in the market check two weeks ago. Recall that our data for Galvalume can be more volatile due to the smaller sample size. If you are a buyer of Galvalume, please reach out to david@steelmarketupdate.com; we'd love to chat with you about participating in our survey.
Lead times for plate this week contracted by 0.11 weeks from two weeks ago to an average of 5.25 weeks, with a range of 3 to 7 weeks considered. Plate lead times have contracted in each of our market checks since July 20. This week marks the shortest lead time for plate since the beginning of March.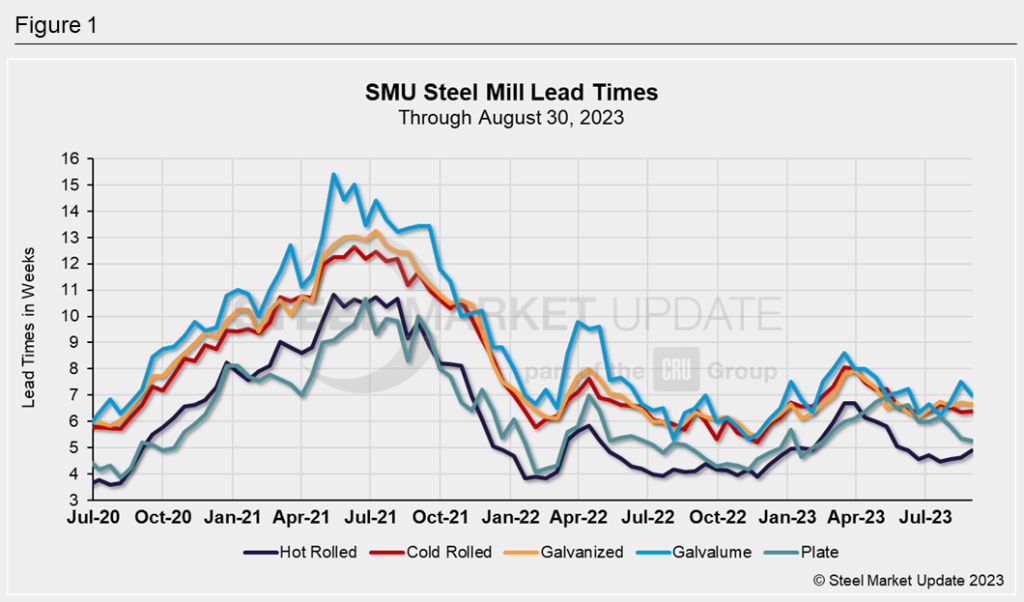 Looking at the three-month moving averages (3MMA) of lead times can smooth out the variability of SMU's biweekly readings.
As you can see in Fig. 2, the 3MMAs of sheet product lead times have been largely steady for all of August.
The 3MMA of plate lead times fell to 5.9 weeks this week, marking the shortest 3MMA since April.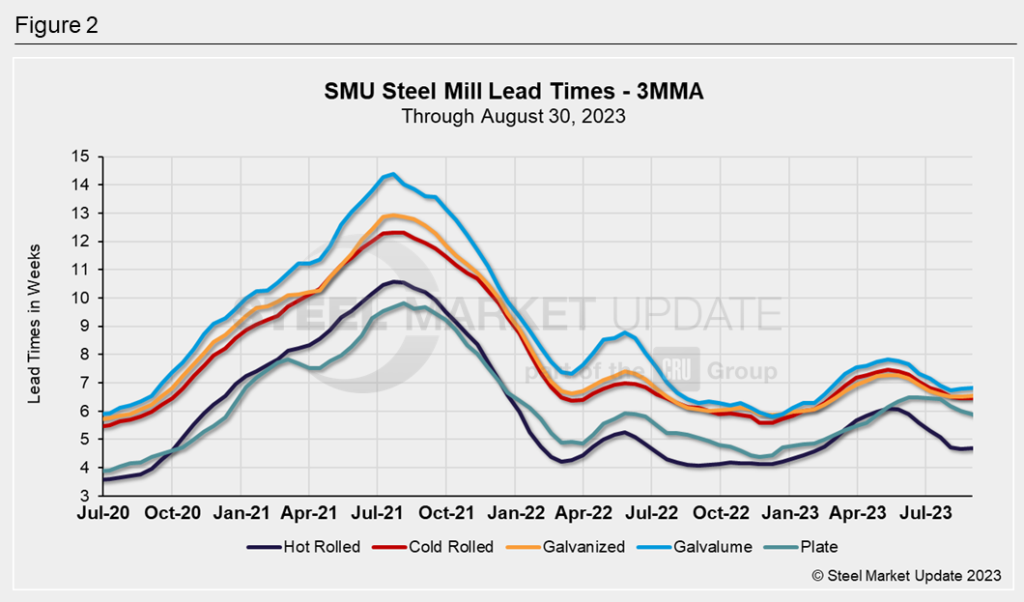 SMU Survey Results
The percentage of steel buyers predicting flat lead times two months from now contracted slightly, from 72% in the last market check to 66% this week. The rest of buyers were split on whether lead times will be extending (18%) or contracting (16%).
A majority of manufacturers (68%) categorize current lead times as 'normal,' but just 42% of service centers said the same. More than half of service centers see current lead times as short (47% say 'shorter than normal' and 5% say 'extremely short'). Twenty-three percent of manufacturers say lead times are 'shorter than normal' and 5% say they are 'extremely short.'
"And this is part of the problem," commented one steel buyer. "Until lead times expand (and we don't see that coming even with the Fall planned outages), this market will continue going down."
The slides below from this week's survey show the history of manufacturers' (Fig. 3) and service centers' (Fig. 4) description of steel mill lead times.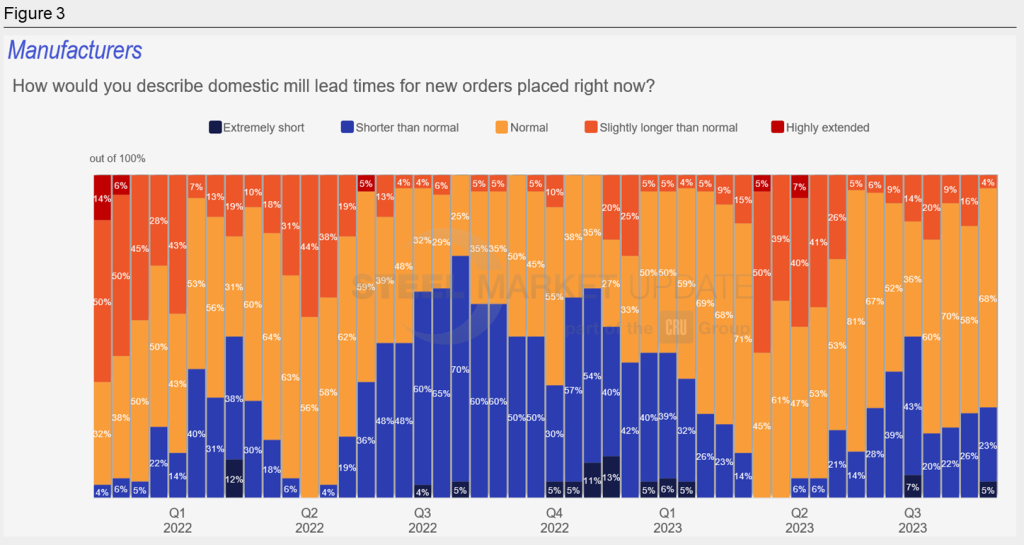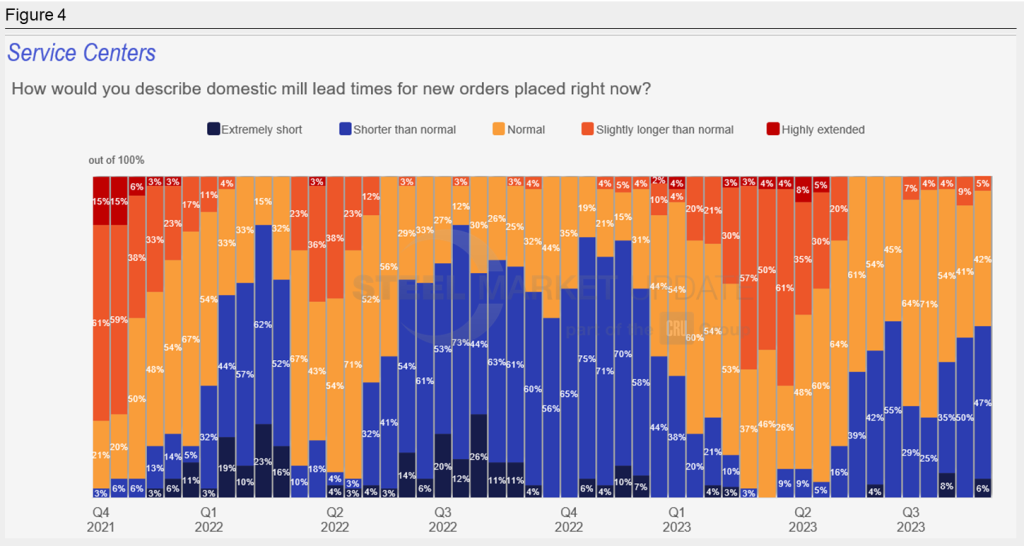 When asked if lead times will be extending, flat, or contracting two months from now, comments from several steel buyers reflect what they see as short lead times:
"Hard to say 'contracting' given how short things are already. And this is part of the problem in this market – too short of lead time at the mill level." – Manufacturer predicting flat lead times
"Flat, because they can't get any lower." – Service center predicting flat lead times
One manufacturer pointed out that landed pricing for imports is the "same as domestic and domestic lead times are half of offshore mills," and they are therefore not currently buying foreign material for future delivery.
In SMU's foreign vs. domestic HRC pricing analysis this week, domestic HRC prices fell below the prices of imported material for the first time since February.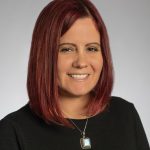 Latest in OEMs