Steel Product Producers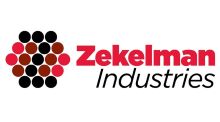 Zekelman Industries Expanding ZI-Strut Line
Written by Ethan Bernard
September 22, 2023
---
Zekelman Industries has announced an expansion of its ZI-Strut metal framing and accessories product line.
The independently owned pipe and tube producer said that ZI-Strut is made at US facilities. The product is cold-formed from hot-rolled, structural-grade carbon steel and engineered with "half-slot, full-slot, and solid construction."
The company said the strut and accessories range from clamps and fittings to brackets and threaded rods. Also, they can be co-loaded with steel conduit from Western Tube in Rochelle, Ill., and Wheatland Tube based in Wheatland, Pa., to arrive in one delivery.
"With multiple finishes, sizes and punch configurations plus accessories to fit any job, ZI-Strut is truly a one-stop shop for the majority of strut installations," Todd Walrod, VP of electrical with Wheatland Tube, a division of Zekelman Industries, said in a statement on Sept. 20.
Zekelman Industries includes the operating divisions of Atlas Tube, Picoma, Sharon Tube, Wheatland Tube, Western Tube and Z Modular.
Latest in Steel Product Producers