SMU Data and Models
Sheet Lead Times Mixed, Plate Plummets
Written by Laura Miller
September 28, 2023
---
Sheet lead times were mixed this week, the continuation of a trend we've seen since the summer months.
But in a new development, those for plate collapsed, according to SMU's most recent market survey.
Current mill lead times are now well into late October, November, and early December, depending on product and mill source.
Steel Mill Lead Times This Week
Hot rolled lead times were reported by buyers this week to be between 3 and 7 weeks, with an average of 4.55 weeks. That's 0.16 weeks shorter than in our previous market check and the shortest lead time for hot rolled since late July.
Surveyed buyers reported lead times for cold rolled ranging from 5 to 8 weeks. SMU's average cold rolled lead time extended by 0.28 weeks from our Sept. 14 market check to 6.46 weeks this week.
Lead times for galvanized sheet were also said to be between 5 and 8 weeks with an average of 6.54 weeks. That's a contraction of 0.27 weeks from the survey two weeks ago, and the shortest lead time for galvanized product since early July.
Galvalume lead times were reported between 5 and 10 weeks. The average of 7.33 weeks inched up by 0.19 weeks from the prior market check. Note that figures for Galvalume can be volatile due to the limited size of that market and our smaller sample size.
Plate lead times, meanwhile, were reported between 4 and 7 weeks. They plummeted by 0.87 weeks from our prior check to an average of 4.86 weeks this week. That's the shortest lead time for plate since January. Plate lead times had been between 5 and 6 weeks during August and the first half of September. Prior to that, they'd been above 6 weeks since mid-March.
The plate market has been under pressure and appears to showing signs of weakness on the price front as well. SMU will publish a plate market report in our next issue with more details and commentary from market sources.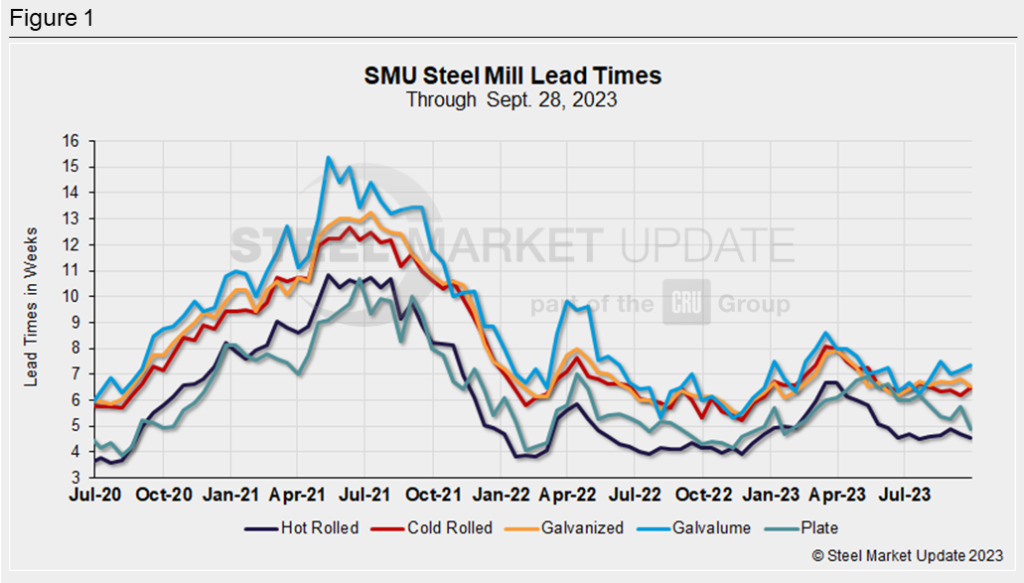 This Week's Survey Says
Nearly half (47.5%) of surveyed service centers and manufacturers this week categorized current domestic lead times as "shorter than normal," while 42.5% said they are "normal."
One manufacturer predicted lead times will be extending two months from now, commenting that "after [the UAW] strike is over, everyone will run to the door to place orders."
A trader, foreseeing extending lead times two months from now, said they think the industry is "cranking it down too much" in response to market developments and the strike. Starting in late December and early January, they think "there will be a relatively short bounce-back" in lead times.
Another manufacturer thinks lead times will be flat two months out, but with them "so dang short," this is still a problem. His company doesn't "see a true catalyst for a pricing rebound."
3MMA Lead Times
Let's have a look at lead times on a three-month moving average (3MMA) basis, which can smooth out the variability in SMU's biweekly readings.
Hot rolled's 3MMA was at 4.7 weeks since the Aug. 31 market check, but this week it fell back to 4.6 weeks.
The 3MMAs for cold-rolled and galvanized sheet held steady at 6.4 and 6.7 weeks, respectively.
Galvalume's 3MMA inched up by 0.1 weeks from two weeks prior to 7.0 weeks – the longest seen since July.
Plate's 3MMA came in at 5.5 weeks this week, a decline of 0.2 weeks from two weeks earlier. That's the shortest 3MMA for plate lead times since March.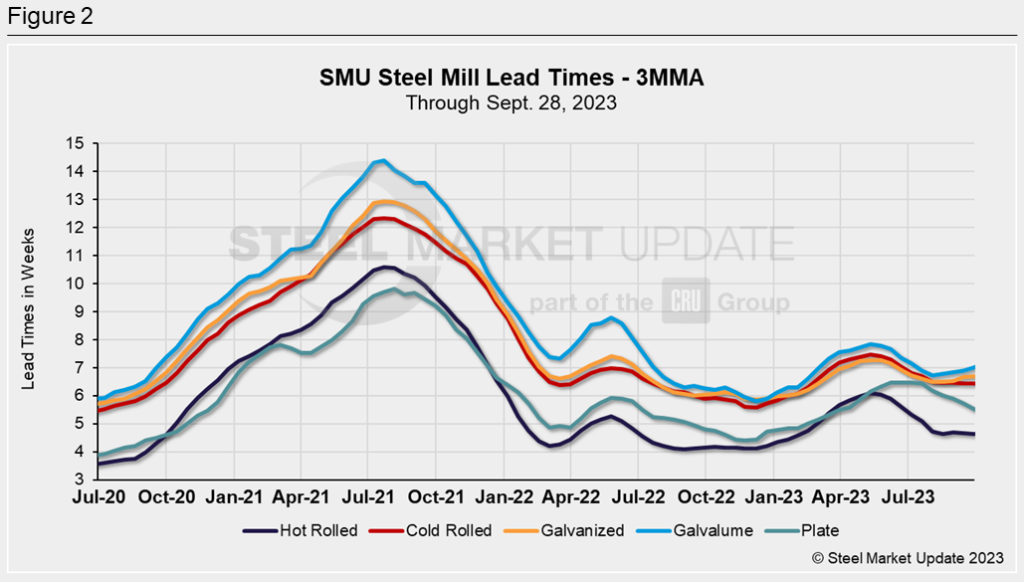 Note: These lead times are based on the average from manufacturers and steel service centers participating in this week's SMU market trends analysis. SMU measures lead times as the time it takes from when an order is placed with the mill to when the order is processed and ready for shipping, not including delivery time to the buyer. Our lead times do not predict what any individual may get from any specific mill supplier. Look to your mill rep for actual lead times. To see an interactive history of our steel mill lead times data, visit our website here.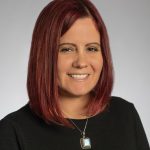 Latest in SMU Data and Models