Steel Products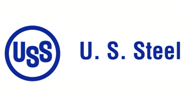 USS Slates Layoffs at Granite City Works
Written by Ethan Bernard
October 3, 2023
---
U.S. Steel is laying off ~300 workers at its Granite City Works in southern Illinois, a company spokeswoman told SMU on Tuesday.
The workers were in the company's iron and steelmaking operations, she said.
She also confirmed an earlier report in the Belleville News Democrat that the Pittsburgh-based steelmaker believes the "layoffs will last less than six months."
Recall that U.S. Steel idled its Granite City 'B' blast furnace last month, citing the ongoing United Auto Workers (UAW) strike.
U.S. Steel has two blast furnaces at Granite City: 'A' and 'B'. The 'A' furnace was indefinitely idled in April 2020, according to SMU's blast furnace status table. With 'B' going down, there is – at least temporarily – no more iron or steelmaking at the mill.
United Steelworkers (USW) Local 1899 president Dan Simmons told the Democrat that between 260 and 265 employees at the steelmaker will be out of work starting this week. He did not return a call for comment from SMU by time of publication.
Latest in Steel Products